Background
I-BET151 (GSK1210151A) is a selective inhibitor of BET with pIC50 value of 6.1 [1].
BET (bromo and extraterminal) is a member of bromodomain family and has been shown to be associated with a variety of diseases (human squamous cell carcinoma and other cancers). BET inhibitor has been implicated as a promising therapy for human cancer treatment [2].
I-BET151 is a selective BET inhibitor and has the similar inhibition function as TMZ. When tested with 6 myeloma cell lines, I-BET151 treatment decreased cells percent in S/G2 phase and increased cell apoptosis in a time- and dose- dependent manner [2]. In globlastoma cell line U87MG, administration of I-BET151 arrested cells in the G1 phase and reduced cell proliferation ability [3].
When treated with myeloma implanted mouse model with I-BET151, it reduced tumor volume in a four- or five- fold compared with control group [2]. In immunocompromised mouse model with U87MG cells xenograft, administration of I-BET151 in a concentration of 10 mg/kg i.p. daily significantly reduced tumor volume compared with saline treated group [3].
References:
[1].    Seal, J., et al., Identification of a novel series of BET family bromodomain inhibitors: binding mode and profile of I-BET151 (GSK1210151A). Bioorg Med Chem Lett, 2012. 22(8): p. 2968-72.
[2].    Chaidos, A., et al., Potent antimyeloma activity of the novel bromodomain inhibitors I-BET151 and I-BET762. Blood, 2014. 123(5): p. 697-705.
[3].    Chan, C.H., et al., BET bromodomain inhibition suppresses transcriptional responses to cytokine-Jak-STAT signaling in a gene-specific manner in human monocytes. Eur J Immunol, 2015. 45(1): p. 287-97.
Product Citation
Chemical Properties
| | |
| --- | --- |
| Physical Appearance | A crystalline solid |
| Storage | Store at -20°C |
| M.Wt | 415.44 |
| Cas No. | 1300031-49-5 |
| Formula | C23H21N5O3 |
| Solubility | ≥41.5 mg/mL in DMSO; insoluble in H2O; ≥19.5 mg/mL in EtOH |
| Chemical Name | 7-(3,5-dimethyl-1,2-oxazol-4-yl)-8-methoxy-1-[(1R)-1-pyridin-2-ylethyl]-3H-imidazo[4,5-c]quinolin-2-one |
| SDF | Download SDF |
| Canonical SMILES | CC1=C(C(=NO1)C)C2=C(C=C3C(=C2)N=CC4=C3N(C(=O)N4)C(C)C5=CC=CC=N5)OC |
| Shipping Condition | Evaluation sample solution: ship with blue ice. All other available sizes: ship with RT, or blue ice upon request. |
| General tips | For obtaining a higher solubility, please warm the tube at 37°C and shake it in the ultrasonic bath for a while. Stock solution can be stored below -20°C for several months. |
Protocol
Kinase experiment [1]:

Fluorescence anisotropy (FP) ligand displacement assay

All components were dissolved in buffer of composition 50 mM HEPES pH 7.4, 150 mM NaCl and 0.5 mM CHAPS with final concentrations of BRD 2/3/4 75 nM, fluorescent ligand 5 nM. 10 μL of this reaction mixture was added using a micro multidrop to wells containing 100 nL of various concentrations of I-BET151 or DMSO vehicle (1% final) in Greiner 384 well black low volume microtitre plate and equilibrated in the dark for 60 mins at room temperature. Fluorescence anisotropy was read in Envision (lex = 485 nm, lEM = 530 nm; Dichroic = 505 nM).

Cell experiment [1]:

Cell lines

MV4;11, MOLM13, NOMO1, RS4;11, HEL, HL60 and K562 cells

Preparation method

The solubility of this compound in DMSO is limited. General tips for obtaining a higher concentration: Please warm the tube at 37 °C for 10 minutes and/or shake it in the ultrasonic bath for a while. Stock solution can be stored below - 20 °C for several months.

Reacting condition

24 or 72 hrs

Applications

I-BET151 potently inhibited cell lines harboring different MLL-fusions such as MV4;11, RS4;11, MOLM13 and NOMO1 cells, with the IC50 values ranging from 15 to 192 nM. Consistently, I-BET151 completely ablated the colony-forming potential of MLL-fusion-driven leukemia (MOLM13) but not tyrosine kinase activation-driven leukemia (K562).

Animal experiment [1]:

Animal models

NOD-SCID mice bearing MV4;11 cells and C57BL/6 mice bearing MLL-AF9 cells

Dosage form

30 mg/kg; i.p.

Applications

For NOD-SCID mice bearing MV4;11 cells, at the experimental end-point, mice in the control group had succumbed to fulminat or progressive disease, but 1/5 mice in the treatment group showed evidence of disease at low levels. In C57BL/6 mice bearing MLL-AF9 cells, I-BET151 also provided a clear and dramatic survival benefit.

Other notes

Please test the solubility of all compounds indoor, and the actual solubility may slightly differ with the theoretical value. This is caused by an experimental system error and it is normal.

References:

[1]. Dawson MA, Prinjha RK, Dittmann A, Giotopoulos G, Bantscheff M, Chan WI, Robson SC, Chung CW, Hopf C, Savitski MM, Huthmacher C, Gudgin E, Lugo D, Beinke S, Chapman TD, Roberts EJ, Soden PE, Auger KR, Mirguet O, Doehner K, Delwel R, Burnett AK, Jeffrey P, Drewes G, Lee K, Huntly BJ, Kouzarides T. Inhibition of BET recruitment to chromatin as an effective treatment for MLL-fusion leukaemia. Nature. 2011 Oct 2;478(7370):529-33.
Biological Activity
Description
I-BET151 is a selective inhibitor of BET with IC50 value of 0.5 μM, 0.25 μM and 0.79 μM for BRD2, BRD3 and BRD4, respectively.
Targets
BRD2
BRD3
BRD4
IC50
0.5 μM
0.25 μM
0.79 μM
Quality Control
Quality Control & MSDS
View current batch:
Chemical structure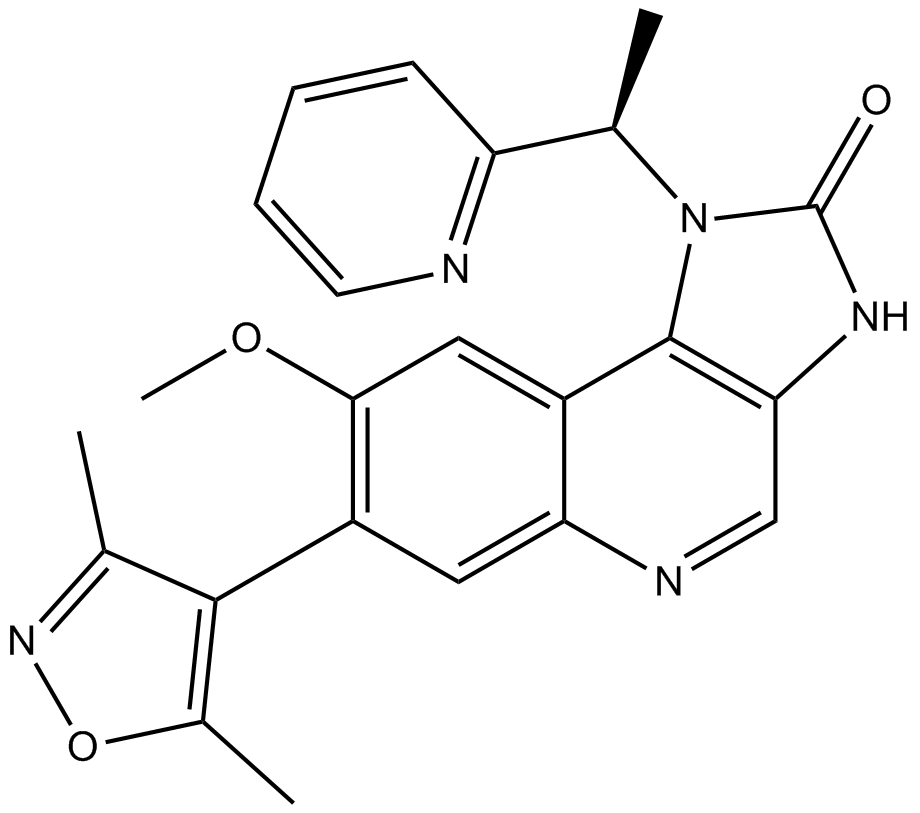 Related Biological Data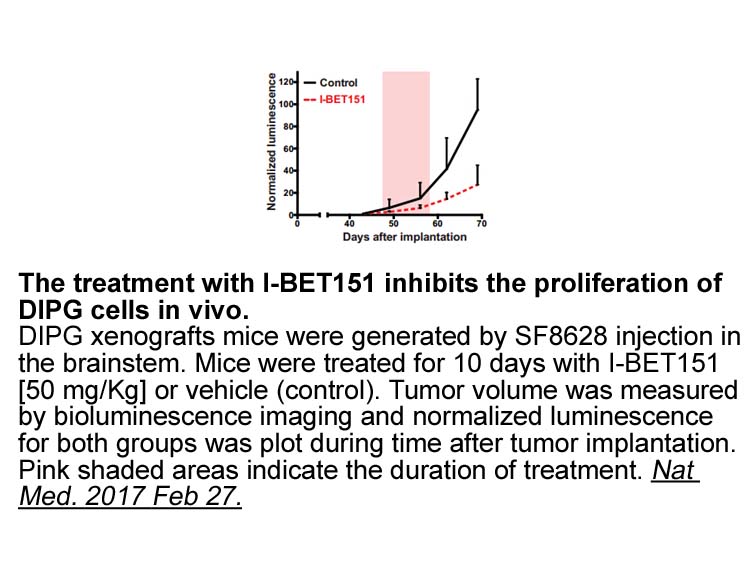 Related Biological Data