GDC-0068 (RG7440)
Pan-AKT inhibitor,highly selective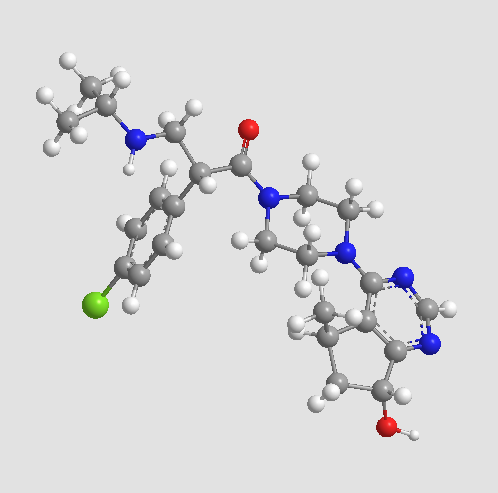 Sample solution is provided at 25 µL, 10mM.
Publications citing ApexBio Products
Related Compound Libraries
Quality Control
Quality Control & MSDS
View current batch:
Chemical structure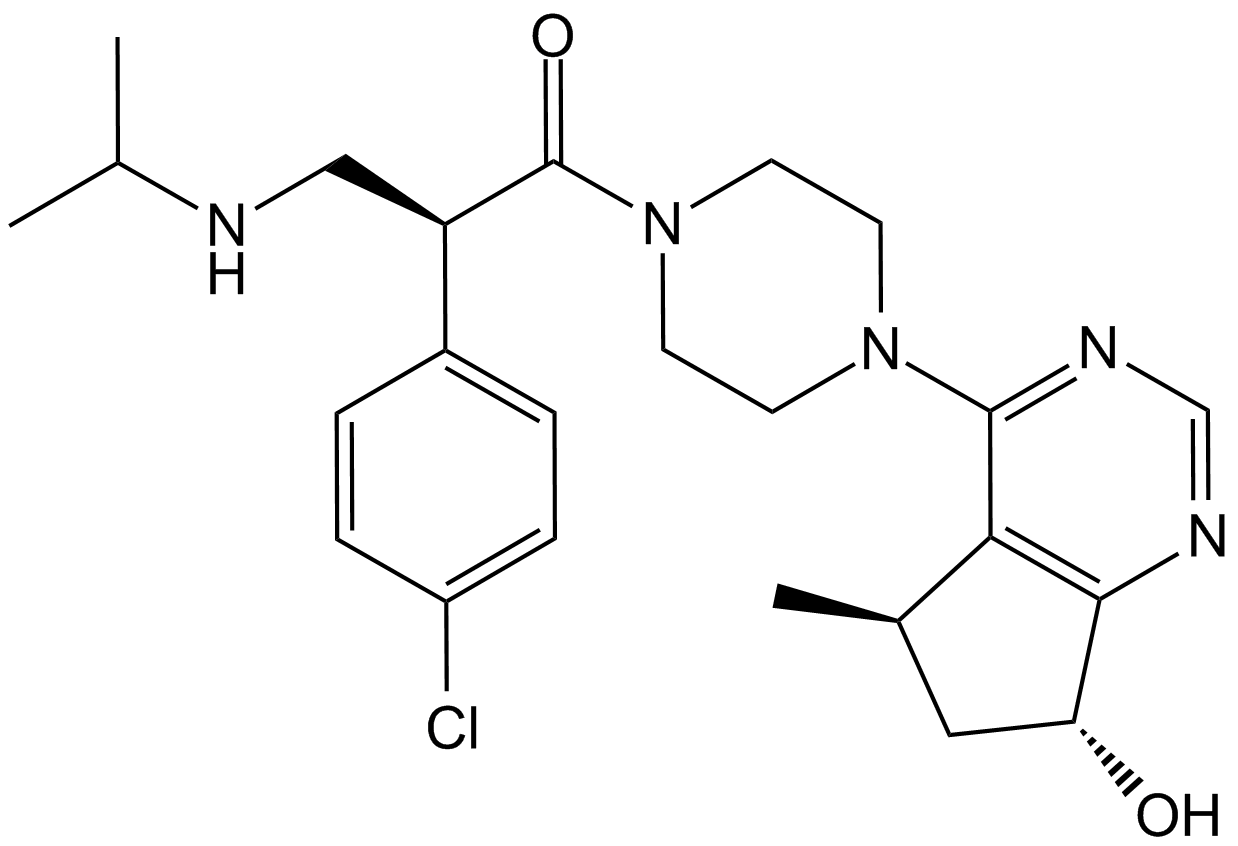 Biological Activity
Description
Ipatasertib (GDC-0068) is a highly selective inhibitor of Akt for Akt1/2/3 with IC50 of 5 nM/18 nM/8 nM, 620-fold selectivity over PKA.
Targets
Akt1
Akt2
Akt3
IC50
5 nM
18 nM
8 nM
Protocol
Cell experiment [1]:

Cell lines

PC-3, BT474M1 and IGROV-1 cell lines

Preparation method

The solubility of this compound in DMSO is >10 mM. General tips for obtaining a higher concentration: Please warm the tube at 37 °C for 10 minutes and/or shake it in the ultrasonic bath for a while.Stock solution can be stored below -20°C for several months.

Reaction Conditions

1 h; 25 μmol/L

Applications

The biologic activity of GDC-0068 was evaluated in cell-based assays in vitro . Similar to other ATP-competitive Akt inhibitors, GDC-0068 induced a dose-dependent increase in Akt phosphorylation at both Thr308 (T308) and Ser 473 (S473) residues in all cell lines tested, including lines in which the PI3K/Akt pathway is activated, such as PC-3 (PTEN homozygous deletion mutant, prostate), BT474M1 (PIK3CAK111N mutant and HER2-amplified, breast), IGROV-1 (PTENT319fsX1/Y155C and PIK3CA1069 W, ovarian).

Animal experiment [1]:

Animal models

Nude mice

Dosage form

100 mg//kg; Oral taken

Applications

The in vitro sensitivity profile of GDC-0068 was recapitulated in vivo in xenograft models representing a spectrum of cancer types including prostate, breast, ovarian, colorectal, non–small cell lung, glioblastoma, and melanoma. GDC-0068 was typically efficacious in xenograft models in which Akt was activated because of genetic alterations including PTEN loss, PIK3CA mutations/amplifications, or HER2 overexpression. In these models, tumor growth delay, stasis, or regression was achieved at or below 100 mg/kg daily oral dose, which was the maximum dose tested in immunocompromised mice that was well tolerated.

Other notes

Please test the solubility of all compounds indoor, and the actual solubility may slightly differ with the theoretical value. This is caused by an experimental system error and it is normal.

References:

[1] Lin J, Sampath D, Nannini M A, et al. Targeting activated Akt with GDC-0068, a novel selective Akt inhibitor that is efficacious in multiple tumor models[J]. Clinical Cancer Research, 2013, 19(7): 1760-1772.
Chemical Properties
Cas No.
1001264-89-6
SDF
Download SDF
Synonyms
GDC0068,RG7440,CS0975
Chemical Name
(2S)-2-(4-chlorophenyl)-1-[4-[(5R,7R)-7-hydroxy-5-methyl-6,7-dihydro-5H-cyclopenta[d]pyrimidin-4-yl]piperazin-1-yl]-3-(propan-2-ylamino)propan-1-one
Canonical SMILES
CC1CC(C2=C1C(=NC=N2)N3CCN(CC3)C(=O)C(CNC(C)C)C4=CC=C(C=C4)Cl)O
Formula
C24H32ClN5O2
M.Wt

458

Solubility
>22.9mg/mL in DMSO
Storage
Desiccate at -20°C
General tips
No
Shipping Condition
No
Background
GDC-0068 (RG7440) is a highly selective small molecule inhibitor of Akt with IC50s of 5, 18 and 8 nM for Akt1, Akt2 and Akt3. The PI3K-AKT pathway regulates cell growth, survival and tumorigenesis. GDC-0068 binds to and blocks the activation of AKT, which result in cell cycle arrest, inhibition of tumor cell proliferation and induction of tumor cell death. PI3K-AKT is pathway frequently activated in tumors, thus tumors with PTEN or PI3K mutations, which lead to activation of AKT are with high sensitivity to GDC-0068. GDC-0068 is now used for the treatment of human cancers.
References:
1. Discovery and preclinical pharmacology of a selective ATP-competitive Akt inhibitor (GDC-0068) for the treatment of human tumors. JF Blake, R Xu, JR Bencsik, D Xiao… - Journal of medicinal 2012
2. Lin J, Sampath D, Nannini MA, et al: Targeting activated Akt with GDC-0068, a novel selective Akt inhibitor that is efficacious in multiple tumor models. Clin Canc Res 2013, 19:1760–1772.