EZ Cap™ Firefly Luciferase mRNA (5-moUTP)
Firefly Luciferase mRNA with Cap 1 structure, modified by 5-moUTP, providing higher transcription efficiency and suppressing RNA-mediated innate immune activation.
Background
EZ Cap™ Firefly Luciferase mRNA (5-moUTP) will express luciferase protein once entering cells, which is initially extracted from firefly Photinus pyralis. This enzyme catalyzes ATP-dependent D-luciferin oxidation and lead to yield chemiluminescence at about 560 nm wavelength. Firefly Luciferase is a frequently used bioluminescent reporter for gene regulation and function study. It is applicable in assays for mRNA delivery, translation efficiency, cell viability and in vivo imaging etc.
EZ Cap™ Firefly Luciferase mRNA (5-moUTP) is provided at a concentration of 1mg/ml. It is co-transcriptional capped by EZ Cap™ Reagent AG (3' OMe) (Catalog No.B8178) which generates a cap 1 structure with high efficiency. Cap 1 structure is more ideal for mammalian systems and possesses higher transcription efficiency than Cap 0 structure (ARCA and mCap). EZ Cap™ Reagent AG (3' OMe) obtain the ability only inserting in the proper orientation, results in forming mRNAs that can be translated twice efficiently as those initiated with EZ Cap™ Reagent AG. The addition of 5-moUTP and poly (A) tail suppress RNA-mediated innate immune activation and increase the stability and lifetime of the mRNA in vitro and in vivo. Poly (A) tail also plays an important role in enhancing the efficiency of translation initiation.
All the modifications are intention to mimics a fully processed mature mRNA. EZ Cap™ Firefly Luciferase mRNA (5-moUTP) is an ideal product to observing mRNA delivery, translation and other behaviors.
Quality Control
Quality Control & Datasheet
View current batch:
Related Biological Data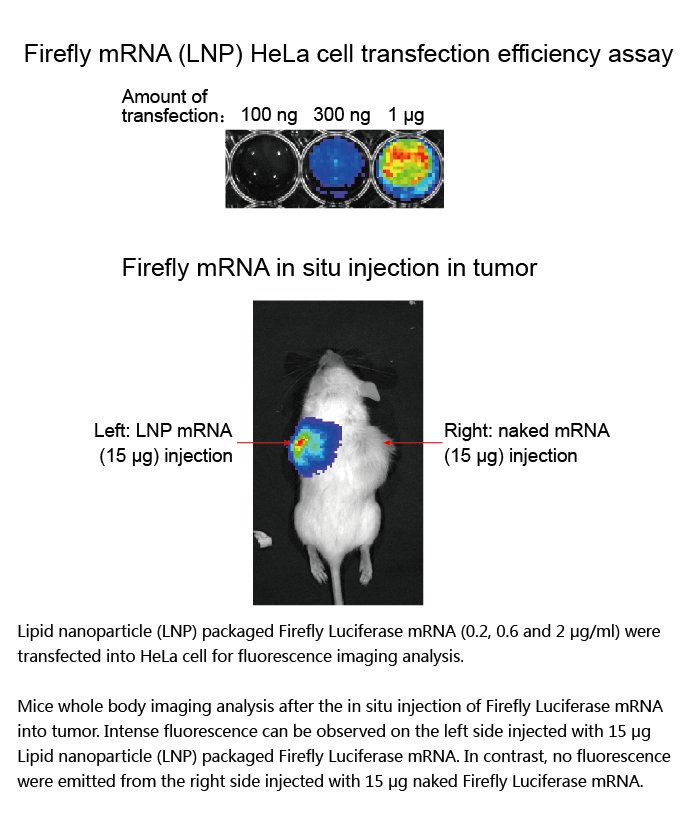 Description
mRNA Length
1921 nucleotides
Concentration
1 mg/mL
Buffer
1 mM Sodium Citrate, pH 6.4
Storage
-40°C or below
General tips
Please dissolve it on ice and protect from RNase carefully. Avoid repeated freeze/thaw cycles as possible. Don't vortex. Upon first use, centrifuge the tube softly and aliquot it into several single use portions. Use RNase-free reagents and materials with appropriate RNase-free technique. Don't add to the media with serum unless mixing with a transfection reagent.
Shipping Condition
Evaluation sample solution: ship with dry ice.