Elesclomol (STA-4783)
Oxidative stress/apoptosis inducer,potent and novel
Sample solution is provided at 25 µL, 10mM.
Publications citing ApexBio Products
Related Compound Libraries
Quality Control
Quality Control & MSDS
View current batch:
Chemical structure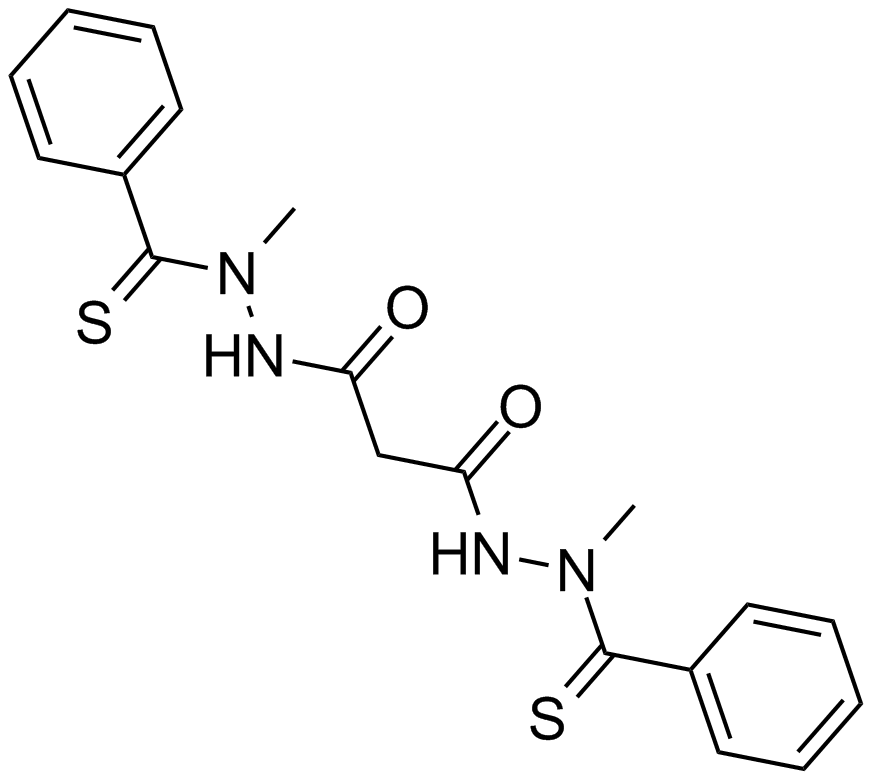 Biological Activity
Description
Elesclomol is a novel potent inducer of oxidative stress.
Targets
HSP70
IC50
Protocol
Cell experiment [1]:

Cell lines

HSB2 cells

Preparation method

The solubility of this compound in DMSO is > 10 mM. General tips for obtaining a higher concentration: Please warm the tube at 37 °C for 10 minutes and/or shake it in the ultrasonic bath for a while. Stock solution can be stored below -20 °C for several months.

Reaction Conditions

200 nM; 18 hrs

Applications

In HSB2 cells, Elesclomol increased the number of early and late apoptotic cells (3.7- and 11-fold, respectively).

Animal experiment [2]:

Animal models

Nude mouse xenograft models of human breast cancers (MDA435, MCF7 and ZR-75-1), lung cancer (RER) or lymphoma (U937)

Dosage form

25 ~ 100 mg/kg; i.v.

Applications

In nude mouse xenograft models of human breast cancers (MDA435, MCF7 and ZR-75-1), lung cancer (RER) or lymphoma (U937), a single dose of Elesclomol (25 ~ 100 mg/kg) showed no antitumor activity. But Elesclomol substantially enhanced the efficacy of chemotherapeutic agents such as Paclitaxel, both in terms of tumor regression and extended survival of mice.

Other notes

Please test the solubility of all compounds indoor, and the actual solubility may slightly differ with the theoretical value. This is caused by an experimental system error and it is normal.

References:

[1]. Jessica R. Kirshner, Suqin He, Vishwasenani Balasubramanyam, Jane Kepros, Chin-Yu Yang, Mei Zhang, Zhenjian Du, James Barsoum, and John Bertin. Elesclomol induces cancer cell apoptosis through oxidative stress. Mol Cancer Ther 2008; 7:2319-2327

[2]. Gehrmann M. Drug evaluation: STA-4783--enhancing taxane efficacy by induction of Hsp70. Curr Opin Investig Drugs. 2006 Jun;7(6):574-80.
Chemical Properties
Cas No.
488832-69-5
SDF
Download SDF
Synonyms
STA 4783, STA4783
Chemical Name
1-N',3-N'-bis(benzenecarbonothioyl)-1-N',3-N'-dimethylpropanedihydrazide
Canonical SMILES
CN(C(=S)C1=CC=CC=C1)NC(=O)CC(=O)NN(C)C(=S)C2=CC=CC=C2
Formula
C19H20N4O2S2
M.Wt

400.5

Solubility
Soluble in DMSO > 10 mM
Storage
Store at -20°C
General tips
No
Shipping Condition
No
Background
Elesclomol (also known as STA-4783), originally identified in a cell-based phenotypic screen for proapoptotic activity, is a novel small-molecule that potently induces apoptosis of cancer cells through the rapid generation of reactive oxygen species (ROS) and the induction of unmanageable levels of oxidative stress. Elesclomol exhibits autitumor activity against a broad spectrum of types of cancer cell in human tumor xengograft models due to its excessive ROS production and elevated levels of oxidative stress leading to the death of cancer cells. Elesclomol is currently being studies as a novel cancer therapeutic, in which it has demonstrated ability to prolong progression-free survival in study subjects.
Reference
Ronald K. Blackman, Kahlin Cheung-Ong, Marinella Gebbia, David A. Proia, Suqin He, Jane Kepros, Aurelie Jonneaux, Philippe Marchetti, Jerome Kluza, Patricia E. Rao, Yumiko Wada, Guri Giaever, Corey Nislow. Mitochondrial electron transport is the cellular target of the oncology drug elesclomol. PLoS ONE 2012; 7(1): e29798
Jessica R. Kirshner, Suqin He, Vishwasenani Balasubramanyam, Jane Kepros, Chin-Yu Yang, Mei Zhang, Zhenjian Du, James Barsoum, and John Bertin. Elesclomol induces cancer cell apoptosis through oxidative stress. Mol Cancer Ther 2008; 7:2319-2327