BIIB021
Hsp90 inhibitor,selective and competitive
Sample solution is provided at 25 µL, 10mM.
Publications citing ApexBio Products
Related Compound Libraries
Quality Control
Quality Control & MSDS
View current batch:
Chemical structure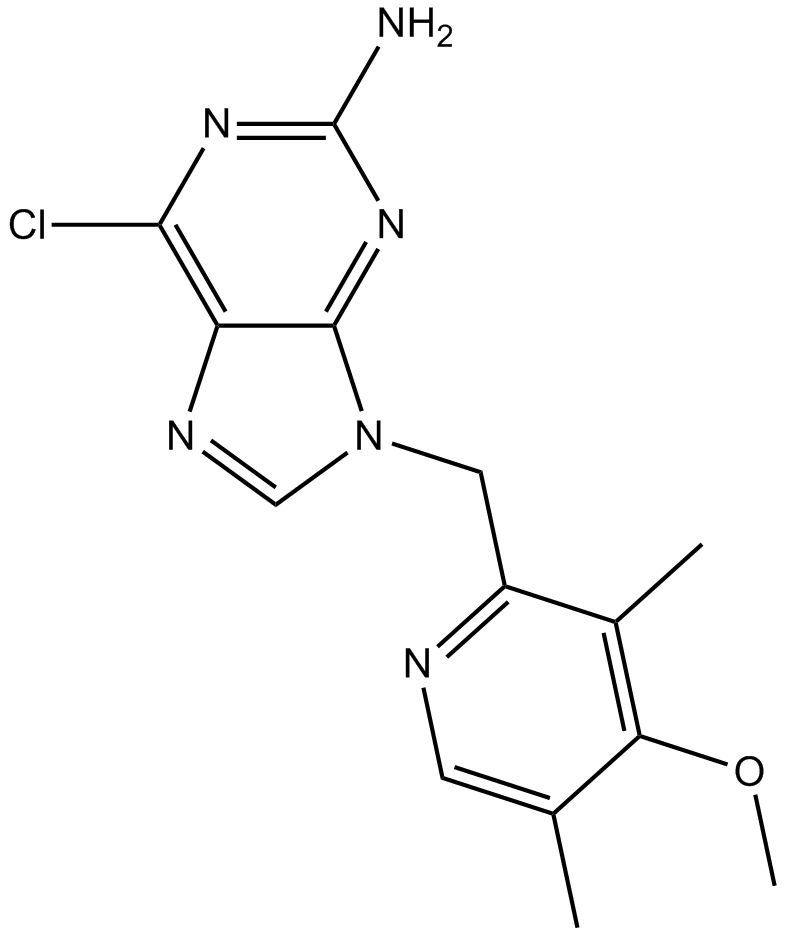 Biological Activity
Description
BIIB021 is a selective and competitive inhibitor of Hsp90 with Ki value of 1.7 nM.
Targets
Hsp90
IC50
1.7 nM (Ki)
Chemical Properties
Cas No.
848695-25-0
SDF
Download SDF
Chemical Name
6-chloro-9-[(4-methoxy-3,5-dimethylpyridin-2-yl)methyl]purin-2-amine
Canonical SMILES
CC1=CN=C(C(=C1OC)C)CN2C=NC3=C2N=C(N=C3Cl)N
Formula
C14H15ClN6O
M.Wt

318.8

Solubility
>14.95mg/mL in DMSO
Storage
Store at -20°C
General tips
N/A
Shipping Condition
N/A
Background
BIIB021 is a selective inhibitor of Hsp90 with Ki and EC50 values of 1.7 nM and 38 nM, respectively.[1]
HSP90 (heat shock protein 90) is widely expressed as a molecular chaperone. It plays a major role in the folding and stabilization of cellular proteins. HSP90 protects client proteins from degradation and maintains them in an active conformation. Many clients of HSP90 are transcription factors or protein kinases such as: Bcr-Abl, tyrosine kinases, EGFR family members, IGF1-R, c-Met, steroid hormone receptors, p53, Mdm2 and telomerase. In a variety of cancers, overexpressed hsp90 has been found. Hsp90 also play an important role in maintaining the transformed phenotype of cancer cells so. Hsp 90 is one attractive target for cancer therapy.[2]
BIIB021 competitive binds in the ATP-binding pocket and inhibits Hsp90 chaperone function, and lead to client protein degradation, cell death and tumor growth inhibition. BIIB021 leads to degradation of HER-2 which is an Hsp90 client protein. BIIB021 can also the growth of a variety of cancer cell lines in cell proliferation assays. In MCF-7 cells, BIIB021 leaded to HER-2 degradation with the EC50 value of was38 ± 10 nmol/L. BIIB021 inhibit the cell proliferation with IC50 values of 0.06 μ mol/L in N87 cells, 0.31μ mol/L in MCF-7 cells and 0.14 μ mol/L in BT474 cells. In MCF-7 cells, BIIB021 significantly reduced the phosphorylation levels of HER-2 at a concentration of 50 nM.[1] BIIB021 selectively inhibited Hodgkin's lymphoma cell viability at nanomolar concentrations but not in lymphocytes from healthy individuals. BIIB021 can increase the susceptibility to NK cell mediated killing by inducing the expression of ligands for the activating NK cell receptor NKG2D on Hodgkin's lymphoma cells.[3] BIIB021 reduced the expression of key radioresponsive proteins, then enhanced the radiosensitivity of HNSCCA cell lines in vitro, increased apoptosis cells and induced G2 arrest.[2]
BIIB021 showed significant activity at doses of 31,62.5, and 125 mg/kg in human in nude mice bearing N87 stomach carcinoma tumors.[1] HSP90 significantly inhibited tumor growth in a xenograft model of Hodgkin's lymphoma.[1]
References:
1.Lundgren K, Zhang H, Brekken J, Huser N, Powell RE, Timple N, Busch DJ, Neely L, Sensintaffar JL, Yang YC et al: BIIB021, an orally available, fully synthetic small-molecule inhibitor of the heat shock protein Hsp90. Mol Cancer Ther 2009, 8(4):921-929.
2.Yin X, Zhang H, Lundgren K, Wilson L, Burrows F, Shores CG: BIIB021, a novel Hsp90 inhibitor, sensitizes head and neck squamous cell carcinoma to radiotherapy. Int J Cancer 2010, 126(5):1216-1225.
3.Boll B, Eltaib F, Reiners KS, von Tresckow B, Tawadros S, Simhadri VR, Burrows FJ, Lundgren K, Hansen HP, Engert A et al: Heat shock protein 90 inhibitor BIIB021 (CNF2024) depletes NF-kappaB and sensitizes Hodgkin's lymphoma cells for natural killer cell-mediated cytotoxicity. Clin Cancer Res 2009, 15(16):5108-5116.