CYT387
JAK-1/-2 inhibitor,ATP competitive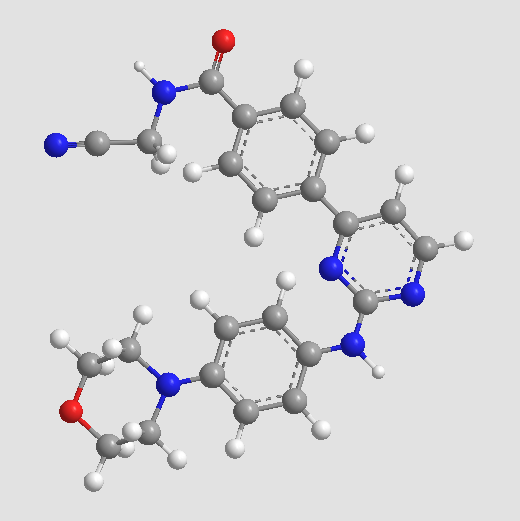 Sample solution is provided at 25 µL, 10mM.
Publications citing ApexBio Products
Related Compound Libraries
Quality Control
Quality Control & MSDS
View current batch:
Chemical structure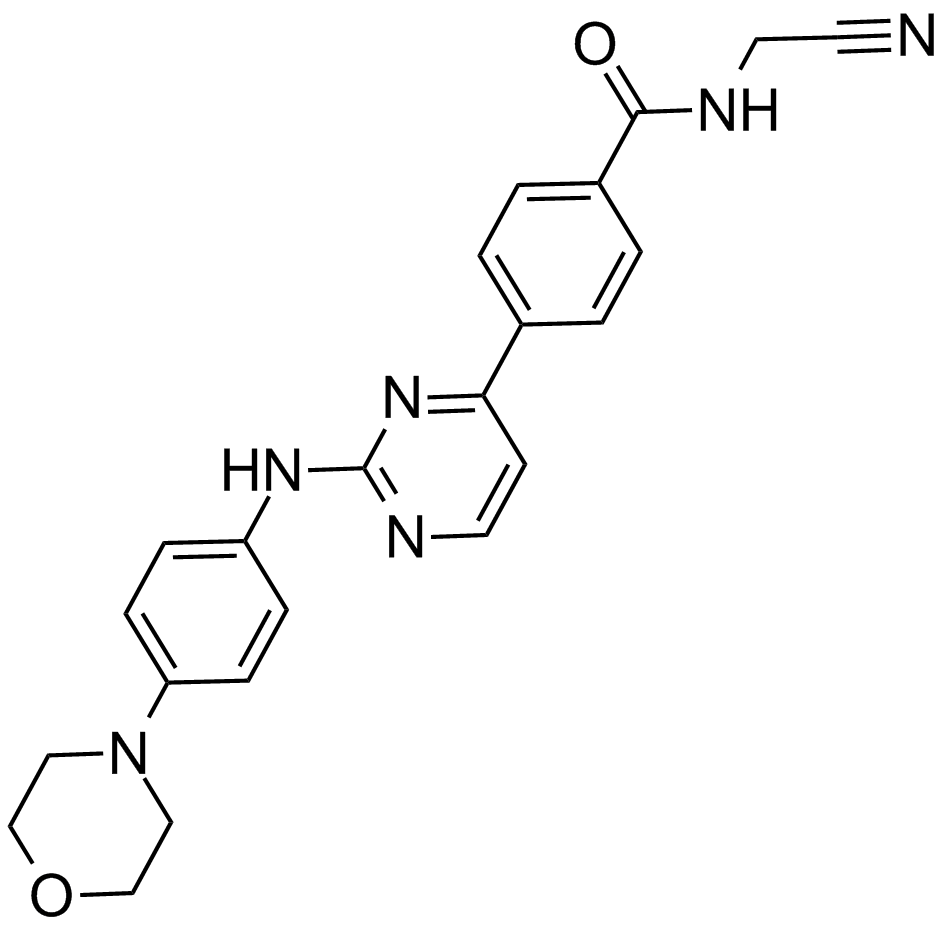 Related Biological Data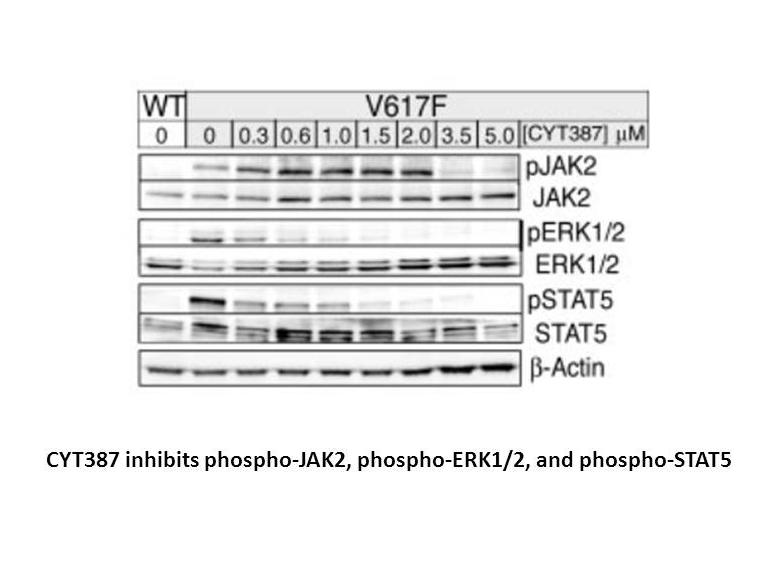 Related Biological Data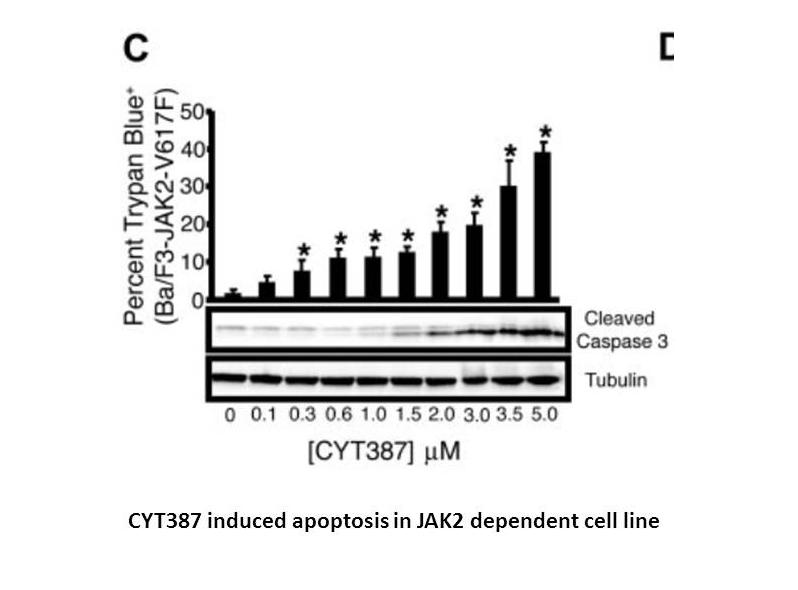 Biological Activity
Description
Momelotinib (CYT387) is an ATP-competitive inhibitor of JAK1/JAK2 with IC50 of 11 nM/18 nM, ~10-fold selectivity versus JAK3.
Targets
JAK1
JAK2
JAK3
IC50
11 nM
18 nM
155 nM
Protocol
Kinase experiment [1]:

Inhibitory activities

Glutathione S-transferase (GST)-tagged JAK kinase domains were cloned in gateway baculovirus vectors and expressed in SF9 insect cells. The fusion proteins were purified and used in a peptide substrate phosphorylation assay. Assays were performed in 384-well Optiplates using an Alphascreen Protein Tyrosine Kinase P100 detection kit and a PerkinElmer Fusion Alpha instrument.

Cell experiment [1]:

Cell lines

Hematopoietic lines with JAK2V617F mutation; HEL cells with naturally acquired JAK2V617F; Baf3-EpoR-JAK2V617F cells.

Preparation method

Soluble in DMSO > 10 mM. General tips for obtaining a higher concentration: Please warm the tube at 37℃ for 10 minutes and/or shake it in the ultrasonic bath for a while. Stock solution can be stored below -20℃ for several months.

Reaction Conditions

0.1-5 μM; 3 days.

Applications

In hematopoietic and somatic cell lines, CYT387 selectively inhibits JAK2-dependent cell growth and induces apoptosis. In Baf3-EpoR-JAK2V617F cells, CYT387 significantly inhibits cell growth and the phosphorylation of JAK2, extracellular signal-regulated kinase 1/2 (ERK1/2) and STAT5.

Animal experiment [1]:

Animal models

Mice with bone marrow transplantation.

Dosage form

25, 50 mg/kg; twice daily at 10- to 12-hour intervals from day 34 after bone marrow transplantation to day 82; administrated orally.

Preparation method

Dissolved in NMP (120 mg/mL final; 1-methyl-2-pyrrolidinone). Subsequently, the CYT387/NMP mix was diluted with 0.14M Captisol to a concentration of 6 mg/mL and further diluted with 0.1M Captisol to a final concentration of 4 mg/mL.

Applications

In Balb/c mice transplanted with bone marrow transduced with a JAK2V617F retrovirus, CYT387 reduces white cell counts and hematocrit. Also, CYT387 decreases granulocyte population and increases lymphocyte cell population. No change in body weight in CYT387-treated mice. CYT387 significantly reduces spleen size in both the 25 mg/kg and 50 mg/kg groups.

Other notes

Please test the solubility of all compounds indoor, and the actual solubility may slightly differ with the theoretical value. This is caused by an experimental system error and it is normal.

References:

[1]. Tyner JW, Bumm TG, Deininger J, et al. CYT387, a novel JAK2 inhibitor, induces hematologic responses and normalizes inflammatory cytokines in murine myeloproliferative neoplasms. Blood, 2010, 115(25): 5232-5240.
Chemical Properties
Cas No.
1056634-68-4
SDF
Download SDF
Synonyms
Cyt-387,MOMELOTINIB,CYT 387,CYT 11387
Chemical Name
N-(cyanomethyl)-4-[2-(4-morpholin-4-ylanilino)pyrimidin-4-yl]benzamide
Canonical SMILES
C1COCCN1C2=CC=C(C=C2)NC3=NC=CC(=N3)C4=CC=C(C=C4)C(=O)NCC#N
Formula
C23H22N6O2
M.Wt

414.46

Solubility
>20.7mg/mL in DMSO
Storage
Store at -20°C
General tips
No
Shipping Condition
No
View Related Products By Research Topics
Background
CYT387, an aminopyrimidine derivative discovered by high-throughput enzyme and cell-based screening along with the optimization using structure-guided medicinal chemistry, is a potent and selective inhibitor of janus kinase 1 (JAK1), janus kinase 2 (JAK2) and tyrosine kinase 2 (TYK2) with values of 50% inhibition concentration IC50 of 11 nM, 18 nM, 155 nM and 17 nM respectively. Recent studies have revealed that CYT387, at low nanomolar concentrations ranging between 500 and 1500 nM, is able to inhibit JAK2 signaling pathway, suppress proliferation and induce apoptosis in JAK2-dependent hematopoietic cell lines with non-hematopoietic cell lines intact.
Reference
Tyner JW, Bumm TG, Deininger J, Wood L, Aichberger KJ, Loriaux MM, Druker BJ, Burns CJ, Fantino E, Deininger MW. CYT387, a novel JAK2 inhibitor, induces hematologic responses and normalizes inflammatory cytokines in murine myeloproliferative neoplasms. Blood. 2010;115(25):5232-5240.