Background
Corticosterone is a steroid hormone produced in the cortex of the adrenal glands that binds to both glucocorticoid and mineralocorticoid receptors[1]. 
Corticosterone, via SGK phosphorylation of GDI at Ser-213, increases the formation of GDI-Rab4 complex, facilitating the functional cycle of Rab4 and Rab4-mediated recycling of AMPARs to the synaptic membrane. It provides a potential mechanism underlying the role of corticosteroid stress hormone in up-regulating excitatory synaptic efficacy in cortical neurons[2]. 
References:
[1]. Lu NZ, Wardell SE, Burnstein KL, et al. International Union of Pharmacology. LXV. The pharmacology and classification of the nuclear receptor superfamily: Glucocorticoid, mineralocorticoid, progesterone, and androgen receptors. Pharmacol, 2006, 58(4): 782-797.
[2]. Liu W, Yuen E Y, Yan Z. The Stress Hormone Corticosterone Increases Synaptic α-Amino-3-hydroxy-5-methyl-4-isoxazolepropionic Acid (AMPA) Receptors via Serum- and Glucocorticoid-inducible Kinase (SGK) Regulation of the GDI-Rab4 Complex. Journal of Biological Chemistry, 2010, 285(9): 6101-6108.
Product Citation
Chemical Properties
| | |
| --- | --- |
| Physical Appearance | A solid |
| Storage | Store at RT |
| M.Wt | 346.46 |
| Cas No. | 50-22-6 |
| Formula | C21H30O4 |
| Solubility | insoluble in H2O; insoluble in EtOH; ≥14.5 mg/mL in DMSO |
| Chemical Name | (8S,9S,10R,11S,13S,14S,17S)-11-hydroxy-17-(2-hydroxyacetyl)-10,13-dimethyl-6,7,8,9,10,11,12,13,14,15,16,17-dodecahydro-1H-cyclopenta[a]phenanthren-3(2H)-one |
| SDF | Download SDF |
| Canonical SMILES | O[[email protected]@H]1[[email protected]]([[email protected]](CC2)(C)C3=CC2=O)[[email protected]@H](CC3)[[email protected]]4[[email protected]]([[email protected]@H](C(CO)=O)CC4)(C)C1 |
| Shipping Condition | Ship with blue ice, or upon other requests. |
| General tips | For obtaining a higher solubility, please warm the tube at 37°C and shake it in the ultrasonic bath for a while. We do not recommend long-term storage for the solution, please use it up soon. |
Quality Control
Quality Control & MSDS
View current batch:
Chemical structure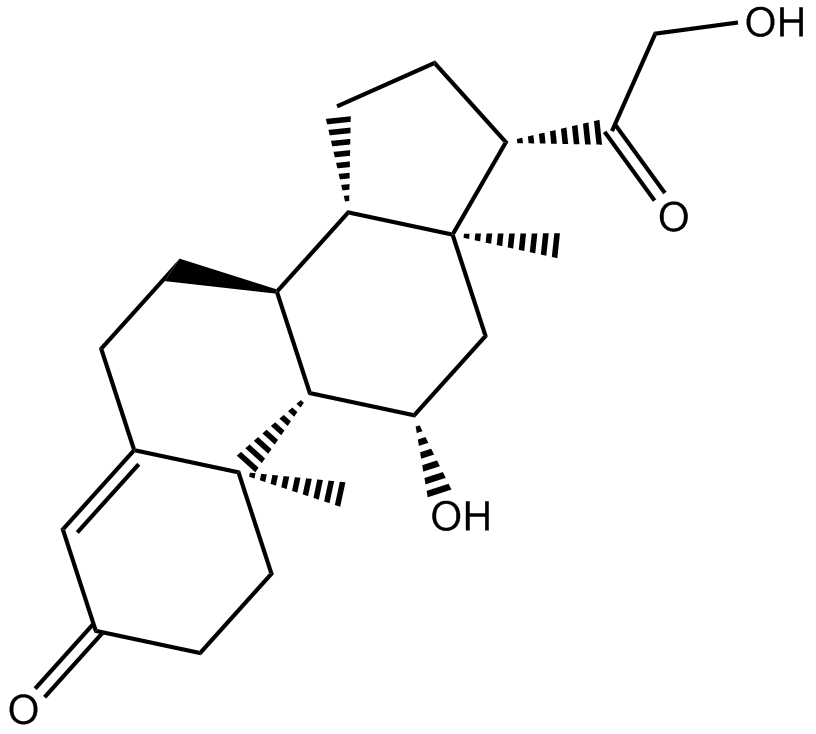 Related Biological Data