AZD6244 (Selumetinib)
MEK inhibitor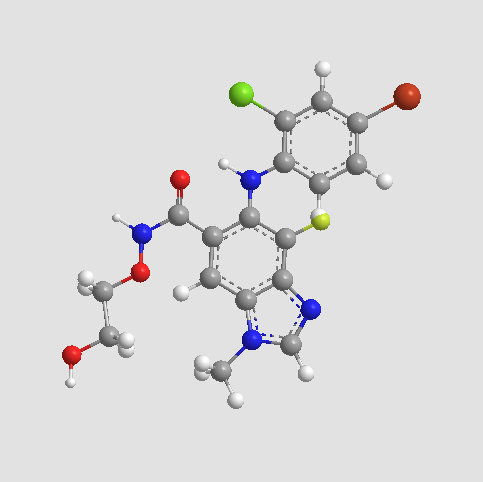 Sample solution is provided at 25 µL, 10mM.
Publications citing ApexBio Products
Related Compound Libraries
Quality Control
Quality Control & MSDS
View current batch:
Chemical structure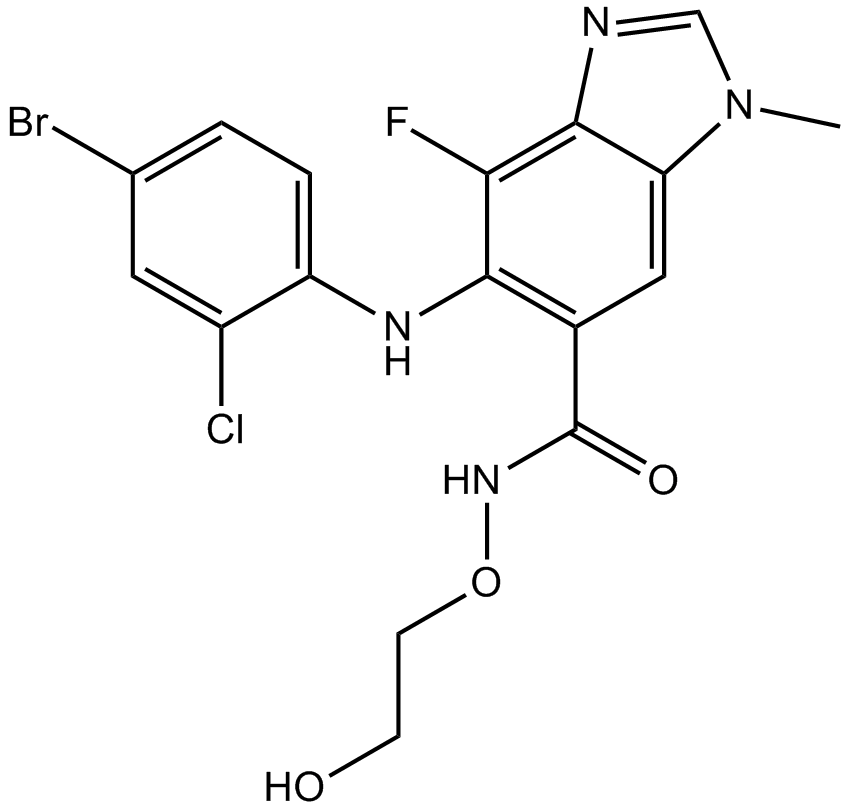 Related Biological Data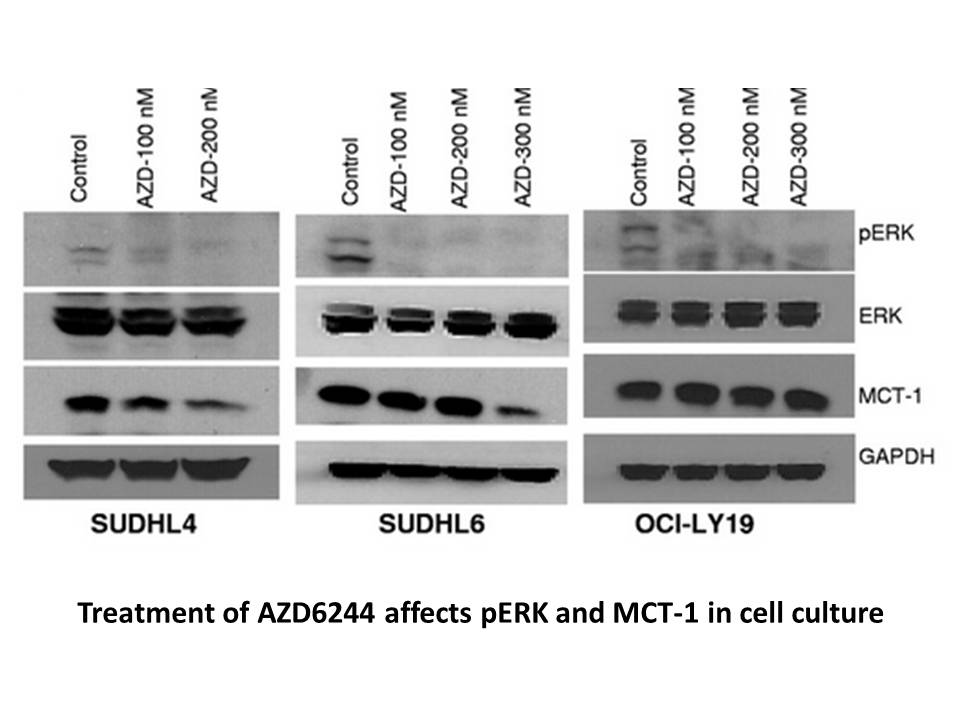 Related Biological Data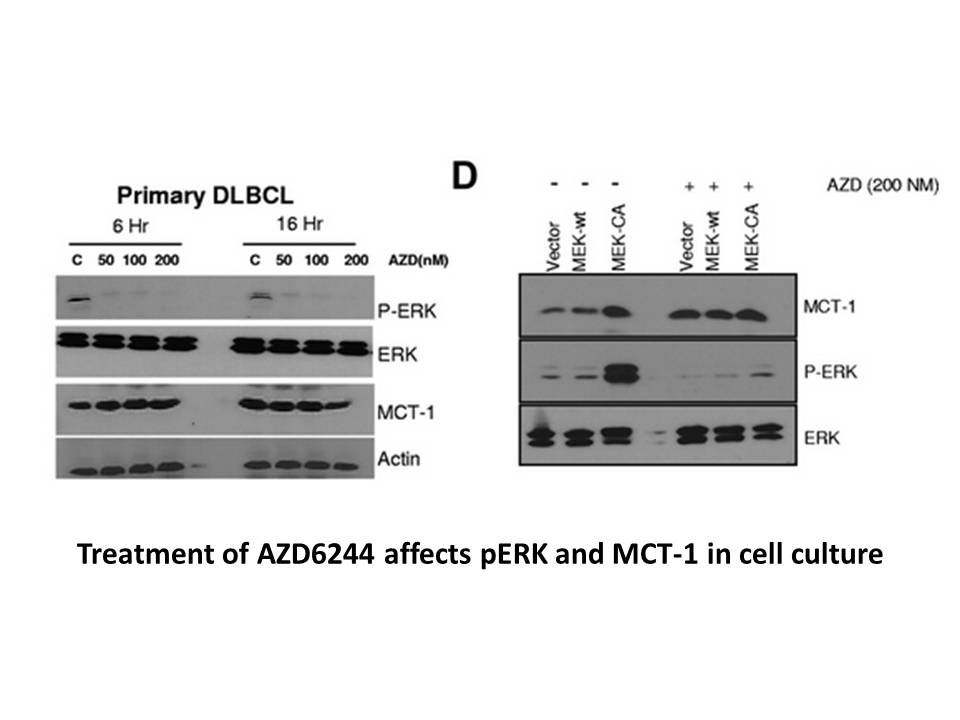 Biological Activity
Description
Selumetinib (AZD6244) is a potent, highly selective inhibitor of MEK1 with IC50 of 14 nM.
Targets
MEK1
IC50
14 nM
Protocol
Cell experiment: [1]

Cell lines

1205Lu cells (BRAFV600E)

Preparation method

The solubility of this compound in DMSO is >10 mM. General tips for obtaining a higher concentration: Please warm the tube at 37 °C for 10 minutes and/or shake it in the ultrasonic bath for a while.Stock solution can be stored below -20°C for several months.

Reaction Conditions

3 μM, 24 hours

Applications

Inhibition of cell growth by AZD6244 is caused by reversible G1 -phase cell cycle arrest. Adherent 1205Lu cells were treated with DMSO or 3 μM AZD6244 for 24 h or for 24 h and a further 24 h after removal of the drugs. Cells treated with AZD6244 were found to enter into the G1 -phase cell cycle arrest, but to reenter S phase after removal of the drug.

Animal experiment: [2]

Animal models

Nude mice implanted with HT-29 human colon carcinoma

Dosage form

Oral administration, 10, 25, 50, or 100 mg/kg, twice a day for 21 days

Applications

AZD6244 is effective in inhibiting tumor growth at all doses tested. The time to the tumor growth end point was 36 days for the two highest dose groups compared with 18 days for the vehicle control group. Tumor growth after 11 days of dosing was inhibited by 55% at the low dose of 10 mg/kg and by 70% at the high dose of 100 mg/kg. Recovery of tumor growth was observed after cessation of AZD6244 administration. Tumor regrowth was significantly delayed in the 100 mg/kg dose group.

Other notes

Please test the solubility of all compounds indoor, and the actual solubility may slightly differ with the theoretical value. This is caused by an experimental system error and it is normal.

References:

[1] Haass N K, Sproesser K, Nguyen T K, et al. The mitogen-activated protein/extracellular signal-regulated kinase kinase inhibitor AZD6244 (ARRY-142886) induces growth arrest in melanoma cells and tumor regression when combined with docetaxel. Clinical Cancer Research, 2008, 14(1): 230-239.

[2] Yeh T C, Marsh V, Bernat B A, et al. Biological characterization of ARRY-142886 (AZD6244), a potent, highly selective mitogen-activated protein kinase kinase 1/2 inhibitor. Clinical Cancer Research, 2007, 13(5): 1576-1583.
Chemical Properties
Cas No.
606143-52-6
SDF
Download SDF
Chemical Name
6-(4-bromo-2-chloroanilino)-7-fluoro-N-(2-hydroxyethoxy)-3-methylbenzimidazole-5-carboxamide
Canonical SMILES
CN1C=NC2=C1C=C(C(=C2F)NC3=C(C=C(C=C3)Br)Cl)C(=O)NOCCO
Formula
C17H15BrClFN4O3
M.Wt

457.69

Solubility
>22.9mg/mL in DMSO
Storage
Store at -20°C
General tips
No
Shipping Condition
No
Background
AZD6244 is a highly potent and selective inhibitor of MEK1/2 with IC50 value of 14.1nM against MEK1 [1].
AZD6244 is a second generation MEK1/2 inhibitor. In the radioactive assay, AZD6244 shows potent inhibition against the purified MEK1without the competition with ATP. Besides, it is a selective inhibitor since it has no obvious inhibition against other tyrosine kinases including MKK6, EGFR, ErbB2 and B-Raf et al. In the cellular assay, AZD6244 inhibits the phosphorylation of ERK1/2 which are the direct substrates of MEK1/2. The IC50 value is 10.3nM. It also inhibits the EGF-induced phosphorylation of ERK1/2 but not ERK5 in A431 cells. Since MEK is important in cell proliferation, the block of MEK1/2 caused by AZD6244 leads to a growth inhibition in the cell lines containing activating B-Raf and Ras mutations with IC50 values ranging from 59 to 473nM. Furthermore, the administration of AZD6244 can significantly inhibit tumor growth both in the HT-29 xenograft model and the BxPC3 pancreatic tumor xenograft model [1].
References:
[1] Yeh TC, Marsh V, Bernat BA, Ballard J, Colwell H, Evans RJ, Parry J, Smith D, Brandhuber BJ, Gross S, Marlow A, Hurley B, Lyssikatos J, Lee PA, Winkler JD, Koch K, Wallace E. Biological characterization of ARRY-142886 (AZD6244), a potent, highly selective mitogen-activated protein kinase kinase 1/2 inhibitor. Clin Cancer Res. 2007 Mar 1;13(5):1576-83.