Background
Z-FA-FMK is a control peptidic fluoromethylketone (boc-Thr-CH2F), and inhibitor to calpain (Ac-Leu-Leu-norleucinal), cathepsin B (Z-Phe-Ala-CH2F), and CPP32-like proteases (Z-DEVD-CH2F) [1]. A peptidyl fluoromethyl ketone (cathepsin B) was found to be an effective compound in a time dependent inactivation of cathepsin B isozymes from a number of tissues including human tumors [2]. The inhibitor of cathepsins B and L Z-FA-fmk blocks the induction of DEVDase activity, DNA fragmentation, and externalization of phosphatidylserine by selective RRMs. Z-FA-FMK can inhibit caspase activity in vitro and selectively inhibits recombinant effector caspases 2, -3, -6, and -7. In contrast, purified initiator caspases 8 and 10 are not affected, whereas the apoptosome-associated caspase 9 is only partially inhibited by Z-FA-FMK in vitro. [3]
It is an inhibitor of cysteine proteases, such as cathepsin B, which do not require a P1 Asp residue. It may be used as a negative control inhibitor for FMK P1 Asp caspase inhibitors.
References:
1. Inhibition of the interleukin-1 beta converting enzyme family rescues neurons from apoptotic death. Lynch, T., Vasilakos, J.P., Raser, K., Keane, K.M., Shivers, B.D. Mol. Psychiatry (1997)
2. Visualization of time-dependent inactivation of human tumor cathepsin B isozymes by a peptidyl fluoromethyl ketone using a fluorescent print technique. Smith, R.E., Rasnick, D., Burdick, C.O., Cho, K.J., Rose, J.C., Vahratian, A. Anticancer Res. (1988)
3. Lopez-Hernandez, F. J., Ortiz, M. A., Bayon, Y., & Piedrafita, F. J. (2003). Z-FA-fmk Inhibits Effector Caspases but not Initiator Caspases 8 and 10, and Demonstrates That Novel Anticancer Retinoid-related Molecules Induce Apoptosis via the Intrinsic Pathway1. Molecular cancer therapeutics, 2(3), 255-263.

Product Citation
Chemical Properties
| | |
| --- | --- |
| Physical Appearance | A solid |
| Storage | Store at -20°C |
| M.Wt | 386.42 |
| Cas No. | 105637-38-5;197855-65-5 |
| Formula | C21H23N2O4F |
| Synonyms | Z-FA-FMK, Z-Phe-Ala-fluoromethyl ketone, Z-Phe-Ala-FMK, Zfa-FMK, Z-Phe-Ala-CH2F, Cathepsin B, Caspase Inhibitor |
| Solubility | insoluble in H2O; ≥13.45 mg/mL in DMSO; ≥3.57 mg/mL in EtOH with ultrasonic |
| Chemical Name | benzyl N-[1-[(4-fluoro-3-oxobutan-2-yl)amino]-1-oxo-3-phenylpropan-2-yl]carbamate |
| SDF | Download SDF |
| Canonical SMILES | CC(C(=O)CF)NC(=O)C(CC1=CC=CC=C1)NC(=O)OCC2=CC=CC=C2 |
| Shipping Condition | Ship with blue ice, or upon other requests. |
| General tips | For obtaining a higher solubility, please warm the tube at 37°C and shake it in the ultrasonic bath for a while. We do not recommend long-term storage for the solution, please use it up soon. |
Protocol
Cell experiment:[1]

Cell lines

Jurkat T cells

Reaction Conditions

5, 30, or 100 μM Z-FA-FMK for 1 h preincubation

Applications

Increasing concentrations of Z-FA-FMK prevented retinoid-related molecule (RRM)-induced DNA fragmentation and DEVDase activity. Similarly, preincubation with a high concentration of Z-FA-FMK (100 μM) significantly inhibited the externalization of phosphatidylserine induced by RRMs. Z-FA-FMK, as an inhibitor of cathepsins B and L, has been used to explore the molecular mechanism underlying the anticancer activity of RRMs.

Animal experiment:[2]

Animal models

SCID mice xenografted with Ras oncogenic HT1080 cells

Dosage form

0.02 mg

Administered intratumorally, everyday up to 7 days post-viral injection and every 2 days until completion of the experiment.

Applications

Z-FA-FMK effectively blocked the replication activity of respiratory enteric orphan (reo)virus in both tumor and hear tissues. Therefore, Z-FA-FMK could serve as a potential viral inhibitor which prevents reovirus-mediated myocarditis and oncolysis in vivo.

Note

The technical data provided above is for reference only.

References:

1. Lopez-Hernandez FJ, Ortiz MA, Bayon Y, et al. Z-FA-fmk inhibits effector caspases but not initiator caspases 8 and 10, and demonstrates that novel anticancer retinoid-related molecules induce apoptosis via the intrinsic pathway. Molecular Cancer Therapeutics, 2003, 2(3): 255-263.

2. Kim M, Hansen KK, Davis L, et al. Z-FA-FMK as a novel potent inhibitor of reovirus pathogenesis and oncolysis in vivo. Antiviral Therapy, 2010, 15(6): 897-905.
Biological Activity
Description
Z-FA-FMK is an irreversible inhibitor of cysteine protease
Targets
cysteine protease
IC50
Quality Control
Quality Control & MSDS
View current batch:
Chemical structure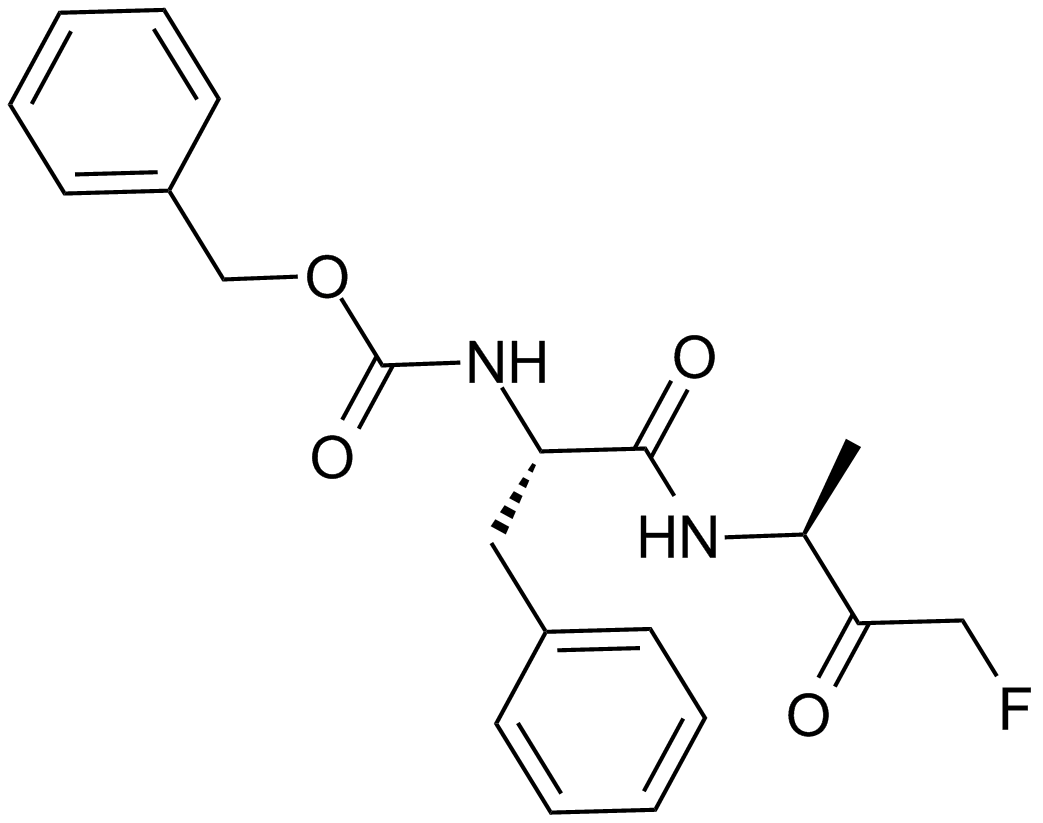 Related Biological Data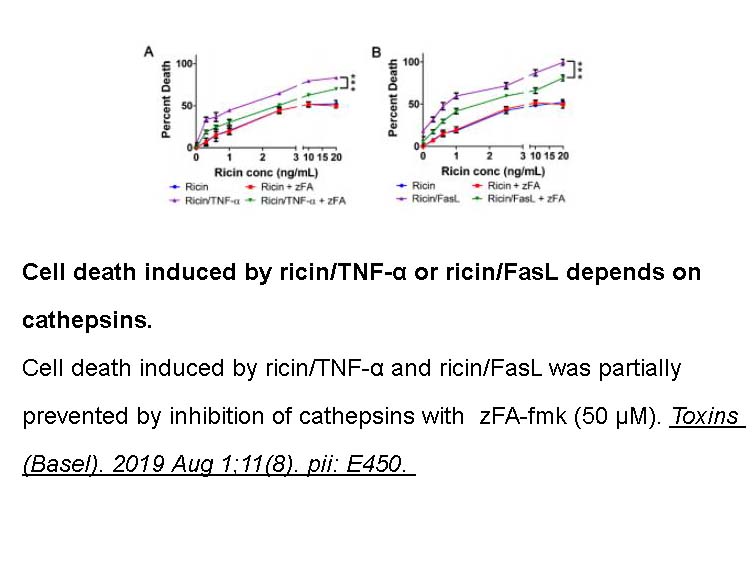 Related Biological Data