WP1130
Deubiquitinase (DUB) inhibitor, Cell permeable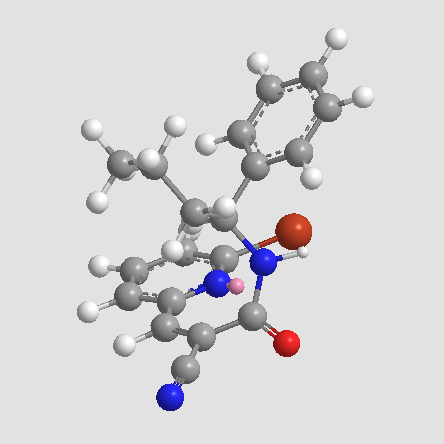 Sample solution is provided at 25 µL, 10mM.
Related Compound Libraries
Quality Control
Quality Control & MSDS
View current batch:
Chemical structure
Related Biological Data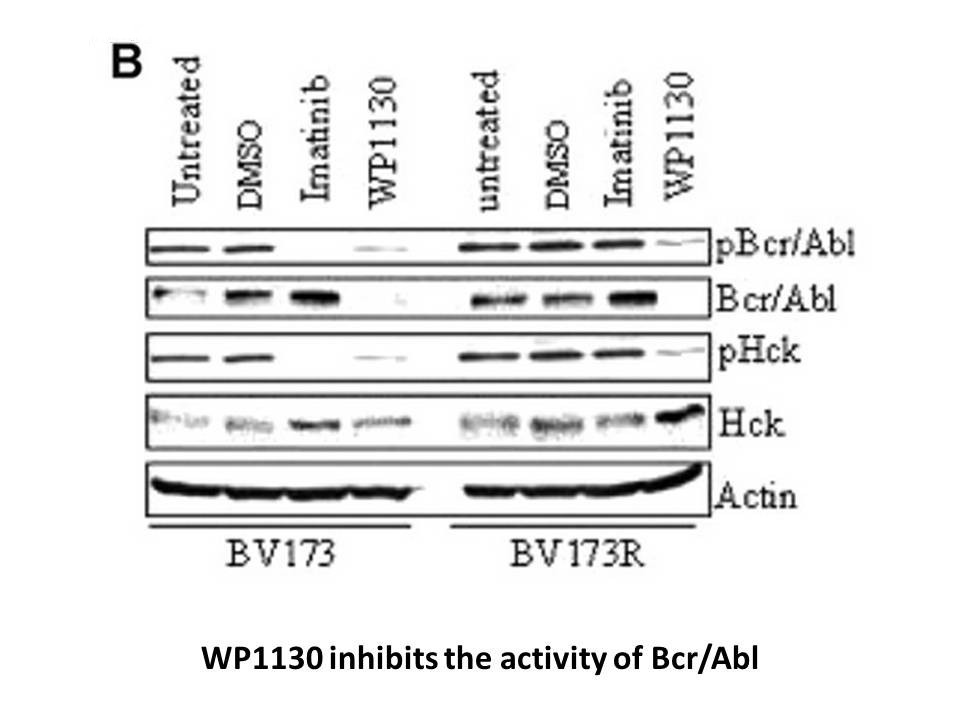 Related Biological Data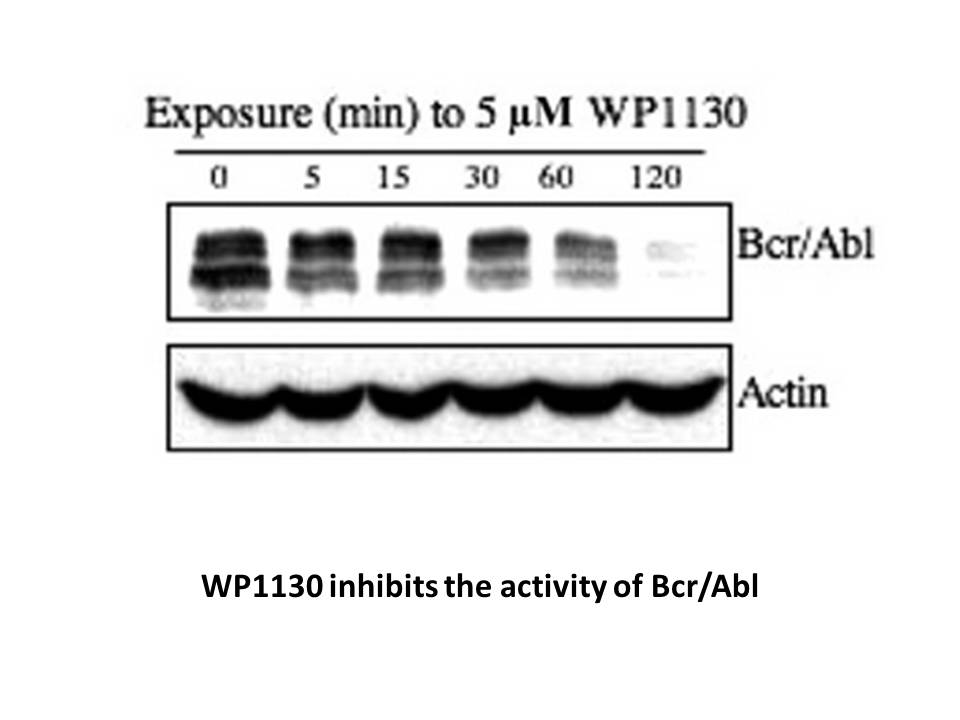 Related Biological Data
Biological Activity
Description
Degrasyn (WP1130) is a selective inhibitor of deubiquitinase (DUB: USP5, UCH-L1, USP9x, USP14, and UCH37).
Targets
DUB
Bcr-Abl
IC50
1.8 μM
Protocol
Cell experiment [1]:

Cell lines

The human typical MCL cell lines (Mino, DB, Z-138, and JMP-1)

Preparation method

The solubility of this compound in DMSO is >10 mM. General tips for obtaining a higher concentration: Please warm the tube at 37 °C for 10 minutes and/or shake it in the ultrasonic bath for a while.Stock solution can be stored below -20°C for several months.

Reaction Conditions

48 h; EC50=~1 μM

Applications

Degrasyn (WP1130) had superior inhibitory activity in the JAK/STAT pathway and the antiproliferative effect. These studies showed that cell growth suppression was seen in all three compounds(WP1130, WP1129 and WP1066 for all four cell lines, and the half maximal effective concentration (EC50) of degrasyn was lower than that of the other two compounds in all four MCL cell lines, suggesting that degrasyn is a more effective anti-tumor agent in MCL cells.

Animal experiment [1]:

Animal models

Young SCID mice

Dosage form

20 mg/kg; i.p.

Applications

Useing a xenotransplant SCID mouse model of MCL. Degrasyn alone showed modest prolongation of survival compared with vehicle alone (P<0.105). In addition, normal control mice (n = 5) given treatment with degrasyn alone or in combination with bortezomib remained alive and showed no signs of body weight loss.

Other notes

Please test the solubility of all compounds indoor, and the actual solubility may slightly differ with the theoretical value. This is caused by an experimental system error and it is normal.

References:

[1] Pham L V, Tamayo A T, Li C, et al. Degrasyn potentiates the antitumor effects of bortezomib in mantle cell lymphoma cells in vitro and in vivo: therapeutic implications[J]. Molecular cancer therapeutics, 2010, 9(7): 2026-2036.
Chemical Properties
Cas No.
856243-80-6
SDF
Download SDF
Synonyms
WP 1130; WP-1130
Chemical Name
(E)-3-(6-bromopyridin-2-yl)-2-cyano-N-[(1S)-1-phenylbutyl]prop-2-enamide
Canonical SMILES
CCCC(C1=CC=CC=C1)NC(=O)C(=CC2=NC(=CC=C2)Br)C#N
Formula
C19H18BrN3O
M.Wt

384.27

Solubility
>19.2mg/mL in DMSO
Storage
Store at -20°C
General tips
For obtaining a higher solubility , please warm the tube at 37 ℃ and shake it in the ultrasonic bath for a while.Stock solution can be stored below -20℃ for several months.
Shipping Condition
Evaluation sample solution : ship with blue ice
All other available size: ship with RT , or blue ice upon request
View Related Products By Research Topics
Background
WP1130, also known as degrasyn, is a second-generation tyrphostin derivative initially identified as a Janus-activated kinase (JAK)-signal transducer and activator of transcription (STAT) pathway inhibitor that reduces STAT activation stimulated by cytokines (such as IL-6 and IL-3) through the rapid down-regulation of upstream JAK kinases. WP1130 has also been identified as a selective deubiquitinating enzyme (DUB) inhibitor that directly inhibits DUB activity of USP9x, USP5, USP14 and UCH37 leading to rapid accumulation of polyubiquitinated proteins into juxtanuclear aggresomes and tumor cell apoptosis. WP1130-induced apoptosis and anti-proliferation in tumor cells have been implicated in the treatment of chronic myelogenous leukemia (CML), melanoma, glioblastoma and myeloproliferative disorders.
References:
[1]Kapuria V1, Peterson LF, Fang D, Bornmann WG, Talpaz M, Donato NJ. Deubiquitinase inhibition by small-molecule WP1130 triggers aggresome formation and tumor cell apoptosis. Cancer Res. 2010 Nov 15;70(22):9265-76. doi: 10.1158/0008-5472.CAN-10-1530. Epub 2010 Nov 2.
[2]Bartholomeusz GA1, Talpaz M, Kapuria V, Kong LY, Wang S, Estrov Z, Priebe W, Wu J, Donato NJ. Activation of a novel Bcr/Abl destruction pathway by WP1130 induces apoptosis of chronic myelogenous leukemia cells. Blood. 2007 Apr 15;109(8):3470-8. Epub 2007 Jan 3.