Product Citation
Description
Protease Inhibitor Cocktail (100X in DMSO, EDTA plus), which is used during cell lysis and protein extraction, is a ready-to-use concentrated stock solutions of multiple protease inhibitors for endogenous protease. This product contains a separate 0.5M EDTA solution which inhibiting metalloproteases.
It generates optimized concentrations of six broad-spectrum protease inhibitors stabilized in DMSO, that powerfully inhibits serine-proteases, cysteine-proteases, aspartic acid-proteases and aminopeptidases appearing in cellular lysate samples. EDTA provides inhibition for metalloproteases.
EDTA inhibits metalloproteases by chelating the divalent cations that is necessary for their activity, so the activities of other proteins may be affected by EDTA. Therefore, empirical testing may be need in particular experiments to determine if EDTA will take a bad impact. If the protein of interest is to be purified using immobilized metal chelate affinity chromatography (IMAC) or analyzed by 2D gel electrophoresis, EDTA must be removed by extensive dialysis or desalting before purifying.
Protocol
Thaw on ice, add at 1:100 (v/v) dilution to solution samples (such as cell lysates or tissue extracts) before assaying.
Applications: WB, Co-IP, pull-down, IF, IHC, Flow Cytometry, kinase assay and etc.
Quality Control
Related Biological Data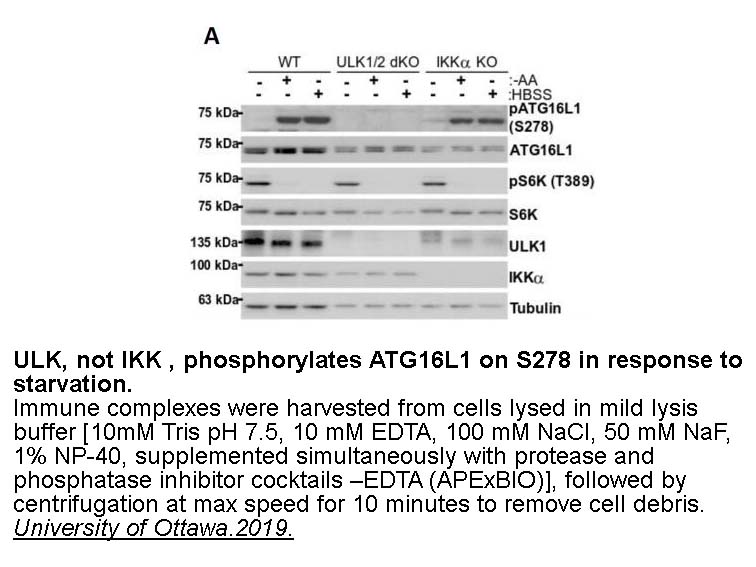 Components and Storage
Tube
Catalog No.
Product Name
Summary
Targets
CAS Number
Smiles
A (100X in DMSO)
A2573
AEBSF.HCl
Serine protease inhibitor
Proteases|Serine Protease
30827-99-7
C1=CC(=CC=C1CCN)S(=O)(=O)F.Cl
A2574
Aprotinin
Inhibitor of bovine pancreatic trypsin
Proteases|Serine Protease
9087-70-1
A2575
Bestatin
Aminopeptidase inhibitor
Proteases|Aminopeptidase
58970-76-6
CC(C)CC(C(=O)O)NC(=O)C(C(CC1=CC=CC=C1)N)O
A2576
E-64
Cysteine protease inhibitor,irreversible
Proteases|Cathepsin
66701-25-5
CC(C)CC(C(=O)NCCCCN=C(N)N)NC(=O)C1C(O1)C(=O)O
A2570
Leupeptin
Inhibitor of serine and cysteine proteases
Proteases|Serine Protease
103476-89-7
O=C(C(C([H])([H])C(C([H])([H])[H])([H])C([H])([H])[H])([H])N([H])C(C([H])([H])[H])=O)N([H])C(C(N([H])C(C([H])=O)([H])C([H])([H])C([H])([H])C([H])([H])/N=C(N([H])[H])/N([H])[H])=O)([H])C([H])([H])C(C([H])([H])[H])([H])C([H])([H])[H]
A2571
Pepstatin A
Aspartic proteinases inhibitor
Proteases|Other Proteases
26305-03-3
CC(C)CC(C(CC(=O)O)O)NC(=O)C(C)NC(=O)CC(C(CC(C)C)NC(=O)C(C(C)C)NC(=O)C(C(C)C)NC(=O)CC(C)C)O
B (100X in ddH2O)
EDTA, disodium salt, dihydrate
Metalloprotease inhibitor
protease
6381-92-6
Stored at -20°C, and stable for at least 12 months.
Storage
Stored at -20°C, and stable for at least 12 months.