Background
Linsitinib (OSI-906) is a potent and novel small-molecule inhibitor inhibiting insulin receptor (IR) and IGF-1 receptor (IGF-1R) kinases with IC50 value of 75nM and 35nM, respectively1.
Studies in 3T3/hulGF-1R(LISN) cells showed that linsitinib inhibits the ligant-dependent autophosphorylation of IGF-1R and its downstream signaling pathways including pERK1/2, pAKT, p-p70S6K. Linsitinib showed anti-proliferative effects in different cancer cell lines including colorectal cells (SW620), breast tumor cells (DY4475) and mouse fibroblast cells (3T3/hulGF-1R) with EC50 of 21nM, 86nM, and 78nM, respectively1.
Linsitinib administrated orally in LISN derived xenograft model has been shown to suppress the tumor growth in a dose-dependent manner 1.
References:
1. Mulvihill MJ1, Cooke A, Rosenfeld-Franklin M, Buck E, Foreman K, Landfair D, O'Connor M, Pirritt C, Sun Y, Yao Y, Arnold LD, Gibson NW, Ji QS. Discovery of OSI-906: a selective and orally efficacious dual inhibitor of the IGF-1 receptor and insulin receptor. Future Med Chem. 2009 Sep;1(6):1153-71
Product Citation
Chemical Properties
| | |
| --- | --- |
| Physical Appearance | A solid |
| Storage | Store at -20°C |
| M.Wt | 421.51 |
| Cas No. | 867160-71-2 |
| Formula | C26H23N5O |
| Synonyms | OSI 906; OSI-906; OSI906 |
| Solubility | ≥21.08 mg/mL in DMSO; insoluble in H2O; ≥2.88 mg/mL in EtOH with gentle warming and ultrasonic |
| Chemical Name | 3-[8-amino-1-(2-phenylquinolin-7-yl)imidazo[1,5-a]pyrazin-3-yl]-1-methylcyclobutan-1-ol |
| SDF | Download SDF |
| Canonical SMILES | CC1(CC(C1)C2=NC(=C3N2C=CN=C3N)C4=CC5=C(C=C4)C=CC(=N5)C6=CC=CC=C6)O |
| Shipping Condition | Evaluation sample solution: ship with blue ice. All other available sizes: ship with RT, or blue ice upon request. |
| General tips | For obtaining a higher solubility, please warm the tube at 37°C and shake it in the ultrasonic bath for a while. Stock solution can be stored below -20°C for several months. |
Protocol
Cell experiment: [1]

Cell lines

HepG2, Hep3B, Huh-7, PLC/PRF/5, SNU-387 and SNU-423 cells

Preparation method

The solubility of this compound in DMSO is >10 mM. General tips for obtaining a higher concentration: Please warm the tube at 37 °C for 10 minutes and/or shake it in the ultrasonic bath for a while.Stock solution can be stored below -20°C for several months.

Reaction Conditions

3 μM, 20 hours

Applications

All 6HCCcell lines showed higher IR phosphorylation than IGF-1R, suggesting the significance of IR activity in HCC. Furthermore, all 3 HCC cell lines (HepG2, Hep3B, and HuH-7) that are sensitive to OSI-906 had much higher phosphorylation levels of both IGF-1R and IR than insensitive cell lines. This suggests that sensitivity to OSI-906 associates with activation of both IGF-1R and IR in HCC cell lines.

Animal experiment: [2]

Animal models

Female athymic nude mice injected with NCI-H292 or NCI-H441 cells

Dosage form

Oral administration, 60 mg/kg

Applications

The NCI-H292 xenografts (sensitive to OSI-906 treatment) show a significant decrease (p

Other notes

Please test the solubility of all compounds indoor, and the actual solubility may slightly differ with the theoretical value. This is caused by an experimental system error and it is normal.

References:

[1] Zhao H, Desai V, Wang J, et al. Epithelial–Mesenchymal Transition Predicts Sensitivity to the Dual IGF-1R/IR Inhibitor OSI-906 in Hepatocellular Carcinoma Cell Lines. Molecular cancer therapeutics, 2012, 11(2): 503-513.

[2] McKinley E T, Bugaj J E, Zhao P, et al. 18FDG-PET predicts pharmacodynamic response to OSI-906, a dual IGF-1R/IR inhibitor, in preclinical mouse models of lung cancer. Clinical Cancer Research, 2011, 17(10): 3332-3340.
Biological Activity
Description
OSI-906 (Linsitinib) is a selective inhibitor of IGF-1R with IC50 of 35 nM; modestly potent to InsR with IC50 of 75 nM.
Targets
IGF-1R
InsR
IC50
35 nM
75 nM
Quality Control
Quality Control & MSDS
View current batch:
Chemical structure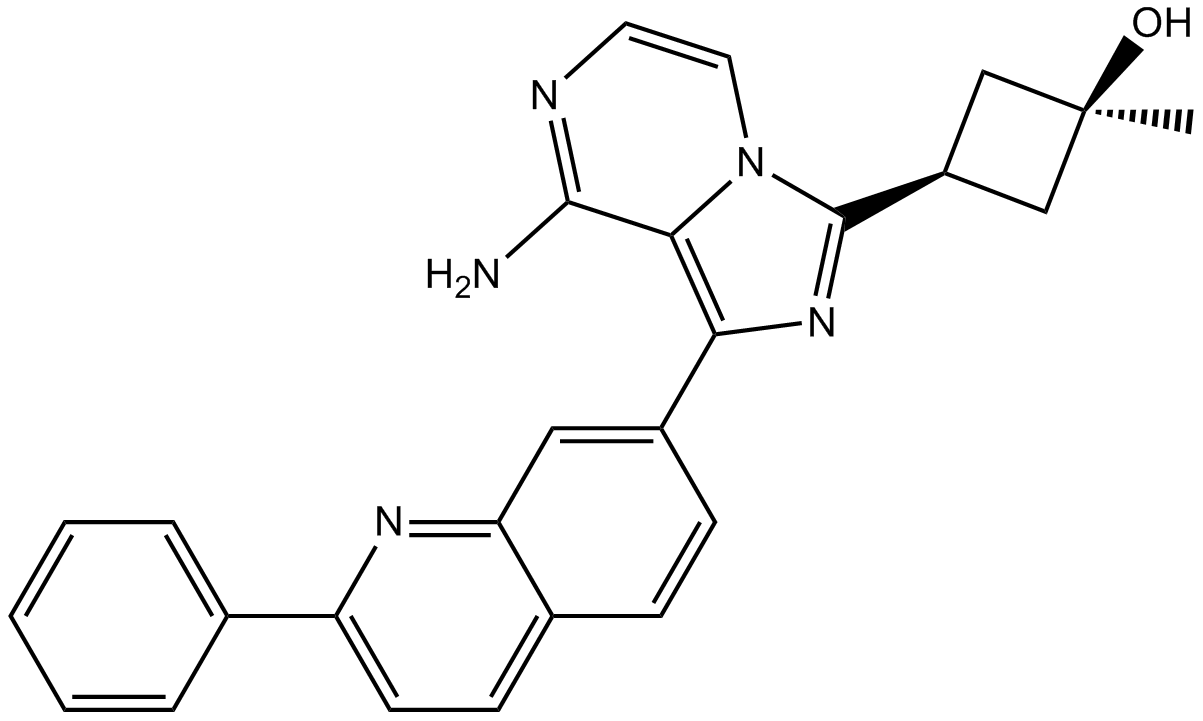 Related Biological Data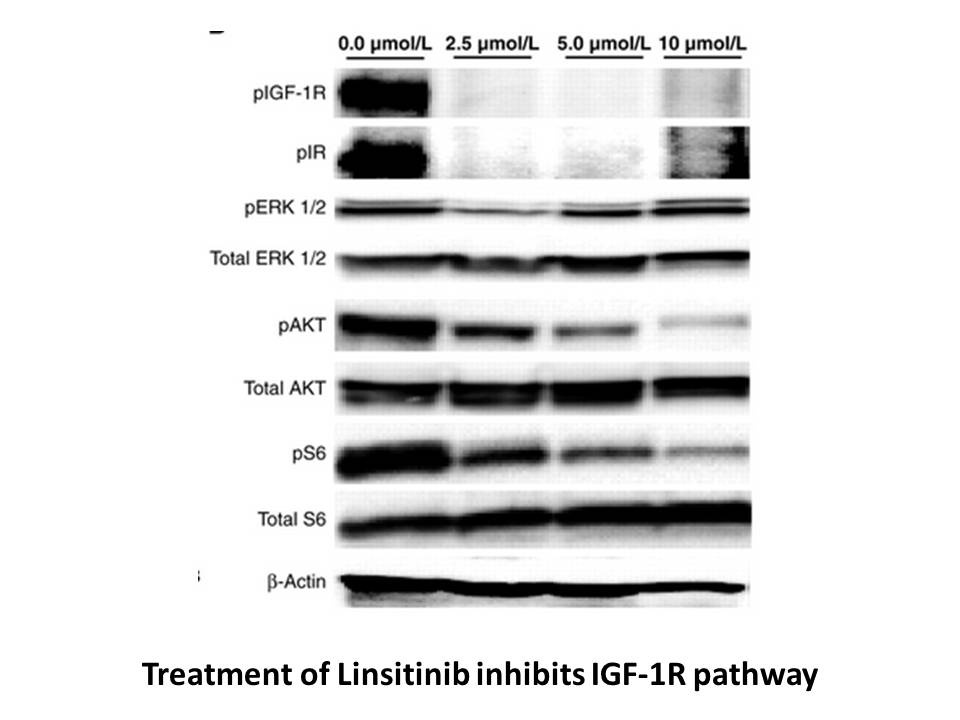 Related Biological Data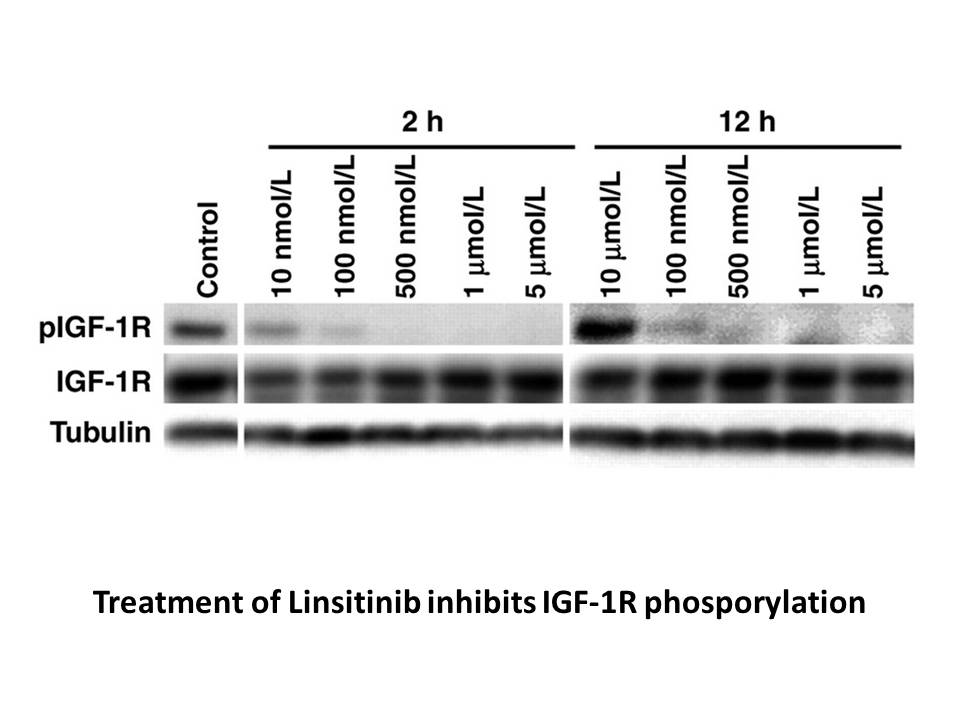 Related Biological Data
Related Biological Data