Background
Imatinib mesylate is a tyrosine kinase inhibitor IC50 value of 100 nM, 100 nM, 600 nM for v-Abl, c-kit, PDGFR, respectively [1].
Tyrosine kinase is an enzyme which is a subclass of protein kinase and plays an important role in transferring a phosphate group from ATP to a protein in cells. It is shown that tyrosine kinase plays a pivotal role in the management of disorders in which activation of c-Abl, PDGFR, or c-Kit signaling. Recently, the role of tyrosine kinases in the modulation of growth factor signaling are received more and more attention and gradually become an especial important target [2].
Imatinib Mesylate is a specific tyrosine kinase (abl, c-kit, and PDGFR) inhibitor and is reported to sensitize cells to radio- or chemo-therapy. When tested with Y-79 and WERI-RB-1 Rb cell lines, imatinib mesylate treatment decreased the cell proliferation and invasion with the concentration of 10 μM [3]. In osteoblast cells, administration of imatinib mesylate decreased osteoclast development via stimulating differentiation, inhibiting proliferation and survival [4].
In dog model with mast cell tumor, administration of imatinib mesylate at a dose of 10 mg/kg daily for 1-9 weeks reduced tumor growth via inhibiting tyrosine kinase [5].
References:
[1].Buchdunger, E., et al., Selective inhibition of the platelet-derived growth factor signal transduction pathway by a protein-tyrosine kinase inhibitor of the 2-phenylaminopyrimidine class. Proc Natl Acad Sci U S A, 1995. 92(7): p. 2558-62.
[2].Zhou, Y., et al., The multi-targeted tyrosine kinase inhibitor vandetanib plays a bifunctional role in non-small cell lung cancer cells. Sci Rep, 2015. 5: p. 8629.
[3].de Moura, L.R., et al., The effect of imatinib mesylate on the proliferation, invasive ability, and radiosensitivity of retinoblastoma cell lines. Eye (Lond), 2013. 27(1): p. 92-9.
[4].O'Sullivan, S., et al., Imatinib mesylate does not increase bone volume in vivo. Calcif Tissue Int, 2011. 88(1): p. 16-22.
[5].Isotani, M., et al., Effect of tyrosine kinase inhibition by imatinib mesylate on mast cell tumors in dogs. J Vet Intern Med, 2008. 22(4): p. 985-8.
Product Citation
Chemical Properties
| | |
| --- | --- |
| Physical Appearance | A solid |
| Storage | Store at -20°C |
| M.Wt | 589.71 |
| Cas No. | 220127-57-1 |
| Formula | C29H31N7O·CH4SO3 |
| Solubility | ≥29.5 mg/mL in DMSO; ≥2.84 mg/mL in EtOH with gentle warming and ultrasonic; ≥49.9 mg/mL in H2O |
| Chemical Name | methanesulfonic acid;4-[(4-methylpiperazin-1-yl)methyl]-N-[4-methyl-3-[(4-pyridin-3-ylpyrimidin-2-yl)amino]phenyl]benzamide |
| SDF | Download SDF |
| Canonical SMILES | CC1=C(C=C(C=C1)NC(=O)C2=CC=C(C=C2)CN3CCN(CC3)C)NC4=NC=CC(=N4)C5=CN=CC=C5.CS(=O)(=O)O |
| Shipping Condition | Ship with blue ice, or upon other requests. |
| General tips | For obtaining a higher solubility, please warm the tube at 37°C and shake it in the ultrasonic bath for a while. We do not recommend long-term storage for the solution, please use it up soon. |
Protocol
Cell experiment: [1]

Cell lines

T cells

Preparation method

The solubility of this compound in DMSO is >10 mM. General tips for obtaining a higher concentration: Please warm the tube at 37 °C for 10 minutes and/or shake it in the ultrasonic bath for a while.Stock solution can be stored below -20°C for several months.

Reaction Conditions

IC50: 3.9 μM for inhibiting DCs-stimulated T-cell proliferation 2.9 μM for inhibiting PHA-stimulated T-cell proliferation 4 days

Applications

Cells were stimulated with allogeneic mature DCs or PHA in the presence of imatinib mesylate. The drug inhibited T-cell proliferation as a function of concentration. The effects were significant at 0.5 μM imatinib mesylate for the cells stimulated by DCs and at 1.0 μM imatinib mesylate for the cells stimulated with PHA. The IC50 values for imatinib mesylate–inhibited T-cell proliferation stimulated by DCs and PHA were 3.9 μM and 2.9 μM, respectively.

Animal experiment: [2]

Animal models

Female C57BL/6 mice

Dosage form

Intraperitoneal injection, 25 or 50mg/kg/day

Applications

Administration of imatinib alone did not generate any changes in lung morphology. However, when imatinib was administered in bleomycin-treated mice, a reduction of fibrotic lesions in the subpleural areas of lung was observed at doses of 25 and 50 mg/kg/day. The quantitative histologic analysis demonstrated that the fibrotic score in mice treated with bleomycin and 50 mg/kg/day of imatinib was significantly lower than that treated with bleomycin alone. The collagen content of the lung was also significantly lower in mice treated with bleomycin and imatinib (50 mg/kg/day) as compared with those treated with bleomycin alone.

Other notes

Please test the solubility of all compounds indoor, and the actual solubility may slightly differ with the theoretical value. This is caused by an experimental system error and it is normal.

References:

[1] Dietz A B, Souan L, Knutson G J, et al. Imatinib mesylate inhibits T-cell proliferation in vitro and delayed-type hypersensitivity in vivo. Blood, 2004, 104(4): 1094-1099.

[2] Aono Y, Nishioka Y, Inayama M, et al. Imatinib as a novel antifibrotic agent in bleomycin-induced pulmonary fibrosis in mice. American journal of respiratory and critical care medicine, 2005, 171(11): 1279-1285.
Biological Activity
Description
Imatinib Mesylate (STI571), an orally bioavailability mesylate salt of Imatinib, is a multi-target inhibitor of v-Abl, c-Kit and PDGFR with IC50 of 0.6 μM, 0.1 μM and 0.1 μM, respectively.
Targets
v-Abl
PDGFR
c-Kit
IC50
600 nM
100 nM
100 nM
Quality Control
Quality Control & MSDS
View current batch:
Chemical structure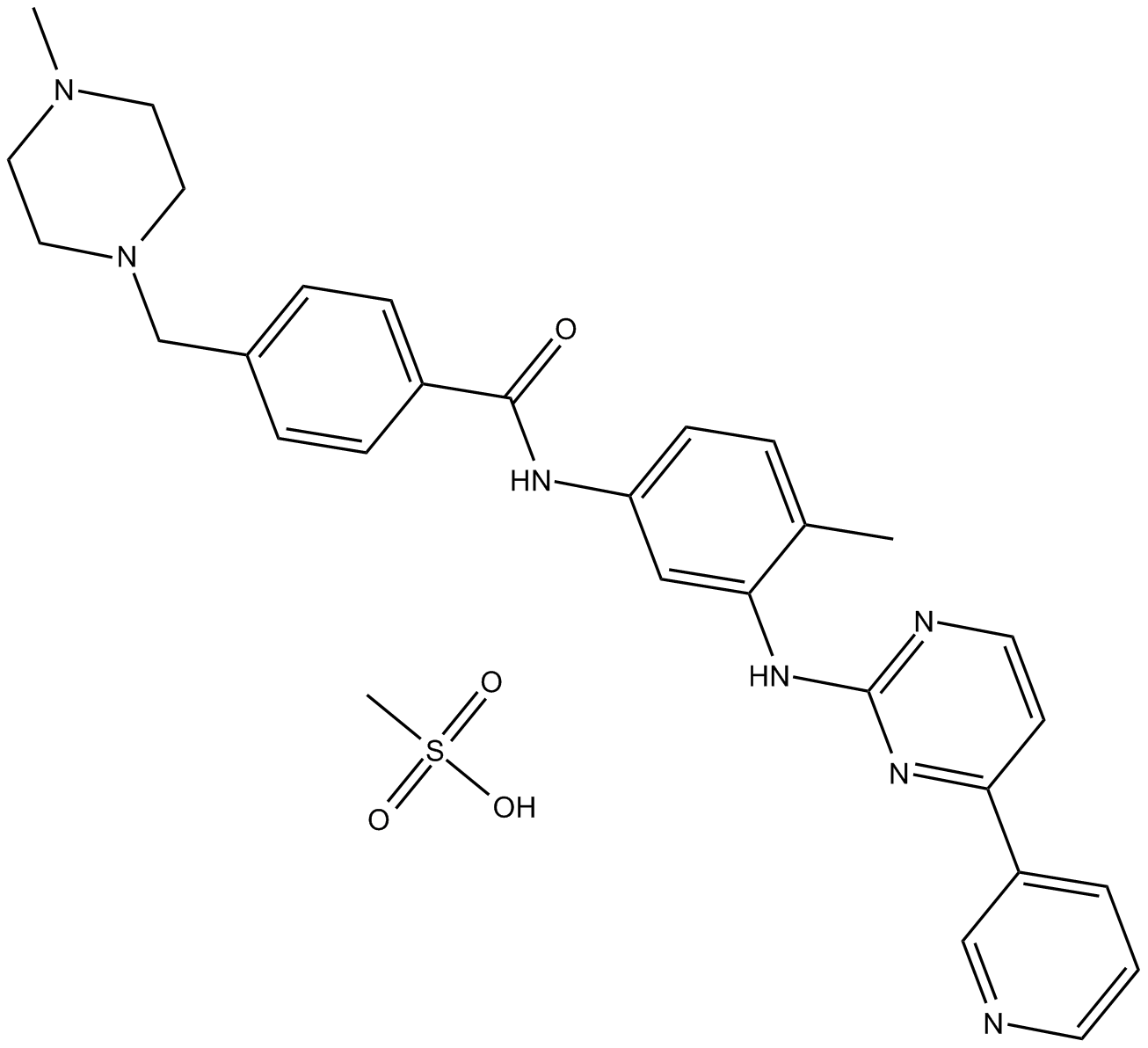 Related Biological Data