FIIN-2
Irreversible inhibitor of FGFR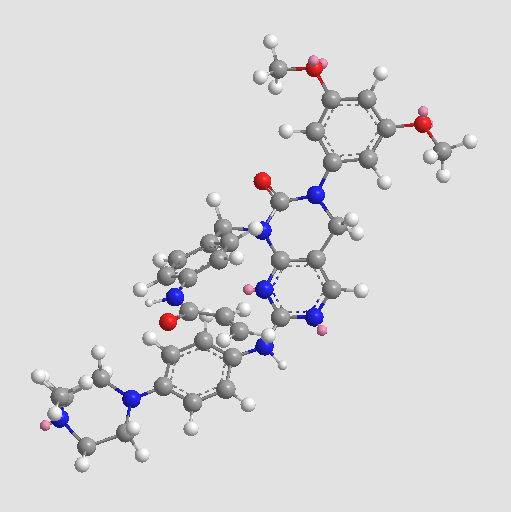 Sample solution is provided at 25 µL, 10mM.
Publications citing ApexBio Products
Related Compound Libraries
Quality Control
Quality Control & MSDS
View current batch:
Chemical structure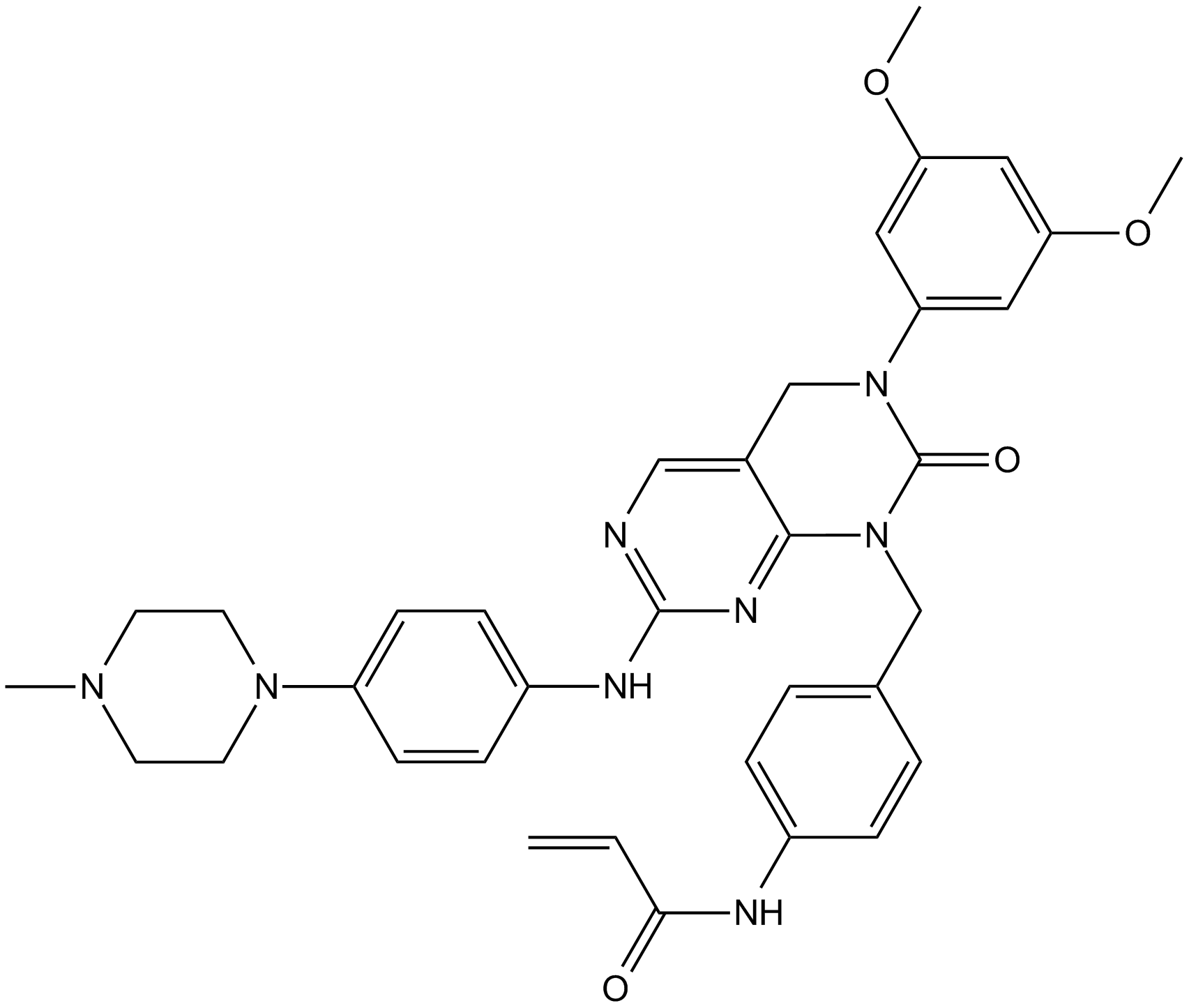 Chemical Properties
Cas No.
1633044-56-0
SDF
Download SDF
Chemical Name
N-(4-((3-(3,5-dimethoxyphenyl)-7-((4-(4-methylpiperazin-1-yl)phenyl)amino)-2-oxo-3,4-dihydropyrimido[4,5-d]pyrimidin-1(2H)-yl)methyl)phenyl)acrylamide
Canonical SMILES
O=C(C=C)NC1=CC=C(CN2C(N(C3=CC(OC)=CC(OC)=C3)CC4=CN=C(NC5=CC=C(N6CCN(C)CC6)C=C5)N=C42)=O)C=C1
Formula
C35H38N8O4
M.Wt

634.73

Solubility
>31.8mg/mL in DMSO
Storage
Store at -20°C
General tips
N/A
Shipping Condition
N/A
Background
FIIN-2 is an irreversible inhibitor of FGFR1–4 with IC50 values of 3.1, 4.3, 27, and 45 nM, respectively. FIIN-2 also moderately inhibited EGFR, with an IC50 of 204 nM. The Cys491 of FGFR2 is the primary labeled site for FIIN-2 binding [1].
FIIN-2 is the first class of inhibitors that can potently inhibit the proliferation of cells dependent upon the gatekeeper mutants of FGFR1 or FGFR2. The co-crystal structure of FGFR4 with FIIN-2 was reported, which unexpectedly exhibits a "DFG-out" covalent binding mode. FIIN-2 maintains the pyrimido[4,5-d] pyrimidinone core of FIIN-1 but removes the two chlorine atoms, which are crucial for FIIN-1's potency against FGFR. FIIN-2 maintains the ability to form a covalent bond with the P-loop cysteine but alter the selectivity profile versus other kinases. Compared with FIIN-1, FIIN-2 displayed strong binding to FGFRs and exhibited good overall kinase selectivity. FIIN-2 exhibited much less affinity for EGFR, but FIIN-3 potently bound to WT EGFR and to a subset of EGFR mutants. [1]
FIIN-2 inhibited proliferation of FGFR1-4 Ba/F3 cells with EC50s in the nanomolar range and were especially potent against FGFR2, with EC50s in the 1-nM range. FIIN-2 also inhibited the FGFR2 V564M gatekeeper mutant Ba/F3 cells, with EC50s of 58 nM, whereas FIIN-1 and BGJ398 had EC50s of over 1.0 μM against this mutant. FIIN-2 showed good potency against gatekeeper mutant V564F. In contrast, FIIN-2 was fourfold less potent (EC50 of 506 nM). FIIN-2 was inactive up to a concentration of 1.8 μM against EGFR L858R. FIIN-2 showed rather poor potency against protein kinase FLT1 (FLT1). In WT FGFR2 Ba/F3 cells, FIIN-2 completely inhibited the FGFR2 autophosphorylation on mutations of Tyr656/657 and V564M at concentrations of 3 nM and 300 nM, respectively. [1]
Reference:
1.Tan L, Wang J, Tanizaki J et al. Development of covalent inhibitors that can overcome resistance to first-generation FGFR kinase inhibitors. Proc Natl Acad Sci U S A. 2014 Nov 11;111(45):E4869-77. doi: 10.1073/pnas.1403438111. Epub 2014 Oct 27.