CDK9 inhibitor
CDK9 inhibitor
Sample solution is provided at 25 µL, 10mM.
Publications citing ApexBio Products
Quality Control
Quality Control & MSDS
View current batch:
Chemical structure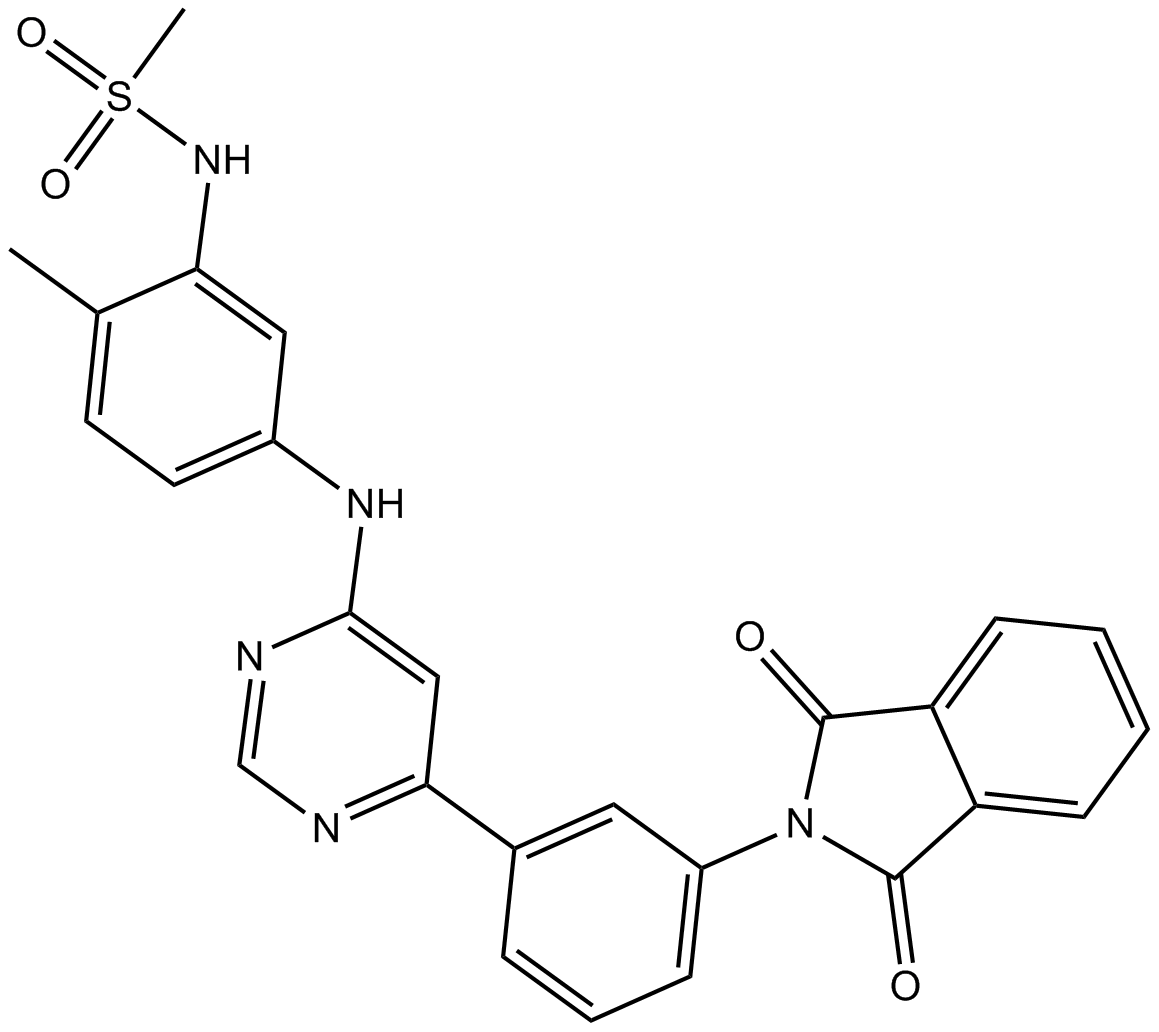 Chemical Properties
Cas No.
1415559-43-1
SDF
Download SDF
Chemical Name
N-[5-[[6-[3-(1,3-dioxoisoindol-2-yl)phenyl]pyrimidin-4-yl]amino]-2-methylphenyl]methanesulfonamide
Canonical SMILES
CC1=C(C=C(C=C1)NC2=NC=NC(=C2)C3=CC(=CC=C3)N4C(=O)C5=CC=CC=C5C4=O)NS(=O)(=O)C
Formula
C26H21N5O4S
M.Wt

499.54

Solubility
Soluble in DMSO
Storage
Store at -20°C
General tips
N/A
Shipping Condition
N/A
Background
CDK9 inhibitor is a small-molecule selective inhibitor of CDK9 (cyclin dependent kinase 9) with IC50 value of 39 nM [1].
CDKs are a group of serine/threonine kinases and are widely spread in all known eukaryotes. CDKs are activated through binding to cyclins and forming heterodimers. In the dimer, CDK acts as a catalytic subunit and phosphorylates the down-stream proteins such as nuclear lamina protein, nucleolin and histone H1. Through this way, CDKs take participate in the cell cycle regulation. CDK9 is a special member of the CDK family. It can affect the elongation phase of transcription through phosphorylating RNA polymerase II. The partner of it is positive elongation factor b (P-TEFb). It is reported that CDK9 is necessary for the infection of many kinds of viruses such as HIV-1 and HSV1 [1].
CDK9 inhibitor is a 4-aminophenyl derivative based on the (6-phenyl-pyrimidin-4-yl)-phenylamine structure. It showed elevated selectivity against CDK9 than the previous found inhibitors. The IC50 values of CDK9 inhibitor for CDK1/CycB, CDK2/CycE, CDK3/CycE, CDK4/CycD1, CDK5/p35, CDK6/CycD1 and CDK7/CycH are all higher than 1 μM. CDK9 inhibitor has no cytotoxicity. The treatment of CDK9 inhibitor at concentrations of 1 μM and 2 μM resulted in the cell viabilities of 101% and 115%, respectively. It also showed no significant toxicity in H9 cells. In the p24 assay, CDK9 inhibitor exerted its potency in inhibiting HIV-1 propagation with about 10% reduction of p24 production [1].
References:
1.Németh G, Varga Z, Greff Z, et al. Novel, selective CDK9 inhibitors for the treatment of HIV infection. Curr Med Chem, 2011;18(3):342-58.