Background
AZD5363 is a novel, potent phosphoinositide 3-kinase (PI3K)/Akt pathway inhibitor with IC50 value of ~200nM. [1]
AZD5363 is proved to inhibit castrate resistant prostate cancer (CRPC) progression. Clusterin (CLU) and autophagy will be induced which may work as cytoprotective responses which can affect the downstream PI3K/Akt signaling. [2] AZD5363 inhibits the growth of a lot of human tumor cells in a dose dependent manner. The mode of action could be monotherapy as well as in combination with HER2 inhibitors in breast cancer models. [3] It is suggested to induce cell apoptosis by measuring the expression of PARP cleavage, the activity of Caspase 3, et al. [1]
Most importantly, AZD5363 can target the PI3K/Akt-pathway in vivo significantly, thus reducing the serum PSA-levels and tumor volume, finally, it could postpone the progression to CRPC.[1]
References:
[1] Thomas C, Crafter C, Davies B, Zoubeidi A, Gleave ME. AZD5363, A novel AKT inhibitor, delays prostate cancer progression. The Journal of Urology. May 2011. 185(4S): e292-293.
[2] Kumano M, Zhang F, Shiota M, Crafter C, Davies B, Zoubeidi A, Gleave M. Clusterin knockdown enhances antitumor activity of a novel Akt inhibitor, AZD5363, through inhibition of autophagy in prostate cancer. The Journal of Urology. May 21 2012. e392.
[3] Davies BR, Greenwood H, Dudley P, et al. Preclinical Pharmacology of AZD5363, an Inhibitor of AKT: Pharmacodynamics, Antitumor Activity, and Correlation of Monotherapy Activity with Genetic Background. Mol. Cancer Ther. Arp 2012. 11: 873.
Product Citation
Chemical Properties
| | |
| --- | --- |
| Physical Appearance | A solid |
| Storage | Store at -20°C |
| M.Wt | 428.92 |
| Cas No. | 1143532-39-1 |
| Formula | C21H25ClN6O2 |
| Solubility | ≥21.45mg/mL in DMSO |
| Chemical Name | 4-amino-N-[(1S)-1-(4-chlorophenyl)-3-hydroxypropyl]-1-(7H-pyrrolo[2,3-d]pyrimidin-4-yl)piperidine-4-carboxamide |
| SDF | Download SDF |
| Canonical SMILES | C1CN(CCC1(C(=O)NC(CCO)C2=CC=C(C=C2)Cl)N)C3=NC=NC4=C3C=CN4 |
| Shipping Condition | Evaluation sample solution: ship with blue ice. All other available sizes: ship with RT, or blue ice upon request. |
| General tips | For obtaining a higher solubility, please warm the tube at 37°C and shake it in the ultrasonic bath for a while. Stock solution can be stored below -20°C for several months. |
Protocol
Cell experiment: [1]

Cell lines

GSK3 in BT474c (Her2þ PIK3CAmutant breast), LNCaP (PTEN-null prostate) and MDA-MB-468 (PTEN-null breast) cancer cells

Preparation method

The solubility of this compound in DMSO is >10 mM. General tips for obtaining a higher concentration: Please warm the tube at 37 °C for 10 minutes and/or shake it in the ultrasonic bath for a while.Stock solution can be stored below -20°C for several months.

Reaction Conditions

pGSK3β (IC50: 0.76 μM in BT474c, 0.06 μM in LNCaP, 0.38 μM in MDA-MB-468) pPRAS40 (IC50: 0.31 μM in BT474c, 0.22 μM in LNCaP, 0.39 μM in MDA-MB-468) pFOXO3a translocation (IC50: 0.69 μM in BT474c)

Applications

AZD5363 inhibited phosphorylation of AKT substrates with IC50 values of 0.06 to 0.76 μM in the 3 cell lines. AZD5363 also effectively inhibited phosphorylation of S6 and 4E-BP1 in BT474c cells and LNCaP cells.

Animal experiment : [1]

Animal models

Nude mice bearing BT474c xenografts

Dosage form

The treatment groups received 300 or 100 mg/kg acute dose of AZD5363 solubilized in a DMSO/Kleptose buffer, by oral gavage.

Applications

Oral dosing of AZD5363 to nude mice caused dose and time-dependent reduction of PRAS40, GSK3, and S6 phosphorylation. Following a 300 mg/kg dose of AZD 5363, phosphorylation of all 3 biomarkers was significantly inhibited for at least 24 hours. 100 mg/kg dose of AZD5363 significantly inhibited phosphorylation of the 3 biomarkers was for at least 8 hours.

Other notes

Please test the solubility of all compounds indoor, and the actual solubility may slightly differ with the theoretical value. This is caused by an experimental system error and it is normal.

References:

[1] Davies B R, Greenwood H, Dudley P, et al. Preclinical pharmacology of AZD5363, an inhibitor of AKT: pharmacodynamics, antitumor activity, and correlation of monotherapy activity with genetic background. Molecular cancer therapeutics, 2012, 11(4): 873-887.
Biological Activity
Description
AZD5363 is a pyrrolopyrimidine-derived inhibitor of all Akt isoforms with IC50 values of <10 nM.
Targets
Akt
IC50
<10 nM
Quality Control
Quality Control & MSDS
View current batch:
Chemical structure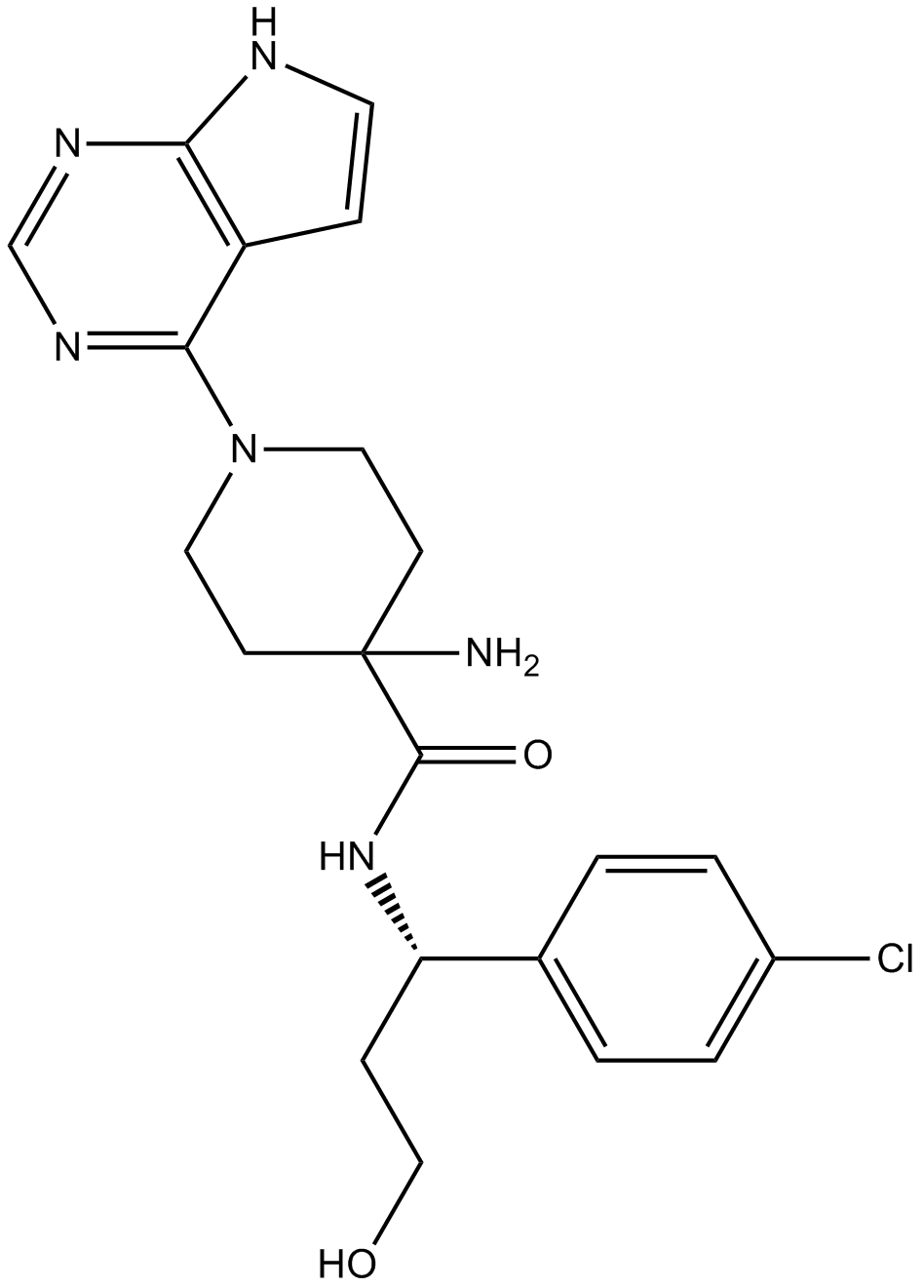 Related Biological Data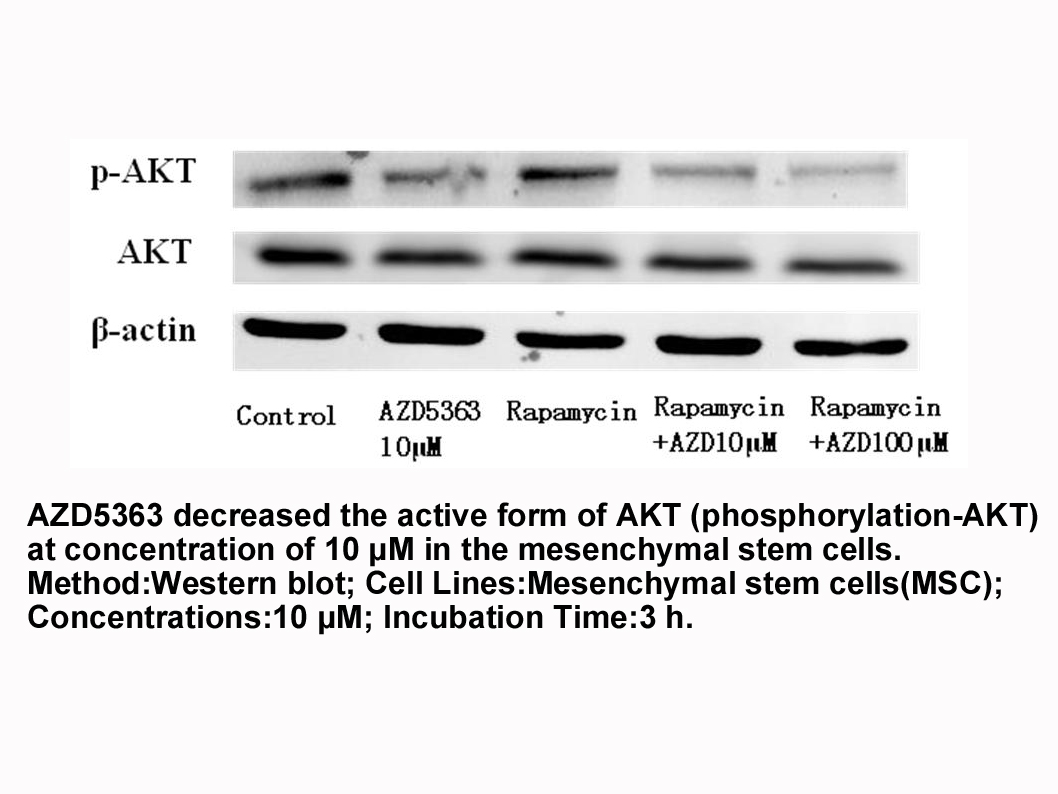 Related Biological Data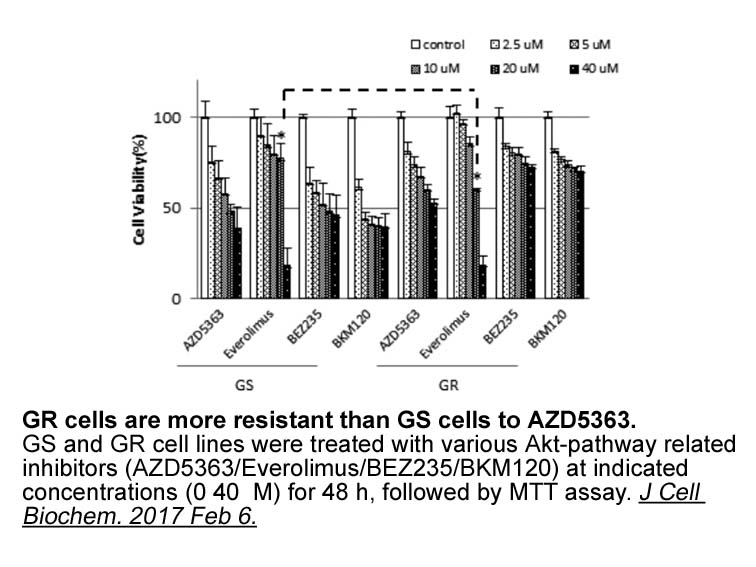 Related Biological Data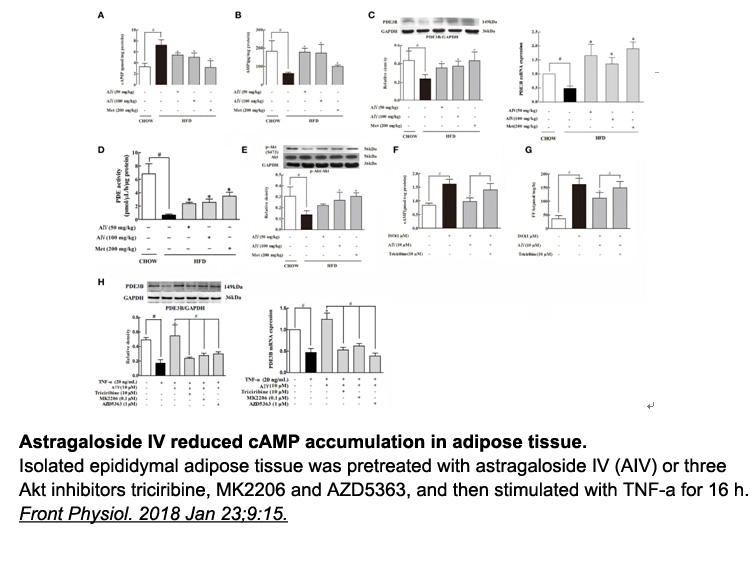 Related Biological Data