Varespladib (LY315920)
HnsPLA inhibitor,potent and selective
Sample solution is provided at 25 µL, 10mM.
Publications citing ApexBio Products
Related Compound Libraries
Quality Control
Quality Control & MSDS
View current batch:
Chemical structure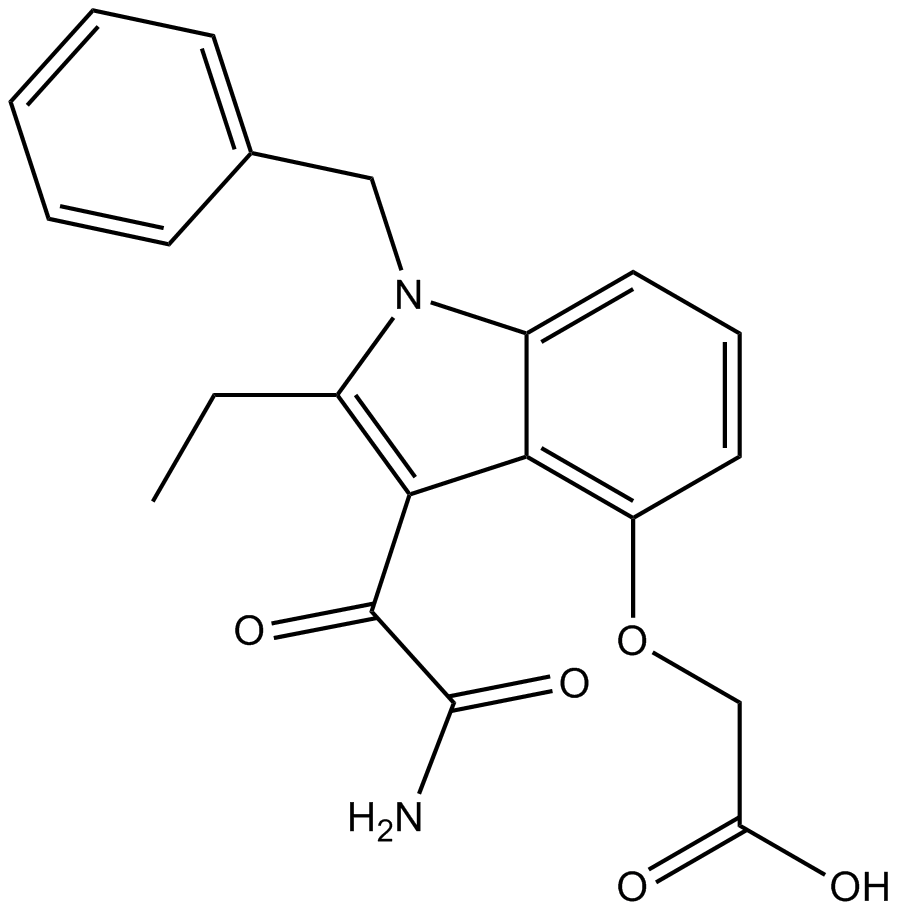 Biological Activity
Description
Varespladib is a potent and selective inhibitor of human non-pancreatic secretory phospholipase A2 (hnsPLA) with IC50 value of 7 nM.
Targets
hnsPLA
IC50
7 nM
Chemical Properties
Cas No.
172732-68-2
SDF
Download SDF
Chemical Name
2-(1-benzyl-2-ethyl-3-oxamoylindol-4-yl)oxyacetic acid
Canonical SMILES
CCC1=C(C2=C(N1CC3=CC=CC=C3)C=CC=C2OCC(=O)O)C(=O)C(=O)N
Formula
C21H20N2O5
M.Wt

380.39

Solubility
>8.175mg/mL in DMSO
Storage
Store at -20°C
General tips
N/A
Shipping Condition
N/A
Background
IC50: 9 ± 1 nM or 7.3 x 10-6 mole fraction for sPLA2 activity
Phospholipases (PLAs) produce rate-limiting precursors in the various types of biologically active lipid biosynthesis. Increased levels of human nonpancreatic secretory phospholipase A2 (hnps-PLA2) have been detected in several pathological conditions. LY315920 was selected for evaluation clinically as an hnps-PLA2 inhibitor.
In vitro: The true potency of LY315920 was defined to be a mole fraction of 1.5 x 10-6 using a deoxycholate/phosphatidylcholine assay. LY315920 was found to be 40-fold less active against human, group IB, pancreatic sPLA2 and was inactive against cytosolic PLA2 and the constitutive and inducible forms of cyclooxygenase. Human sPLA2-induced thromboxane A2 release from isolated guinea pig lung bronchoalveolar lavage cells was inhibited by LY315920 with the IC50 of 0.79 μM [1].
In vivo: The i.v. administration of LY315920, 5 min before the bronchoalveolar lavage cells harvest, led to the inhibition of sPLA2-induced production of TXA2 with an ED50 of 16.1 mg/kg. [2].
Clinical trials: Varespladib methyl, an oral prodrug of LY-315920, effectively reduced LDL-C and inflammatory biomarkers in ACS patients treated with conventional atorvastatin therapy. There were no treatment differences in clinical cardiovascular events [2].
References:
[1] Snyder DW, Bach NJ, Dillard RD, Draheim SE, Carlson DG, Fox N, Roehm NW, Armstrong CT, Chang CH, Hartley LW, Johnson LM, Roman CR, Smith AC, Song M, Fleisch JH. Pharmacology of LY315920/S-5920, [[3-(aminooxoacetyl)-2-ethyl-1- (phenylmethyl)-1H-indol-4-yl]oxy] acetate, a potent and selective secretory phospholipase A2 inhibitor: A new class of anti-inflammatory drugs, SPI. J Pharmacol Exp Ther. 1999;288(3):1117-24.
[2] Rosenson RS, Hislop C, Elliott M, Stasiv Y, Goulder M, Waters D. Effects of varespladib methyl on biomarkers and major cardiovascular events in acute coronary syndrome patients. J Am Coll Cardiol. 2010;56(14):1079-88.