Background
Vacuolin-1 is a potent and cell-permeable inhibitor of Ca2+-dependent lysosomal exocytosis [1].
Exocytic fusion of lysosomes triggered by plasma membrane damage is the major source of the membrane required for resealing. Lysosomal markers appear at the cell surface or are released into the medium on transient elevation of cytosolic Ca2+, including that induced by plasma membrane disruption [1].
Vacuolin-1 is a cell-permeable blocker of Ca2+-dependent lysosomal exocytosis induced by ionomycin or plasma membrane wounding. In HeLa cells, 5 or 10 μM Vacuolin-1 reduced the release of lysosomal β-hexosaminidase. Vacuolin-1 also blocked the ionomycin-induced, Ca2+-dependent cell surface appearance of the luminal epitope from the lysosomal membrane protein, Lamp-1, a marker for fusion between the limiting membranes of lysosomes and the cell surface. Thus, vacuolin-1 blocks the Ca2+-dependent fusion of lysosomes with the plasma membrane and the release of lysosomal contents. While vacuolin-1 had no effect on the fusion of enlargeosomes with the plasma membrane. Other cell structures and membrane trafficking functions were also unaffected [1].
Reference:
[1].  Cerny J, Feng Y, Yu A, et al. The small chemical vacuolin-1 inhibits Ca2+-dependent lysosomal exocytosis but not cell resealing. EMBO Rep. 2004 Sep;5(9):883-8.
Product Citation
Chemical Properties
| | |
| --- | --- |
| Physical Appearance | A crystalline solid |
| Storage | Store at -20°C |
| M.Wt | 577.4 |
| Cas No. | 351986-85-1 |
| Formula | C26H24IN7O |
| Solubility | ≤5mg/ml in DMSO;3mg/ml in dimethyl formamide |
| Chemical Name | 3-iodo-2-[4-(diphenylamino)-6-(4-morpholinyl)-1,3,5-triazin-2-yl]hydrazone, benzaldehyde |
| SDF | Download SDF |
| Canonical SMILES | IC1=CC(/C=N/NC2=NC(N(C3=CC=CC=C3)C4=CC=CC=C4)=NC(N5CCOCC5)=N2)=CC=C1 |
| Shipping Condition | Evaluation sample solution: ship with blue ice. All other available sizes: ship with RT, or blue ice upon request. |
| General tips | For obtaining a higher solubility, please warm the tube at 37°C and shake it in the ultrasonic bath for a while. Stock solution can be stored below -20°C for several months. |
Quality Control
Quality Control & MSDS
View current batch:
Chemical structure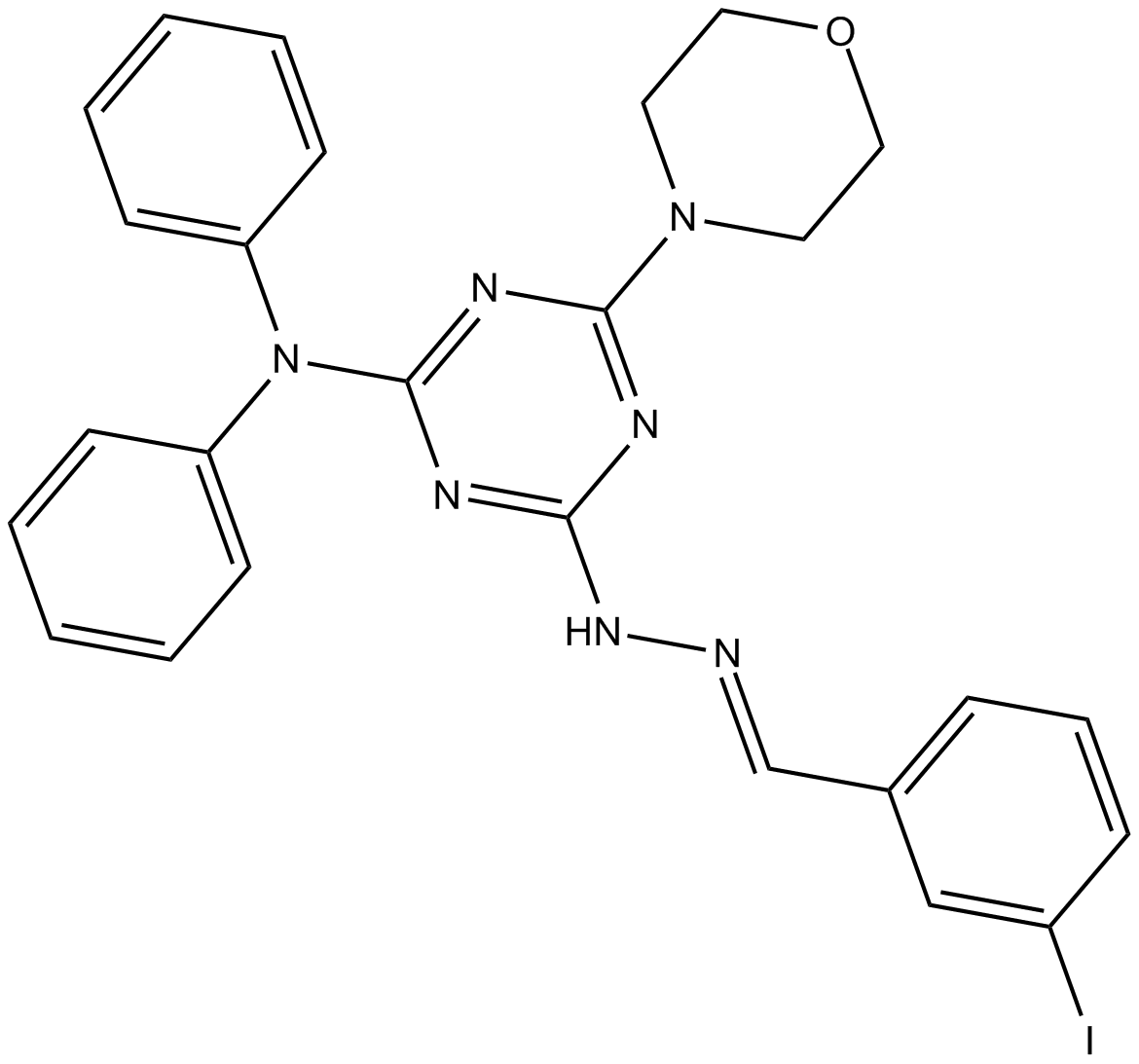 Related Biological Data