V5 Epitope Tag Peptide
Peptide sequence-GKPIPNPLLGLDST
Sample solution is provided at 25 µL, 10mM.
Quality Control
Quality Control & MSDS
View current batch:
Chemical structure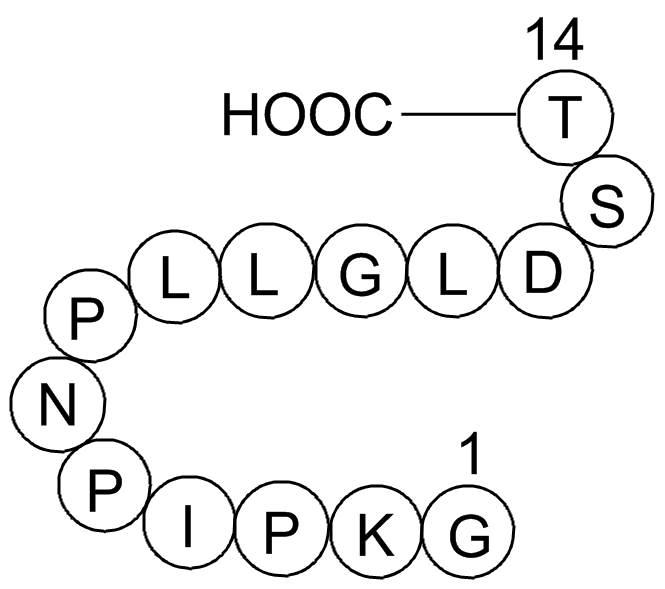 Related Biological Data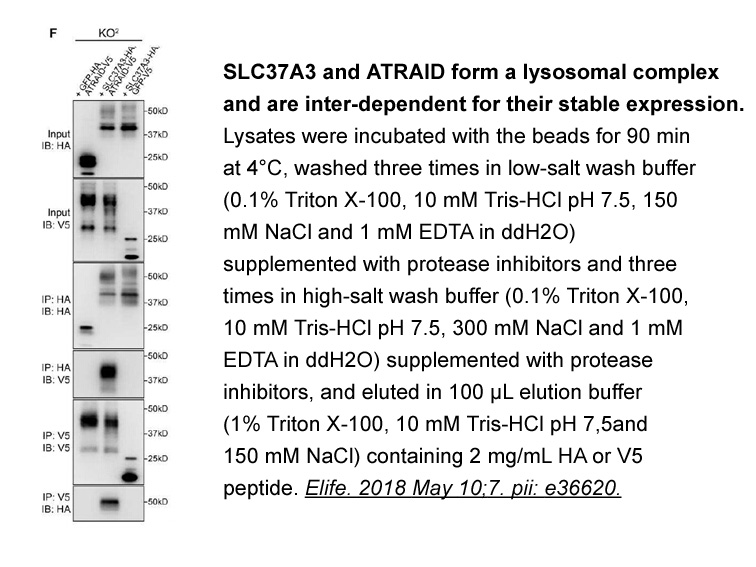 Biological Activity
Description
V5 Epitope Tag Peptide is a tag peptide derived from a small epitope present on the P and V proteins of the paramyxovirus of simian virus 5.
Targets
Anti-V5 tag antibody
IC50
Chemical Properties
Cas No.
N/A
SDF
Download SDF
Synonyms
H-Gly-Lys-Pro-Ile-Pro-Asn-Pro-Leu-Leu-Gly-Leu-Asp-Ser-Thr-OH
Chemical Name
V5 Epitope Tag
Canonical SMILES
CCC(C)C(C(=O)N1CCCC1C(=O)NC(CC(=O)N)C(=O)N2CCCC2C(=O)NC(CC(C)C)C(=O)NC(CC(C)C)C(=O)NCC(=O)NC(CC(C)C)C(=O)NC(CC(=O)O)C(=O)NC(CO)C(=O)NC(C(C)O)C(=O)O)NC(=O)C3CCCN3C(=O)C(CCCCN)NC(=O)CN
Formula
C64H108N16O20
M.Wt

1421.64

Solubility
≥71.082mg/mL in DMSO
Storage
Desiccate at -20°C
Shipping Condition
Evaluation sample solution : ship with blue ice.All other available size: ship with RT , or blue ice upon request
General tips
For obtaining a higher solubility , please warm the tube at 37 ℃ and shake it in the ultrasonic bath for a while.Stock solution can be stored below -20℃ for several months.
Background
The recognized V5 epitope represents 95GKPIPNPLLGLDST108 of RNA polymerase α subunit of simian parainfluenza virus type 5. This short peptide sequence was chosen because high-affinity antibodies can be reliably produced in many different species1.
A 14-amino-acid V5 epitope derived from simian parainfluenza virus type 5 (Southernet al., 1991) was inserted into the C terminus of the capsid protein (before the stop codon ofORF2) to construct a recombinant marker virus. We demonstrated that the V5 epitope was displayed on the surface ofthe capsid protein. Furthermore, the recombinant marker virus behaved similarly to the parental virus in vitro and in mice, and could be differentiated from the parental virus via polymerase chain reaction (PCR) and serological methods2, 3.
A V5/His-epitope tag was added to the amino terminus of each coding sequence to distinguish the plasmid-encoded protein from endogenous LRRK2. Plasmids were transiently transfected into COS7 cells, and cell lysates were analyzed by SDS-PAGE and Western blotting with antibodies specific for the V5 epitope tag or LRRK24.
References:
1. Zhou,W.H.,Dong, L.L., Ginsburg,D.,Bouhassira, E.E., Tsai,H.M.,2005. Enzymatically active ADAMTS 13 variants are not inhibited by anti-ADAMTS 13 autoantibodies: a novel therapeutic strategy? J. Biol. Chem. 280, 39934–39941.
2.  Southern,J.A.,Young,D.F.,Heaney, F.,Baumgartner,W.K.,Randall,R.E.,1991.Identification of an epitope on the P and V proteins of simian virus 5 that distinguishes between two isolates with different biological characteristics. J. Gen. Virol. 72,1551–1557
3. L. Huang, Y. Lu et al. Construction and biological characterisation of recombinant porcine circovirus type 2 expressing the V5 epitope tag. Virus Research. 161 (2011) 115–123
4. D. MacLeod,J. Dowman, The Familial Parkinsonism Gene LRRK2Regulates Neurite Process Morphology. Neuron 52, 587–593, 2006