Background
Tosedostat is a novel and potent oral aminopeptidase inhibitor with clinical activity in a previous phase 1–2 study in elderly patients with relapsed or refractory acute myeloid leukaemia (AML). [2]
Aminopeptidases play a key role in the protein cell cycle. Inhibition of aminopeptidase results in the amino acid deprivation response, which occurs selectively in transformed cells and leads to upregulation of proapoptotic factors including CHOP and NOXA, activation of stress-related pathways such as NFκB, and inhibition of mTOR, which switches off protein synthesis. [2]
Tosedostat (CHR-2797) is converted intracellularly into a pharmacologically active metabolite CHR-79888. [1]
Tosedostat has antiproliferative, antiangiogenic and proapoptotic effects. Tosedostat is currently in a clinical trial phase for anticancer therapy, and displayed a broad antifungal activity against different Candida spp, including Candida glabrata. Tosedostat depletes sensitive tumour cells of amino acids by blocking protein recycling and thereby generates an antiproliferative effect. Tosedostat has activity in older patients with relapsed or refractory AML. [2]
References:
1.Van Herpen CM, Eskens FA, de Jonge M et al. A Phase Ib dose-escalation study to evaluate safety and tolerability of the addition of the aminopeptidase inhibitor tosedostat (CHR-2797) to paclitaxel in patients with advanced solid tumours. Br J Cancer. 2010 Oct 26;103(9):1362-8.
2.Cortes J, Feldman E, Yee K et al. Two dosing regimens of tosedostat in elderly patients with relapsed or refractory acute myeloid leukaemia (OPAL): a randomised open-label phase 2 study. Lancet Oncol. 2013 Apr;14(4):354-62.
Product Citation
Chemical Properties
| | |
| --- | --- |
| Storage | Store at -20°C |
| M.Wt | 406.47 |
| Cas No. | 238750-77-1 |
| Formula | C21H30N2O6 |
| Solubility | ≥40.6 mg/mL in DMSO; insoluble in H2O; ≥15.07 mg/mL in EtOH with ultrasonic |
| Chemical Name | cyclopentyl (2S)-2-[[(2R)-2-[(1S)-1-hydroxy-2-(hydroxyamino)-2-oxoethyl]-4-methylpentanoyl]amino]-2-phenylacetate |
| SDF | Download SDF |
| Canonical SMILES | CC(C)CC(C(C(=O)NO)O)C(=O)NC(C1=CC=CC=C1)C(=O)OC2CCCC2 |
| Shipping Condition | Ship with blue ice, or upon other requests. |
| General tips | For obtaining a higher solubility, please warm the tube at 37°C and shake it in the ultrasonic bath for a while. We do not recommend long-term storage for the solution, please use it up soon. |
Protocol
Cell experiment [1]:

Cell lines

Human multiple myeloma (MM) cells

Preparation method

The solubility of this compound in DMSO is > 10 mM. General tips for obtaining a higher concentration: Please warm the tube at 37 ℃ for 10 minutes and/or shake it in the ultrasonic bath for a while. Stock solution can be stored below -20℃ for several months.

Reacting condition

10 μM, 72 hours

Applications

CHR2797 showed antiproliferative and apoptotic effects against MM in vitro by inducing the AA deprivation response (AADR). Using MTS and CTG assays, CHR2797, at clinically achievable concentrations, decreased survival and proliferation in MM1S and IL-6-dependent ANBL6 cells, in the presence or absence of bone marrow stromal cells following 72 hours incubation. CHR2797 induced apoptosis in MM cells via activation of Caspase 3/7 and 9 but not Caspase 8. CHR2797 (10 μM) induced apoptosis in patient MM cells. Combined treatment with CHR2797 and LBH589 in MM cells (MM1S, ANBL6, and INA6) further reduced cell viability following 72 hour incubation when compared with CHR2797 treatment alone. CHR2797 (1 μM) in combination with LBH589 (1 nM) showed an increased growth arrest in G0/G1 cells in MM1R cells treated with both drugs versus CHR2797 alone after 24 hours. CHR2797 inhibited anti-apoptotic protein Mcl-1 in MM1R and U266 MM cells.

Clinical Trials [2]:

Patients

Patients With Acute Myeloid Leukemia and Myelodysplasia

Dosage form

60 mg to 180 mg, 28 days, capsules, orally after food each day

Application

Oral once daily dosing with 130 mg tosedostat was well tolerated and had significant antileukemic activity.

Other notes

Please test the solubility of all compounds indoor, and the actual solubility may slightly differ with the theoretical value. This is caused by an experimental system error and it is normal.

References:

[1]. Acharya C, Zhong M Y, Tannenbaum D, et al. Targeting Aminopeptidases by Tosedostat (TST)(CHR2797), Alone and with LBH589, Induces Significant Cytotoxicity Against Human Multiple Myeloma (MM) Cells[J]. 2012.

[2]. Lwenberg B, Morgan G, Ossenkoppele G J, et al. Phase I/II clinical study of Tosedostat, an inhibitor of aminopeptidases, in patients with acute myeloid leukemia and myelodysplasia[J]. Journal of Clinical Oncology, 2010, 28(28): 4333-4338.
Biological Activity
Description
Tosedostat is an aminopeptidase inhibitor of LAP, PuSA and Aminopeptidase N with IC50 values of 100 nM, 150 nM and 220 nM, respectively.
Targets
LAP
PuSA
Aminopeptidase N
IC50
100 nM
150 nM
220 nM
Quality Control
Quality Control & MSDS
View current batch:
Chemical structure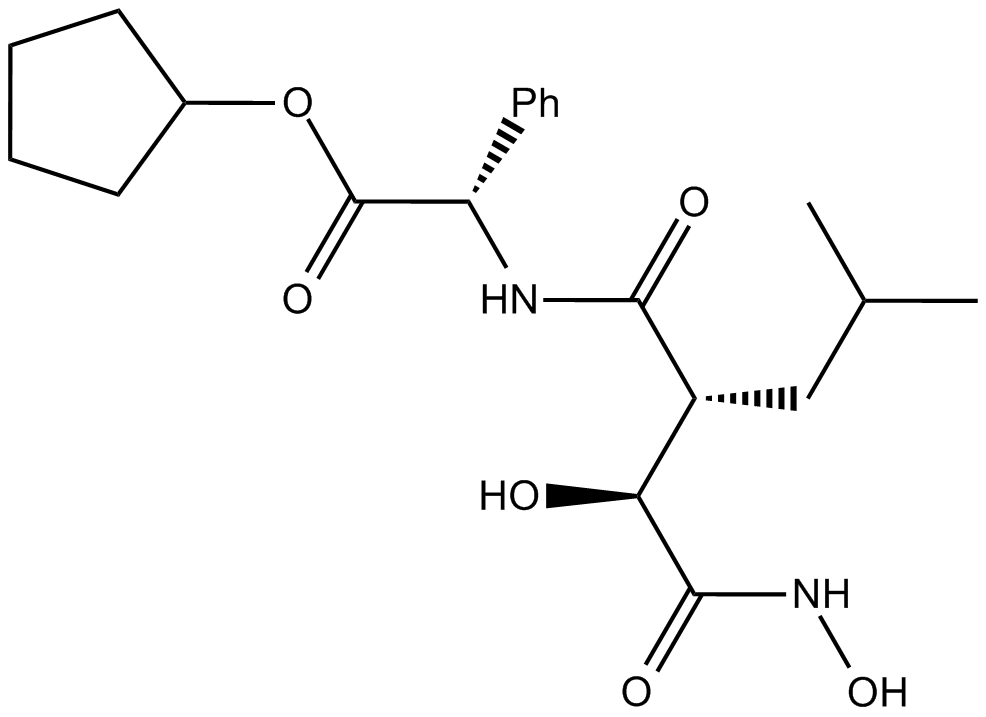 Related Biological Data