Sample solution is provided at 25 µL, 10mM.
Publications citing ApexBio Products
Related Compound Libraries
Quality Control
Quality Control & MSDS
View current batch:
Chemical structure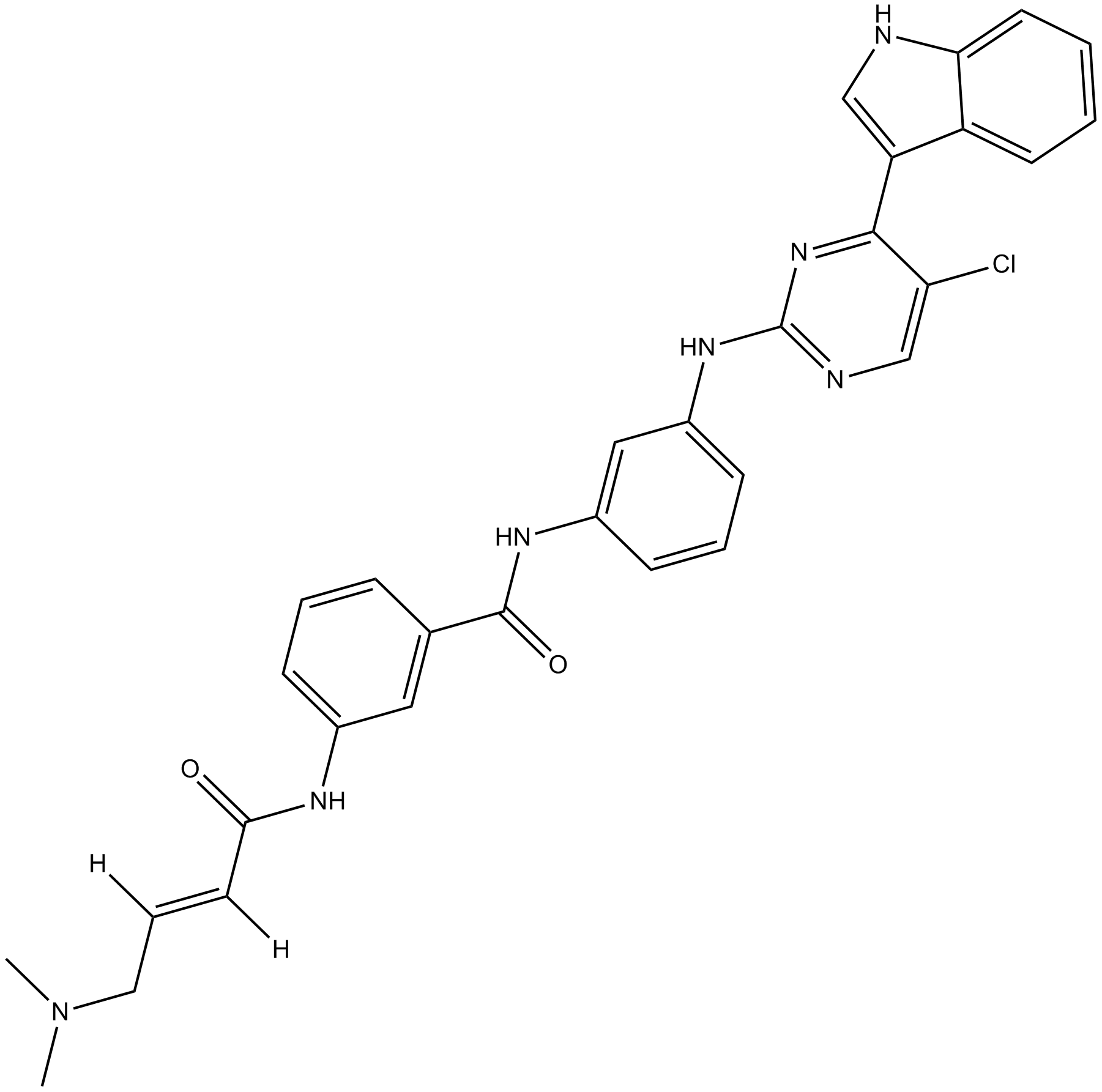 Chemical Properties
Cas No.
1604810-84-5
SDF
Download SDF
Chemical Name
(Z)-N-(3-((5-chloro-4-(1H-indol-3-yl)pyrimidin-2-yl)amino)phenyl)-3-((Z)-((E)-4-(dimethylamino)-1-hydroxybut-2-en-1-ylidene)amino)benzimidic acid
Canonical SMILES
CN(C/C([H])=C([H])/C(O)=N/C1=CC=CC(/C(O)=N/C2=CC(NC3=NC=C(Cl)C(C4=CNC5=CC=CC=C45)=N3)=CC=C2)=C1)C
Formula
C31H28ClN7O2
M.Wt

566.05

Solubility
>28.3mg/mL in DMSO
Storage
Store at -20°C
General tips
N/A
Shipping Condition
N/A
Background
THZ2 is a potent and selective CDK7 inhibitor (IC50=13.9 nM).
Cyclin-dependent kinase (CDK) is a group of serine/threonine kinases. It is activated by binding to cyclin and participates in the regulation of cell cycle.
THZ2 selectively targets CDK7 and potently blocks the proliferation of triple-negative breast cancer (TNBC) cells and induces apoptotic cell death without causing alteration in cell cycle. The low nanomolar dose of THZ2 also inhibits the clonogenic growth of TNBC cells with IC50 of 10 nM.
THZ2 is well tolerant in mice as 10 mg/kg intraperitoneal treatment of THZ2 twice daily does not cause weight loss or behavioral changes. THZ2 treatment also significantly reduces the tumor growth rate mice. In addition, both acute (50 hr) or chronic (25 days) exposure to THZ markedly decreases CTD phosphorylation of RNAPII at all three phosphorylation sites as indication of CDk7 being efficiently targeted.
Reference:
1. Wang Y, Zhang T, Kwiatkowski N et al. CDK7-dependent transcriptional addiction in triple-negative breast cancer. Cell. 2015 Sep 24;163(1):174-86.