Background
CCI-779 is a potent inhibitor of mTOR with IC50 values of 0.6, 0.7, 0.7 and 50 nM for BT-474, MDA-MB-468, SKBR-3 and MCF-7 cells, respectively [1].
CCI-779 is an ester derivative of rapamycin and has improved pharmaceutical properties. As a mTOR inhibitor, CCI-779 affected cell proliferation in cancer cells in which the cell cycle targets are dysregulated by mTOR. When treated with a panel of 8 human breast cancer cell lines, CCI-779 showed potent antigrowth activity with IC50 values of 0.6, 0.7 and 0.7nM for BT-474, MDA-MB-468 and SKBR-3 cells, respectively. In mice bearing MDA-468 or MDA-435 xenografts, administration of CCI-779 significantly induced the regression of MDA-468 tumors but showed no effect on MDA-435 tumors, suggesting that CCI-779 was effect in PTEN mutant cells but not PTEN wild-type cells. CCI-779 also inhibited the growth of MCF-7 cells with IC50 value of 50 nM. Besides that, CCI-779 was also found to significantly inhibit cell growth in mice bearing myeloma tumors [1, 2].
References:
[1] Yu K, Toral-Barza L, Discafani C, et al. mTOR, a novel target in breast cancer: the effect of CCI-779, an mTOR inhibitor, in preclinical models of breast cancer. Endocrine-related cancer, 2001, 8(3): 249-258.
[2] Frost P, Moatamed F, Hoang B, et al. In vivo antitumor effects of the mTOR inhibitor CCI-779 against human multiple myeloma cells in a xenograft model. Blood, 2004, 104(13): 4181-4187.

Chemical Properties
Protocol
Cell experiment: [1]

Cell lines

PC-3 and DU145 cells

Preparation method

The solubility of this compound in DMSO is >10 mM. General tips for obtaining a higher concentration: Please warm the tube at 37 °C for 10 minutes and/or shake it in the ultrasonic bath for a while.Stock solution can be stored below -20°C for several months.

Reaction Conditions

100 nM, 3 days

Applications

The growth and colony-formation of both cell lines were inhibited in a concentration-dependent manner by CCI-779. Following a 3-day exposure to 100 nmol/L CCI-779, the numbers of colony-forming PC-3 and DU145 cells were 0.18 ± 0.09 and 0.37 ± 0.03, respectively, compared with controls.

Animal experiment: [2]

Animal models

Nude mice bearing DAOY xenografts

Dosage form

Intraperitoneal injection, 20 mg/kg, daily 3 5 for 1, 2 or 4 weeks or 100 mg/kg on days 1 and 12

Applications

CCI-779 administered at 20 mg/kg 5 days/week for 1 and 2 weeks yielded 1.6- and 2.4-fold delayed tumor growth. Time to reach 5-fold tumor volume was significantly greater in animals treated for 1 week or 2 weeks compared with control animals. Retreatment of large tumors with CCI-779 for 2 weeks (20 mg/kg i.p. 5 days/week on days 29 to 42) restored growth inhibition but did not yield tumor regression. Treatment with CCI-779 (20 mg/kg i.p.) 5 days/week for 4 weeks delayed time to reach 5-fold pretreatment volume by 174% compared with controls.

Other notes

Please test the solubility of all compounds indoor, and the actual solubility may slightly differ with the theoretical value. This is caused by an experimental system error and it is normal.

References:

[1] Wu L, Birle D C, Tannock I F. Effects of the mammalian target of rapamycin inhibitor CCI-779 used alone or with chemotherapy on human prostate cancer cells and xenografts. Cancer research, 2005, 65(7): 2825-2831.

[2] Geoerger B, Kerr K, Tang C B, et al. Antitumor activity of the rapamycin analog CCI-779 in human primitive neuroectodermal tumor/medulloblastoma models as single agent and in combination chemotherapy[J]. Cancer research, 2001, 61(4): 1527-1532.
Biological Activity
Description
Temsirolimus (CCI-779) is a specific inhibitor of mTOR with IC50 of 1.76 μM.
Targets
mTOR
IC50
1.76 μM
Quality Control
Quality Control & MSDS
View current batch:
Chemical structure
Related Biological Data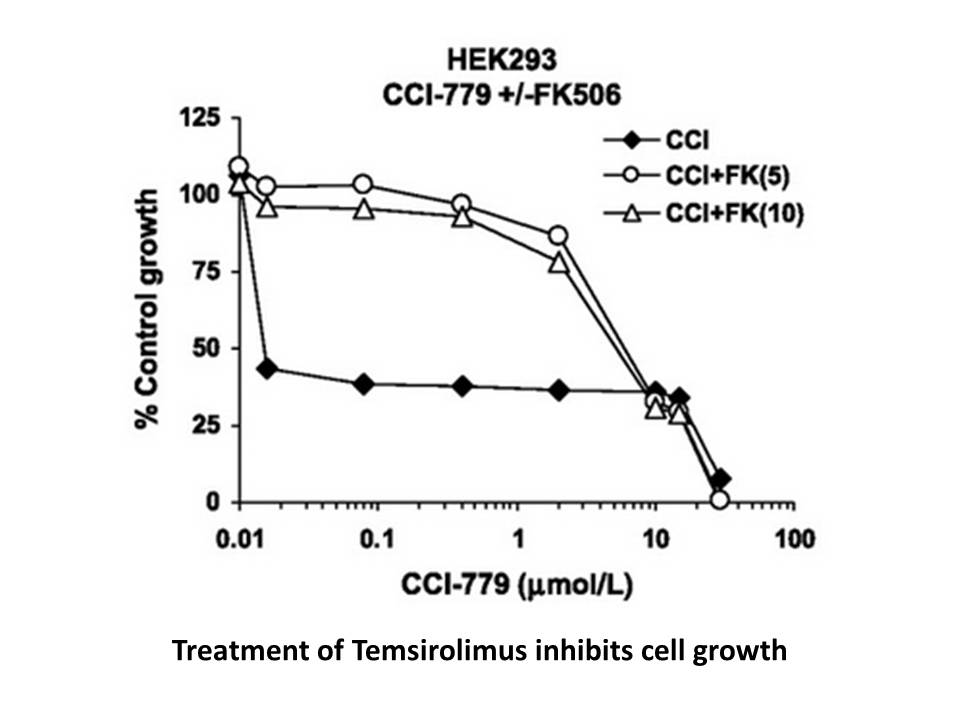 Related Biological Data