Background
SRT1720 is a small-molecule compound which has the ability of activating the sirtuin subtype SIRT1 in vitro. The activity of SRT1720 as a SIRT1 activator is stronger than that of resveratrol. It affects mitochondrial respiration in a Sirt1- and PGC-1α-dependent manner. SRT1720 has been demonstrated to enhance insulin sensitivity and improve measures of mitochondrial capacity and oxidative metabolism. Treatment of multiple myeloma (MM) cells with SRT1720 inhibits growth and induced apoptosis in MM cells resistant to conventional and bortezomib therapies without significantly affecting the viability of normal cells. SRT1720 is able to enhance the cytotoxic activity of bortezomib or dexamethasone. Anti-MM activity of SRT1720 is related to: 1) activation of caspase-8, caspase-9, caspase-3, poly(ADP) ribose polymerase; 2) increase in reactive oxygen species; 3) induction of phosphorylated ataxia telangiectasia mutated/checkpoint kinase 2 signaling; 4) decrease in vascular endothelial growth factor-induced migration of MM cells and associated angiogenesis; and 5) inhibition of nuclear factor-κB.
References
Robin K. Minor, Joseph A. Baur, Ana P. Gomes, Theresa M. Ward, Anna Csiszar, Evi M. Mercken, Kotb Abdelmohsen, Yu-Kyong Shin, Carles Canto, Morten Scheibye-Knudsen, Melissa Krawczyk ,Pablo M. Irusta, Alejandro Martı´n-Montalvo, Basil P. Hubbard, Yongqing Zhang, Elin Lehrmann, Alexa A. White, Nathan L. Price, William R. Swindell, Kevin J. Pearson, Kevin G. Becker, Vilhelm A. Bohr, Myriam Gorospe, Josephine M. Egan, Mark I. Talan, Johan Auwerx, Christoph H. Westphal, James L. Ellis, Zoltan Ungvari, George P. Vlasuk, Peter J. Elliott, David A. Sinclair, Rafael de Cabo. SRT1720 improves survival and healthspan of obese mice. Scientific Reports. 2011; 1(70): 1038 – 1131.
Kensuke Suzuki, Ryuji Hayashi, Tomomi Ichikawa, Shingo Imanishi, Toru Yamada, Minehiko Inomata, Toshiro Miwa, Shoko Matsui, Isao Usui, Masaharu Urakaze, Yuji Matsuya, Hirofumi Ogawa, Hiroaki Sakurai, Ikuo Saiki, Kazuyuki Tobe. SRT1720, a SIRT1 activator, promotes tumor cell migration, and lung metastasis of breast cancer in mice. Oncology reports. 2012; 27: 1726 -1732.
Dharminder Chauhan, Madhavi Bandi, Ajita V. Singh, Arghya Ray, Noopur Raje, Paul Richardson and Kenneth C.Anderson. Preclinical evaluation of a novel SIRT1 modulator SRT1720 in multiple myeloma cells. British Journal of Haematology. 2011; 155: 588–598.
Product Citation
Chemical Properties
| | |
| --- | --- |
| Physical Appearance | A solid |
| Storage | Store at -20°C |
| M.Wt | 506.02 |
| Cas No. | 1001645-58-4 |
| Formula | C25H23N7OS·HCl |
| Synonyms | SRT-1720,SRT 1720,SRT 1720 Hydrochloride |
| Solubility | ≥25.3 mg/mL in DMSO,insoluble in EtOH, ≥15.37 mg/mL in H2O with ultrasonic and warming |
| Chemical Name | N-[2-[3-(piperazin-1-ylmethyl)imidazo[2,1-b][1,3]thiazol-6-yl]phenyl]quinoxaline-2-carboxamide;hydrochloride |
| SDF | Download SDF |
| Canonical SMILES | C1CN(CCN1)CC2=CSC3=NC(=CN23)C4=CC=CC=C4NC(=O)C5=NC6=CC=CC=C6N=C5.Cl |
| Shipping Condition | Evaluation sample solution : ship with blue ice.All other available size: ship with RT , or blue ice upon request |
| General tips | For obtaining a higher solubility , please warm the tube at 37 ℃ and shake it in the ultrasonic bath for a while.Stock solution can be stored below -20℃ for several months. |
Protocol
Cell experiment: [1]

Cell lines

MDA-MB-231 cells

Preparation method

The solubility of this compound in DMSO is >10 mM. General tips for obtaining a higher concentration: Please warm the tube at 37 °C for 10 minutes and/or shake it in the ultrasonic bath for a while.Stock solution can be stored below -20°C for several months.

Reaction Conditions

Below a concentration of 5 µM, 24h

Applications

SRT1720 is a SIRT1 activator. It increased the VEGF concentration by about 30% relative to the control, suggesting that SRT1720 might promote the angiogenesis of tumors.

Animal experiment : [1]

Animal models

BALB/c mice (5-week-old females) injected with 4T1 cells

Dosage form

From Day 2 before tumor implantation, SRT1720 (100 mg/kg body weight) was given to the mouse 5 times per week. The size of the tumors was measured on Days 4, 8, 12, 16 and 20. The primary tumor was removed on Day 21 and was weighed and frozen at -20˚C. On Day 28, the mice were sacrificed and the lungs were intratracheally fixed with a Bouin's solution for 24 h.

Applications

SRT1720 did not substantially affect the size and weight of primary tumors, but dramatically increased lung metastasis by about 150%.

Other notes

Please test the solubility of all compounds indoor, and the actual solubility may slightly differ with the theoretical value. This is caused by an experimental system error and it is normal.

References:

[1] Suzuki K, Hayashi R, Ichikawa T, et al. SRT1720, a SIRT1 activator, promotes tumor cell migration, and lung metastasis of breast cancer in mice. Oncology reports, 2012, 27(6): 1726-1732.
Biological Activity
Description
SRT1720 is a selective activator of SIRT1 with EC50 of 0.16 μM, but is >230-fold less potent for SIRT2 and SIRT3.
Targets
SIRT1
IC50
0.16 μM (EC50)
Quality Control
Quality Control & MSDS
View current batch:
Chemical structure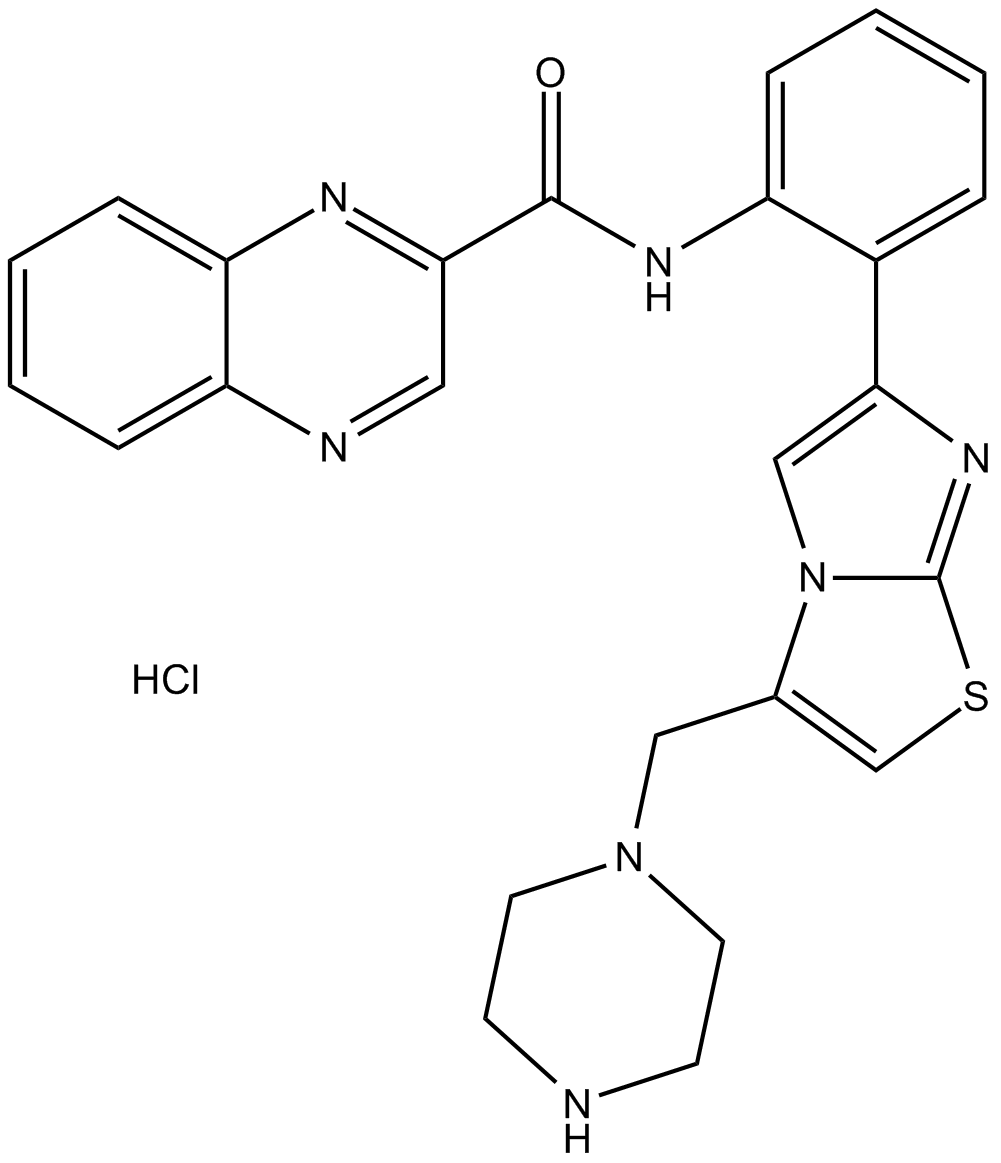 Related Biological Data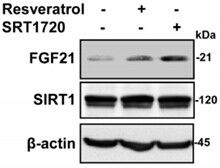 Protein production of FGF21 was stimulated by SIRT1 activators resveratrol (10 μmol/L) and SRT1720 (5 μmol/L).
Related Biological Data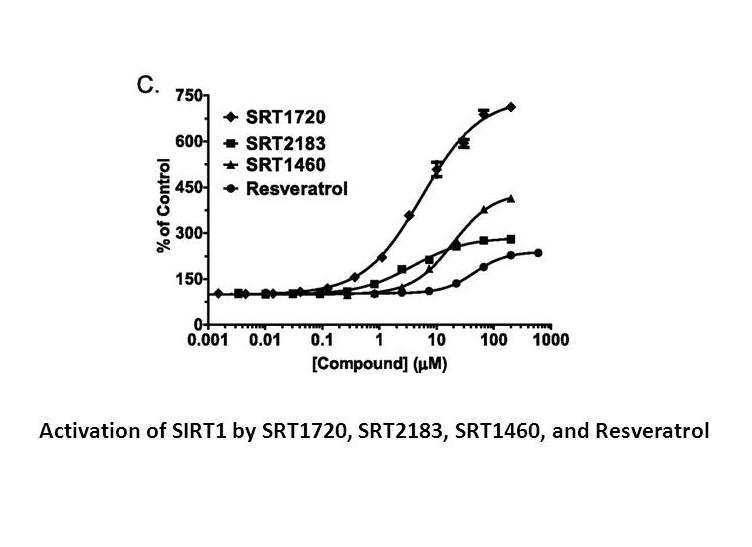 Related Biological Data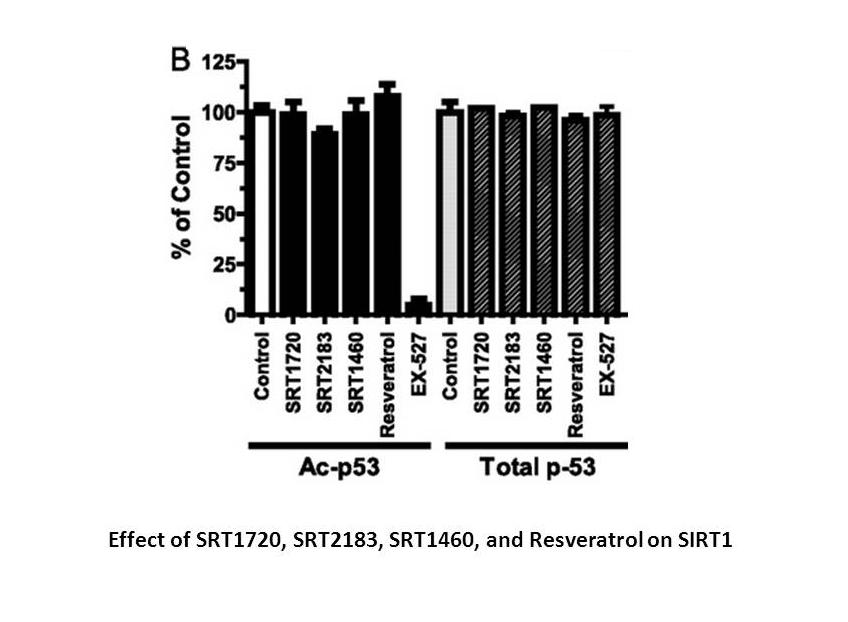 Related Biological Data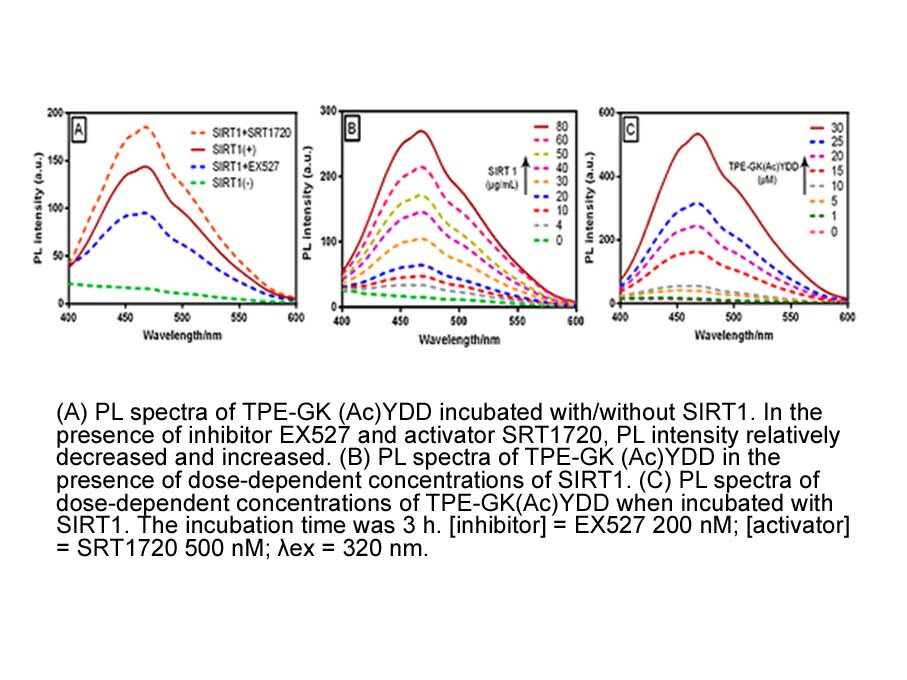 Related Biological Data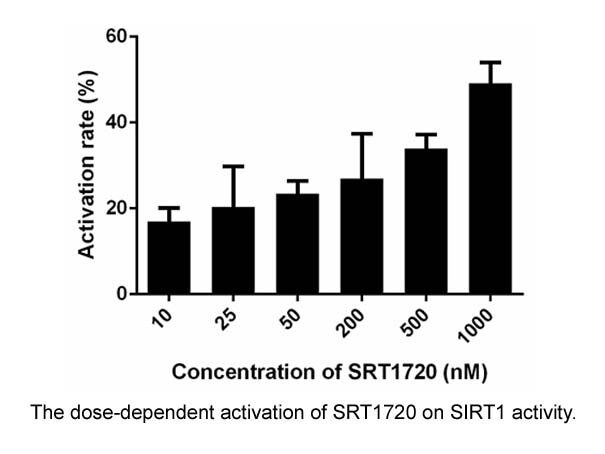 Related Biological Data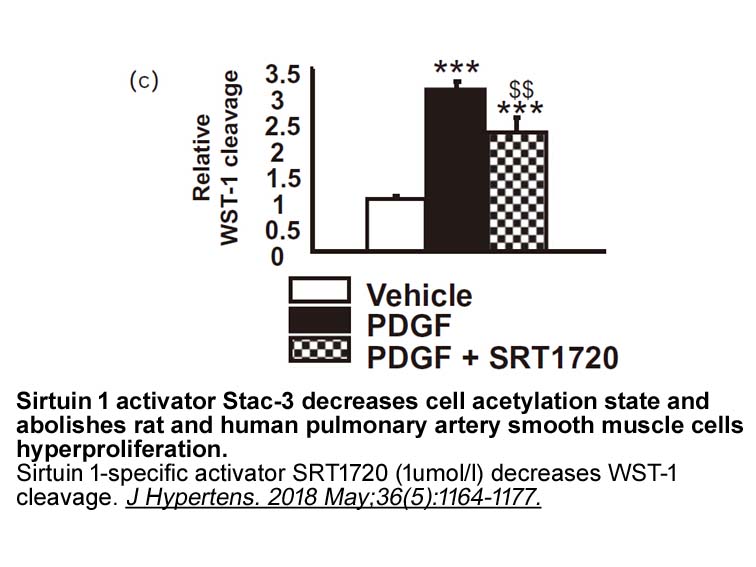 Related Biological Data