Background
Radezolid Description:
MIC90: Radezolid was approximately four-times more potent than linezolid against MRSA, with MIC90 of 0.5 mg/l and 2.0 mg/l, respectively [1].
Radezolid is an investigational oxazolidinone with excellent in vitro and in vivo activity against a variety of Gram-positive bacteria including methicillin-resistant Staphylococcus aureus (MRSA). Effcacy has been attributed to the finding that radezolid accumulates in vitro in macrophages, polymorphonuclear leukocytes (PMNs), epithelial and endothelial cells.
In vitro: A study found that radezolid accumulated to similar levels (~10-fold) in all cell types (human keratinocytes, endothelial cells, bronchial epithelial cells, osteoblasts, macrophages, and rat embryo fibroblasts). At equivalent weight concentrations, radezolid proved consistently 10-fold more potent than linezolid in all these models, irrespective of the bacterial species and resistance phenotype or of the cell type infected. These data suggest the potential interest of radezolid for recurrent or persistent infections where intracellular foci play a determinant role [2].
In vivo: When administered at 50 mg/kg, radezolid and linezolid showed comparable reductions in bacterial burden 24 hours after inoculation. Area under the curve (AUC) analysis of tissue concentrations demonstrated that radezolid accumulated 2.4-fold in infected thighs when compared to non-infected thigh tissue (table). Linezolid showed no accumulation in infected thighs [3].
Clinical trial: Radezolid (INN, codenamed RX-1741) is developed by Rib-X Pharmaceuticals, Inc. for the treatment of serious multi-drug–resistant infections. Radezolid has completed two phase-II clinical trials. One of these clinical trials was for uncomplicated skin and skin-structure infections (uSSSI) and the other clinical trial was for community acquired pneumonia (CAP) (http://en.wikipedia.org/wiki/Radezolid)..
Reference:
[1] Laura Lawrence, Paul Danese, Joe DeVito, Francois Franceschi, and Joyce Sutcliffe. In Vitro Activities of the Rx-01 Oxazolidinones against Hospital and Community Pathogens. Antimicrob Agents Chemother. 2008; 52(5): 1653–1662.
[2] Lemaire S, Kosowska-Shick K, Appelbaum PC, Verween G, Tulkens PM, Van Bambeke F. Cellular pharmacodynamics of the novel biaryloxazolidinone radezolid: studies with infected phagocytic and nonphagocytic cells, using Staphylococcus aureus, Staphylococcus epidermidis, Listeria monocytogenes, and Legionella pneumophila. Antimicrob Agents Chemother. 2010;54(6):2549-59.
[3] Burak E, Bortolon E, Molstad D, Jing H and Wu Y. Radezolid, a novel oxazolidinone, accumulates in infected thigh tissue. Post A1-1938. 49th ICAAC San Francisco, CA, USA September 12-15, 2009
Product Citation
Chemical Properties
| | |
| --- | --- |
| Physical Appearance | A solid |
| Storage | Store at -20°C |
| M.Wt | 438.45 |
| Cas No. | 869884-78-6 |
| Formula | C22H23FN6O3 |
| Synonyms | RX-1741;RX 1741;RX1741 |
| Solubility | ≥43.8 mg/mL in DMSO, ≥18.08 mg/mL in EtOH with gentle warming,insoluble in H2O |
| Chemical Name | N-[[(5S)-3-[3-fluoro-4-[4-[(2H-triazol-4-ylmethylamino)methyl]phenyl]phenyl]-2-oxo-1,3-oxazolidin-5-yl]methyl]acetamide |
| SDF | Download SDF |
| Canonical SMILES | CC(=O)NCC1CN(C(=O)O1)C2=CC(=C(C=C2)C3=CC=C(C=C3)CNCC4=NNN=C4)F |
| Shipping Condition | Evaluation sample solution : ship with blue ice.All other available size: ship with RT , or blue ice upon request |
| General tips | For obtaining a higher solubility , please warm the tube at 37 ℃ and shake it in the ultrasonic bath for a while.Stock solution can be stored below -20℃ for several months. |
Protocol
Cell experiment [1]:

Cell lines

Human THP-1 cells

Preparation method

The solubility of this compound in DMSO is ≥43.8mg / mL. General tips for obtaining a higher concentration: Please warm the tube at 37 ℃ for 10 minutes and/or shake it in the ultrasonic bath for a while. Stock solution can be stored below -20℃ for several months.

Reacting condition

1mg/l,4mg/l,20mg/l

Applications

Radezolid showed time-dependent inhibition of S. aureus in both broth and human THP-1 cells. When the concentration was as low as 1 mg / L, radezolid caused S. aureus 2 log10 CFU decrease extracellularly and 0.5 to 1 log10 CFU intracellularly.

References:

[1]. Lemaire S, Kosowska-Shick K, Appelbaum PC, Verween G, Tulkens PM, Van Bambeke F. Cellular pharmacodynamics of the novel biaryloxazolidinone radezolid: studies with infected phagocytic and nonphagocytic cells, using Staphylococcus aureus, Staphylococcus epidermidis, Listeria monocytogenes, and Legionella pneumophila. Antimicrob Agents Chemother. 2010 Jun;54(6):2549-59. doi: 10.1128/AAC.01724-09. Epub 2010 Apr 12. PubMed PMID: 20385852; PubMed Central PMCID: PMC2876393.
Biological Activity
Description
Radezolid (INN, codenamed RX-1741) is a novel oxazolidinone antibiotic agent.
Targets
IC50
Quality Control
Quality Control & MSDS
View current batch:
Chemical structure
Related Biological Data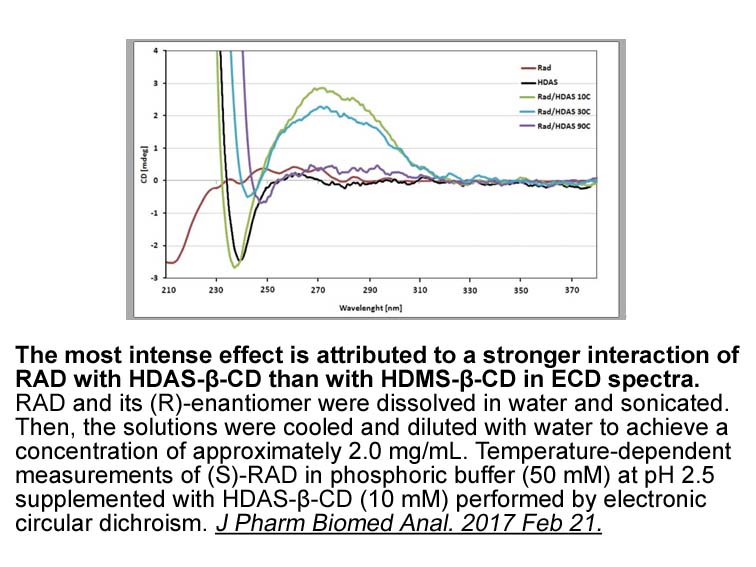 Related Biological Data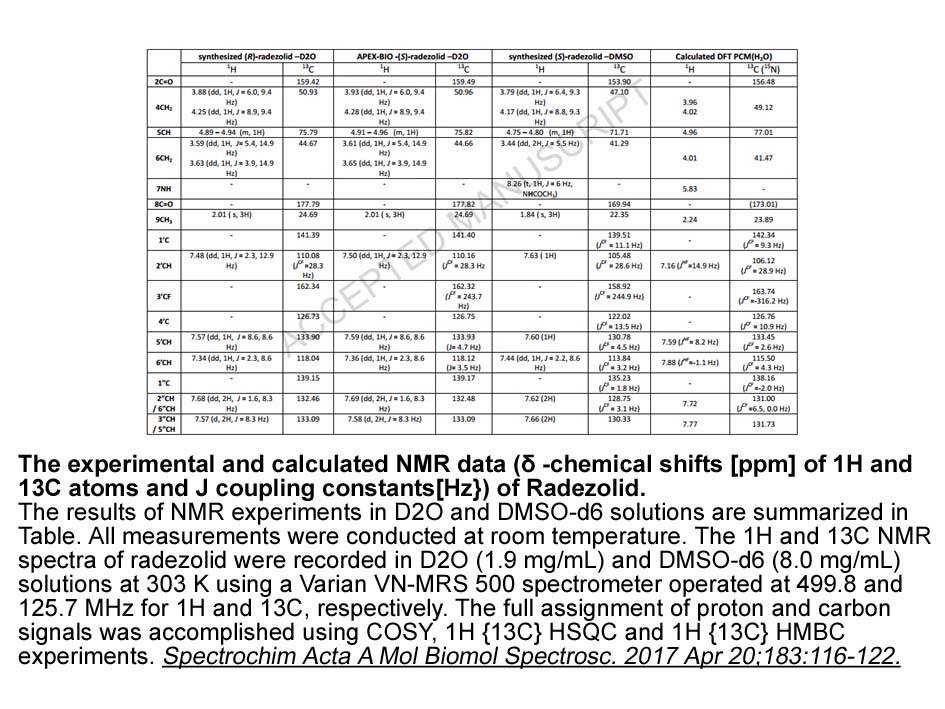 Related Biological Data