Background
R788, which is the prodrug of R406, is a potnet and selective Syk inhibitor. The spleen tyrosine kinase (Syk) plays a key role in the signaling of activating Fc receptors and the B-cell receptor (BCR).
In vitro: R406 was found to induce the apoptosis of the majority of examined DLBCL cell lines and could specifically inhibit both tonic- and ligand-induced BCR signaling (autophosphorylation of SYK525/526 and SYKdependent phosphorylation of the B-cell linker protein [BLNK]) [1].
In vivo: R788 effectively inhibits BCR signaling, demonstrating reduced proliferation and survival of the malignant B cells and significantly prolonged survival of the treated Eμ-TCL1 transgenic mouse. Moreover, the effect of R788 was found to be selective for the malignant clones, since no disturbance in the production of normal B lymphocytes was observed [2].
Clinical trial: In a phase II clinical trial, R788 treatment effectively improved American College of Rheumatology response rates in patients with eumatoid arthritis [3].
References:
[1] Chen L, Monti S, Juszczynski P, Daley J, Chen W, Witzig TE, Habermann TM, Kutok JL, Shipp MA. SYK-dependent tonic B-cell receptor signaling is a rational treatment target in diffuse large B-cell lymphoma. Blood. 2008 Feb 15;111(4):2230-7.
[2] Suljagic M, Longo PG, Bennardo S, Perlas E, Leone G, Laurenti L, Efremov DG. The Syk inhibitor fostamatinib disodium (R788) inhibits tumor growth in the Eμ- TCL1 transgenic mouse model of CLL by blocking antigen-dependent B-cell receptor signaling. Blood. 2010 Dec 2;116(23):4894-905.
[3] Bajpai M. Fostamatinib, a Syk inhibitor prodrug for the treatment of inflammatory diseases. IDrugs. 2009 Mar;12(3):174-85.
Chemical Properties
| | |
| --- | --- |
| Physical Appearance | A solid |
| Storage | Store at -20°C |
| M.Wt | 624.42 |
| Cas No. | 1025687-58-4 |
| Formula | C23H24FN6Na2O9P |
| Synonyms | Fostamatinib Disodium Hexahydrate;R 788;R-788 |
| Solubility | ≥62.4 mg/mL in DMSO with gentle warming; insoluble in EtOH; ≥2.53 mg/mL in H2O with gentle warming |
| Chemical Name | disodium;[6-[[5-fluoro-2-(3,4,5-trimethoxyanilino)pyrimidin-4-yl]amino]-2,2-dimethyl-3-oxopyrido[3,2-b][1,4]oxazin-4-yl]methyl phosphate |
| SDF | Download SDF |
| Canonical SMILES | CC1(C(=O)N(C2=C(O1)C=CC(=N2)NC3=NC(=NC=C3F)NC4=CC(=C(C(=C4)OC)OC)OC)COP(=O)([O-])[O-])C.[Na+].[Na+] |
| Shipping Condition | Ship with blue ice, or upon other requests. |
| General tips | For obtaining a higher solubility, please warm the tube at 37°C and shake it in the ultrasonic bath for a while. Stock solution can be stored below -20°C for several months. |
Biological Activity
Description
R788 (Fostamatinib) disodium, a prodrug of the active metabolite R406, is an inhibitor of Syk with IC50 of 41 nM.
Targets
Syk
IC50
41 nM
Quality Control
Quality Control & MSDS
View current batch:
Chemical structure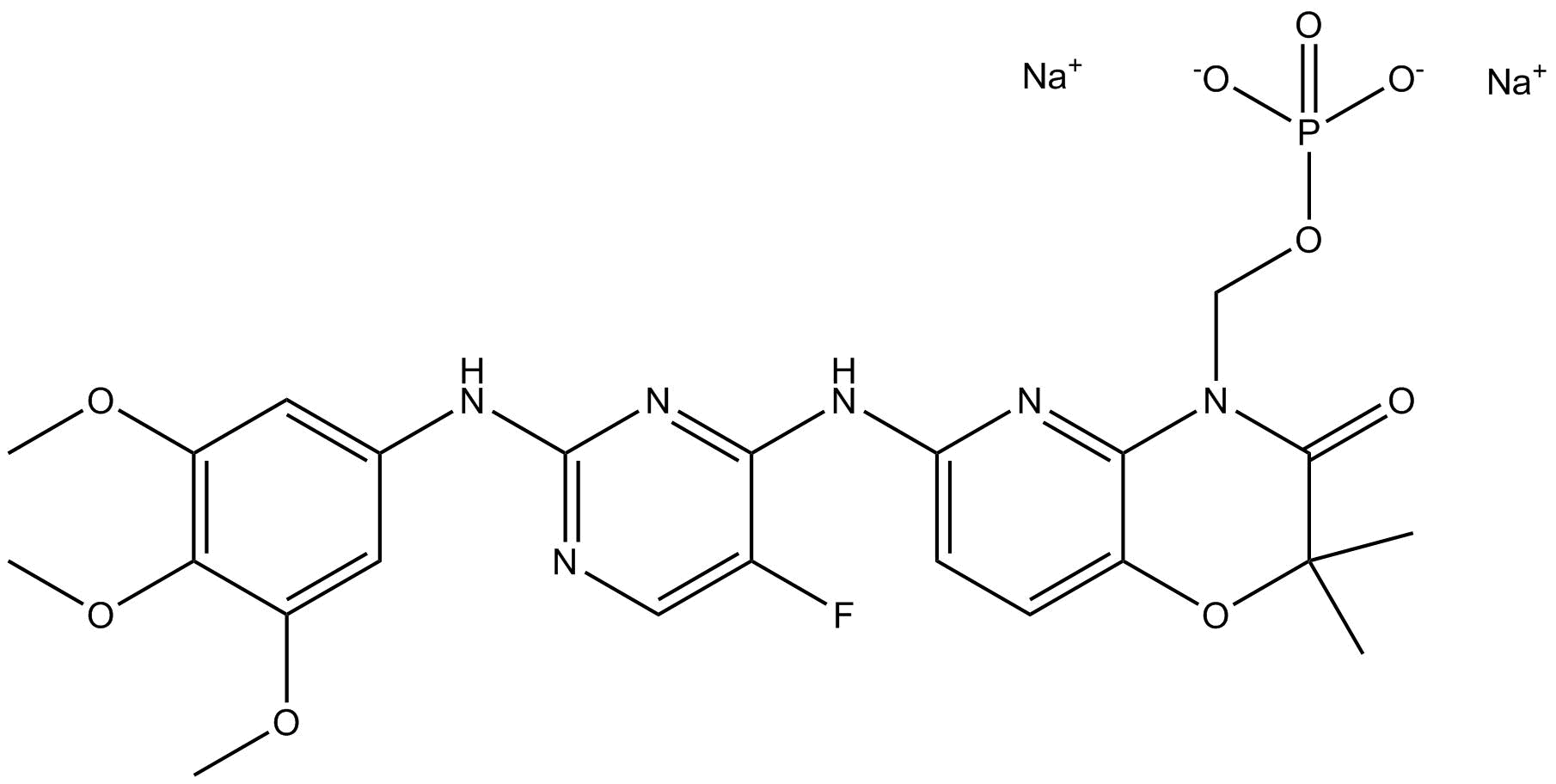 Related Biological Data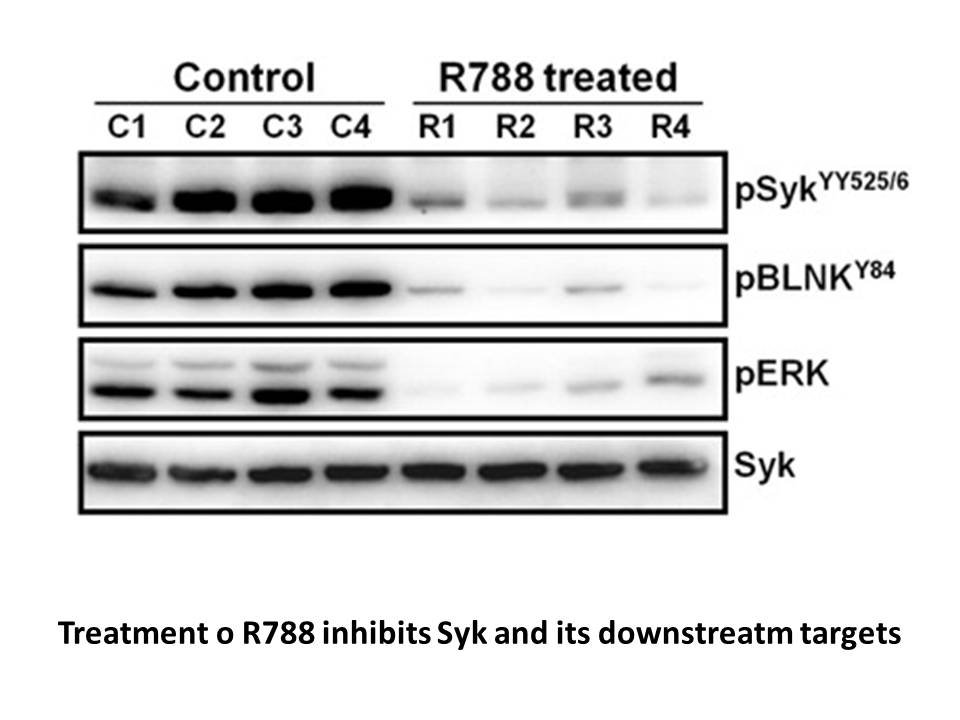 Related Biological Data