Background
PSI-7977 is a Nucleotide Inhibitor of Hepatitis C Virus [2]
Hepatitis C virus (HCV) is a disease of liver cirrhosis and development of cancer in liver (hepatocellular carcinoma).
Results from studies using GT 1a (H77)-, 1b (Con1)-, and 2a (JFH-1)-derived replicons and chimeric replicons with the NS5B region fromGT 2a (J6), 2b, and 3a clearly showed that PSI-7977 is a potent HCV inhibitor across NS5B proteins from different isolates. PSI-7977 inhibited the enzymatic activity of NS5B polymerase from GTs 1 to 4 with similar 50% inhibitory concentrations [1]. PSI-7977 is a potent HCV inhibitor with broad genotype coverage. Cross-resistance and selection studies showed that S282T is likely the amino acid change that will be selected by PSI-7977 across various genotypes and subtypes. JFH-1 is a highly unique strain capable of efficient replication and infection, and this particular isolate appeared to require additional amino acid changes together with S282T to reduce the activity of PSI-7977. [3]
References:
[1] Lam AM, Murakami E, Espiritu C et al. PSI-7851, a pronucleotide of beta-D-2'-deoxy-2'-fluoro-2'-C-methyluridine monophosphate, is a potent and pan-genotype inhibitor of hepatitis C virus replication. Antimicrob Agents Chemother. 2010 Aug;54(8):3187-96.
[2] Abdo A. Elfiky, Wael M. Elshemey , Wissam A. Gawad , Omar S. Desoky Molecular Modeling Comparison of the Performance of NS5b Polymerase Inhibitor (PSI-7977) on Prevalent HCV Genotypes. Protein J (2013) 32:75–80.
[3] Angela M. Lam, Christine Espiritu, Shalini Bansal et al. Genotype and Subtype Profiling of PSI-7977 as a Nucleotide Inhibitor of Hepatitis C Virus. Antimicrobial Agents and Chemotherapy June 2012 Volume 56 Number 6 p 3359–3368.
Product Citation
Chemical Properties
| | |
| --- | --- |
| Storage | Store at -20°C |
| M.Wt | 529.45 |
| Cas No. | 1190307-88-0 |
| Formula | C22H29FN3O9P |
| Synonyms | PSI 7977;sofosbuvir |
| Solubility | ≥183 mg/mL in DMSO, ≥84.4 mg/mL in EtOH with gentle warming,insoluble in H2O |
| Chemical Name | propan-2-yl (2S)-2-[[[(2R,3R,4R,5R)-5-(2,4-dioxopyrimidin-1-yl)-4-fluoro-3-hydroxy-4-methyloxolan-2-yl]methoxy-phenoxyphosphoryl]amino]propanoate |
| SDF | Download SDF |
| Canonical SMILES | CC(C)OC(=O)C(C)NP(=O)(OCC1C(C(C(O1)N2C=CC(=O)NC2=O)(C)F)O)OC3=CC=CC=C3 |
| Shipping Condition | Evaluation sample solution: ship with blue ice. All other available sizes: ship with RT, or blue ice upon request. |
| General tips | For obtaining a higher solubility, please warm the tube at 37°C and shake it in the ultrasonic bath for a while. Stock solution can be stored below -20°C for several months. |
Protocol
Cell experiment: [1]

Cell lines

Non-infected Huh7.5.1 cells and JFH-1-infected Huh7.5.1 cells

Preparation method

The solubility of this compound in DMSO is >183mg/mL. General tips for obtaining a higher concentration: Please warm the tube at 37 °C for 10 minutes and/or shake it in the ultrasonic bath for a while.Stock solution can be stored below -20°C for several months.

Reaction Conditions

24 hours

Applications

PSI-7977 prevented PKR activation/ phosphory-lation in infected cells (5-6-fold decrease) and had no effect on the expression of inactive/non-phosphorylated PKR. It had no effect on the IFN-induced expression of non-phosphorylated and phosphorylated STAT1.

Animal experiment: [2]

Animal models

TK-NOG mice with non-humanized (control) or humanized livers

Dosage form

Oral administration, 44 or 440 mg/kg/d, for 14 days

Applications

The average plasma ALT levels in mice with humanized livers in the 440- and 44-mg/kg/d treatment groups were below the upper limit of normal, and were not significantly different from those measured in vehicle-treated mice with humanized livers. The plasma lactate levels were also not elevated in or control mice or mice with humanized livers receiving either dose of PSI-7977.

Other notes

Please test the solubility of all compounds indoor, and the actual solubility may slightly differ with the theoretical value. This is caused by an experimental system error and it is normal.

References:

[1] Bobardt M, Chatterji U, Lim P, et al. Both Cyclophilin Inhibitors and Direct-Acting Antivirals Prevent PKR Activation in HCV-Infected Cells. The open virology journal, 2014, 8: 1.

[2] Xu D, Nishimura T, Nishimura S, et al. Fialuridine Induces Acute Liver Failure in Chimeric TK-NOG Mice: A Model for Detecting Hepatic Drug Toxicity Prior to Human Testing. PLoS medicine, 2014, 11(4): e1001628.
Biological Activity
Description
PSI-7977 is a phosphoramidate prodrug of PSI-7851.
Targets
HCV RNA-dependent RNA polymerase
IC50
92 nM (EC50)
Quality Control
Quality Control & MSDS
View current batch:
Chemical structure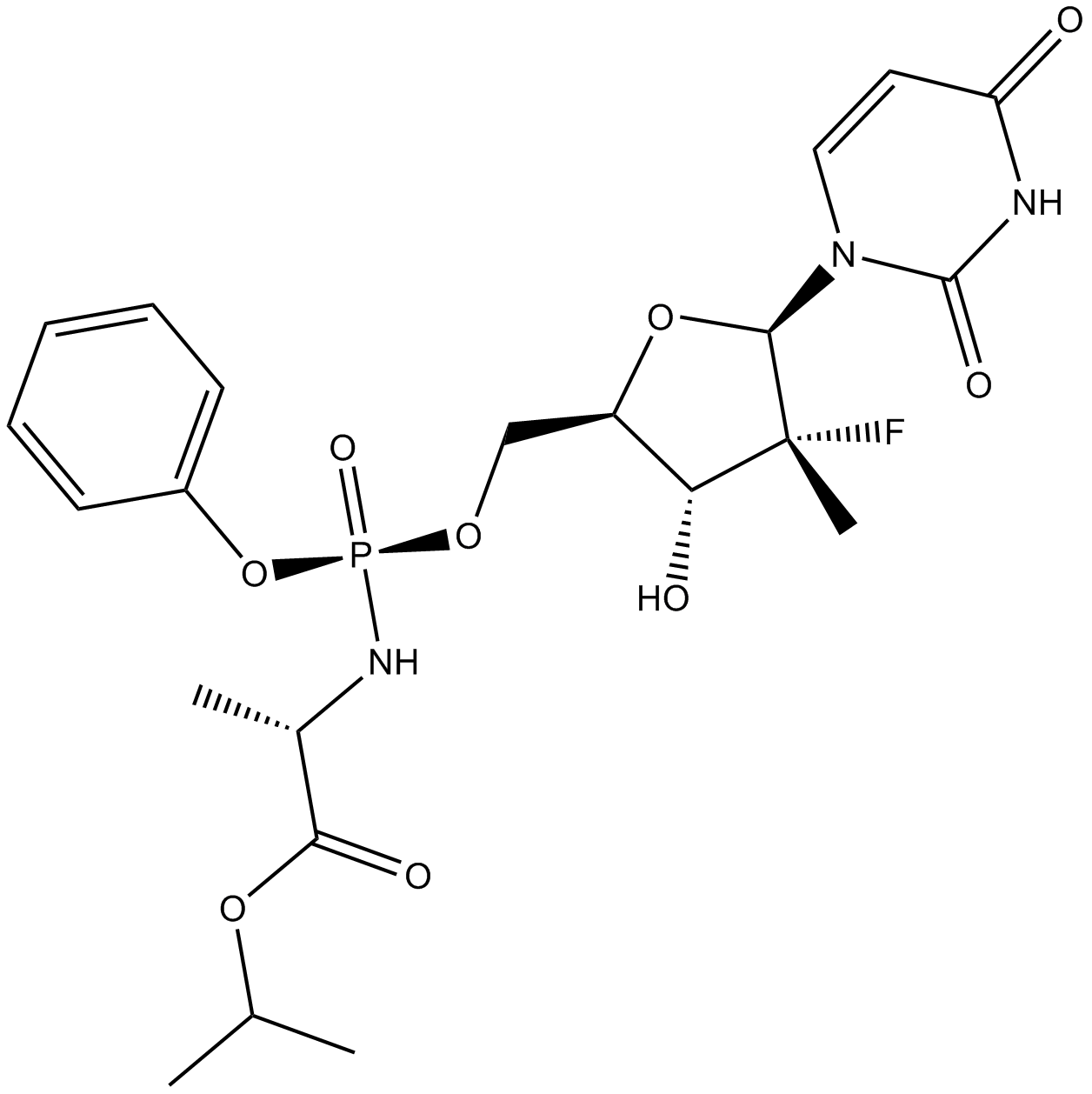 Related Biological Data