Background
P005091 is a selective, potent inhibitor of USP7 deubiquitylating activity, which is demonstrated to downregulate claspin and phosphorylation of the DNA checkpoint kinase Chk1, and to synergize with genotoxic agents. USP7, known as herpes-associated-ubiquitin-specificprotease (HAUSP), is a deubiquitylating enzyme that regulates the levels of the oncoprotein HDM2 and its substrate, the tumor suppressor p53. P005091 accelerated the degradation of HDM2, while analogs of the compound induced dose- and time-dependent increases in the protein levels of p53 and p21.What's more,P005091 induced apoptosis in numerous cancer cell lines, including both p53+/+ and p53-mutant cancer cell lines.
Reference
Jeffrey G Marblestone. Ubiquitin Drug Discovery & Diagnostics 2009 – First Annual Conference. IDrugs. 2009; 12(12):750 – 753.
Product Citation
Chemical Properties
| | |
| --- | --- |
| Physical Appearance | A solid |
| Storage | Store at 4°C |
| M.Wt | 348.22 |
| Cas No. | 882257-11-6 |
| Formula | C12H7Cl2NO3S2 |
| Synonyms | P005091,P5091 |
| Solubility | ≥17.4 mg/mL in DMSO, insoluble in EtOH,insoluble in H2O |
| Chemical Name | 1-[5-(2,3-dichlorophenyl)sulfanyl-4-nitrothiophen-2-yl]ethanone |
| SDF | Download SDF |
| Canonical SMILES | CC(=O)C1=CC(=C(S1)SC2=C(C(=CC=C2)Cl)Cl)[N+](=O)[O-] |
| Shipping Condition | Evaluation sample solution: ship with blue ice. All other available sizes: ship with RT, or blue ice upon request. |
| General tips | For obtaining a higher solubility, please warm the tube at 37°C and shake it in the ultrasonic bath for a while. Stock solution can be stored below -20°C for several months. |
Protocol
Cell experiment [1]:

Cell lines

NCI-60 human tumor cell line.

Preparation method

The solubility of this compound in DMSO is >10 mM. General tips for obtaining a higher concentration: Please warm the tube at 37℃ for 10 minutes and/or shake it in the ultrasonic bath for a while. Stock solution can be stored below -20℃ for several months.

Reaction Conditions

Growth inhibition: 48 h. Cytotoxic activity: 72 h.Solubilized in 100% (v/v) DMSO at 400-fold the desired final maximum test concentration and stored frozen prior to use.

Applications

P005091 exhibits growth inhibition with GI50 value of 1.82 μM in HL-60(TB) cell line and exhibits broad growth inhibition. In HCT-116 cells, P005091 shows cytotoxic activity with EC50 value of 9.21 μM.

Animal experiment [1]:

Animal models

Severe combined immunodeficient (SCID) mice inoculated subcutaneously with human multiple myeloma tumor cells.

Dosage form

10 mg/kg; intravenously twice a week for three weeks.

Applications

In SCID mice, P5091 significantly inhibits human plasmacytoma growth and enhances survival.

Other notes

Please test the solubility of all compounds indoor, and the actual solubility may slightly differ with the theoretical value. This is caused by an experimental system error and it is normal.

References:

[1]. Cao P, Weinstock J, Kingsbury WD, et al. Anti-neoplastic compounds, compositions and methods. Patent: US 8680139 B2, 2009.
Biological Activity
Description
P5091(P005091) is a selective and potent inhibitor of ubiquitin-specific protease 7 (USP7) with EC50 of 4.2 μM and the closely related USP47.
Targets
IC50
4.2 μM (EC50)
Quality Control
Quality Control & MSDS
View current batch:
Chemical structure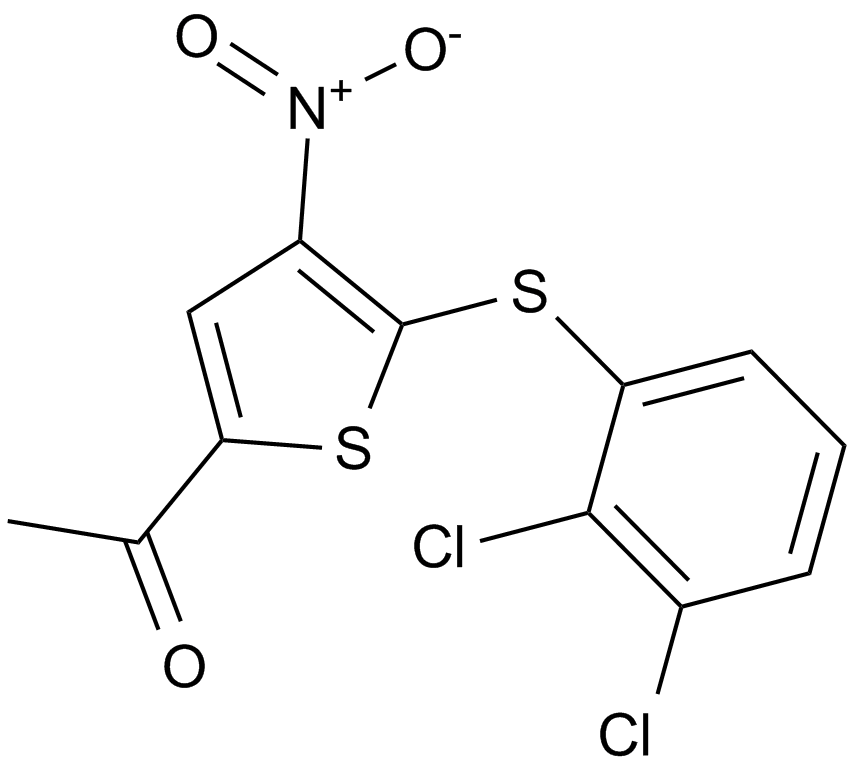 Related Biological Data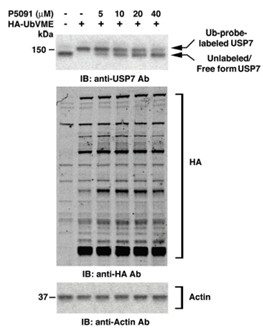 HEK293T cells were treated with DMSO or P5091; crude cell extracts were labeled with indicated UbVME probe, followed by immunoblotting (IB) with indicated antibodies.
Related Biological Data