Background
IC50: 5 uM
OICR-9429 is an antagonist of Wdr5-MLL interaction.
WDR5 has been identified as a component of the MLL complex, which is required for histone H3 tri-methylation by its binding of histone H3. Thus, WDR5 is reported to be a presenter component of MLL, suggesting that WDR5 can bind substrates of methylated histone H3 to the MLL complex for further methylation.
In vitro: Previous study found that Wdr5 could be detected readily in C/EBPα immunoprecipitates from lysates of Cebpap30/p30 cells by the treatment of OICR-9429, indicating that the Wdr5-MLL interaction could not influence p30 binding. Moreover, the gene expression profiling of OICR-9429-treated Cebpap30/p30 cells showed that Wdr5 antagonism could result in the upregulation of myeloid-specific transcripts. In addition, the gene set enrichment analyses demonstrated a close correlation between OICR-9429–induced genes and genes that were upregulated after Wdr5 knockdown. Furthermore, the gene profile of Cebpap30/p30 LICs6 was downregulated due to the Wdr5 antagonism caused by OICR-9429. Further treatment of OICR-9429 to Cebpap30/p30 cells was found to be associated with myeloid differentiation and loss of progenitor morphology [1].
In vivo: So far, there is no animal in vivo data reported.
Clinical trial: Up to now, OICR-9429 is still in the preclinical development stage.
Reference:
[1] Grebien F et al. Pharmacological targeting of the Wdr5-MLL interaction in C/EBPα N-terminal leukemia. Nat Chem Biol.2015 Aug;11(8):571-8.
Product Citation
Chemical Properties
| | |
| --- | --- |
| Physical Appearance | A crystalline solid |
| Storage | Store at -20°C |
| M.Wt | 555.59 |
| Cas No. | 1801787-56-3 |
| Formula | C29H32F3N5O3 |
| Solubility | insoluble in EtOH; insoluble in H2O; ≥21.52 mg/mL in DMSO |
| Chemical Name | N-(4-(4-methylpiperazin-1-yl)-3'-(morpholinomethyl)-[1,1'-biphenyl]-3-yl)-6-oxo-4-(trifluoromethyl)-1,6-dihydropyridine-3-carboxamide |
| SDF | Download SDF |
| Canonical SMILES | O=C(C(C(C(F)(F)F)=C1)=CNC1=O)NC2=CC(C3=CC=CC(CN4CCOCC4)=C3)=CC=C2N5CCN(C)CC5 |
| Shipping Condition | Ship with blue ice, or upon other requests. |
| General tips | For obtaining a higher solubility, please warm the tube at 37°C and shake it in the ultrasonic bath for a while. We do not recommend long-term storage for the solution, please use it up soon. |
Quality Control
Quality Control & MSDS
View current batch:
Chemical structure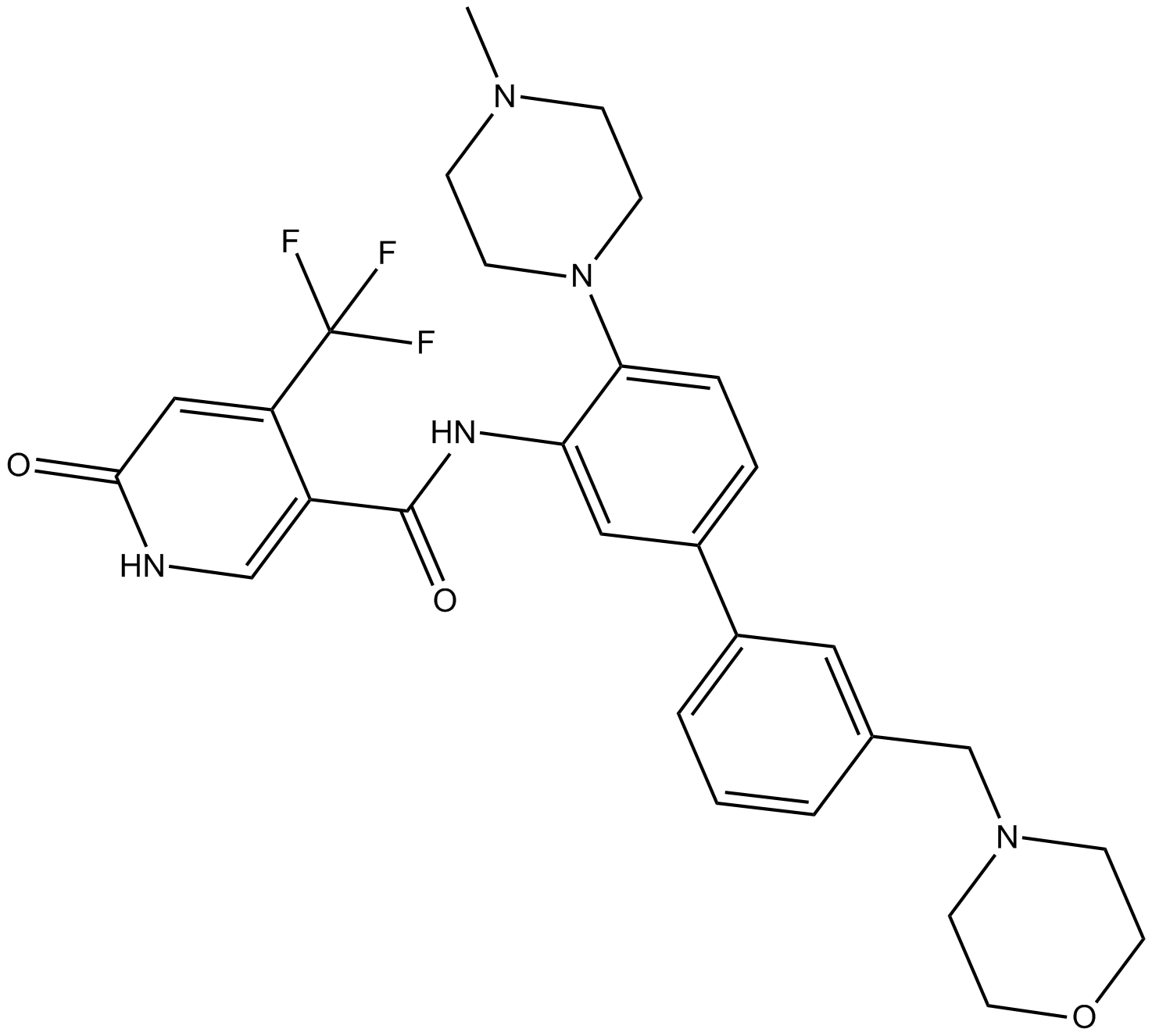 Related Biological Data