NVP-BSK805 2HCl
JAK2 inhibitor
Sample solution is provided at 25 µL, 10mM.
Publications citing ApexBio Products
Quality Control
Quality Control & MSDS
View current batch:
Chemical structure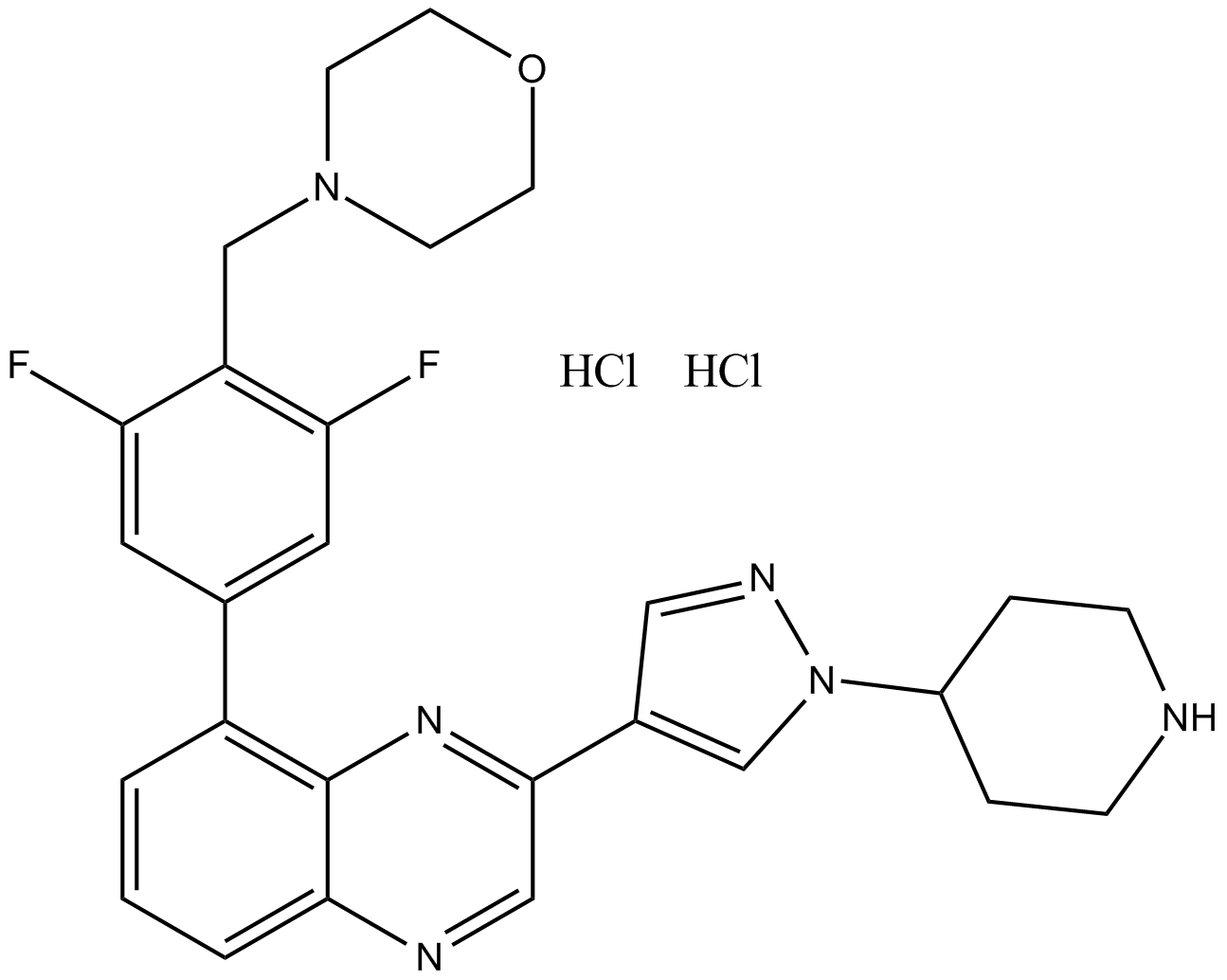 Chemical Properties
Cas No.
1092499-93-8
SDF
Download SDF
Chemical Name
4-[[2,6-difluoro-4-[3-(1-piperidin-4-ylpyrazol-4-yl)quinoxalin-5-yl]phenyl]methyl]morpholine;dihydrochloride
Canonical SMILES
C1CNCCC1N2C=C(C=N2)C3=NC4=C(C=CC=C4N=C3)C5=CC(=C(C(=C5)F)CN6CCOCC6)F.Cl.Cl
Formula
C27H28F2N6O.2HCl
M.Wt

563.47

Solubility
Soluble in DMSO > 10 mM
Storage
Store at -20°C
General tips
N/A
Shipping Condition
N/A
View Related Products By Research Topics
Background
NVP-BSK805 2HCl is a potent and selective ATP-competitive inhibitor of JAK2 [1].
Janus kinase 2 (JAK2), a non-receptor tyrosine kinase, is a member of the Janus kinase family and has been implicated in signaling by members of the type II cytokine receptorfamily, the GM-CSF receptor family, the gp130 receptor family, and the single chain receptors[2].
In vitro: NVP-BSK805 potently inhibited JAK2, displaying more than 20-fold selectivity towards JAK1, JAK3, and TYK2. In an internal kinase panel, NVP-BSK805 showed potent inhibition of JAK2, along with good selectivity towards the other three JAK family members, indicating the fairly selectivity against other kinases. NVP-BSK805 is an ATP-competitive inhibitor with the Ki values of 0.43 ± 0.02 nmol/L. In Ba/F3 cell-based assays of JAK2V617F dependency and a panel of JAK2V617F-bearing acute myeloid leukemia cell lines derived from patients with a history of cMPNs, NVP-BSK805 exhibited half-maximal growth inhibition (GI50) at concentrations < 100 nmol/L. In K-562 cells, NVP-BSK805 suppressed growth with the GI50 value of 1.5 μmol/L. In CMK cells, the GI50value of NVP-BSK805 was about 2 μmol/L. Incubation of SET-2 cells with 150 nM and 1 μM of NVP-BSK805, which corresponds to concentration yielding 75% and 95% growth inhibition, respectively, for 24, 48, and 72 hours lead to concentration- and time- dependent induction of apoptosis[1]. In both SET-2 and MB-02 cells,NVP-BSK805 triggered cell death required activation of caspase cascades and was overcome by caspase inhibition. NVP-BSK805 modulated the post-translational modification of Bim and levels of Mcl-1 in JAK2V617F cells, SET-2 and MB-02 cells[3].
In vivo: Oral bioavailability of NVP-BSK805 in mice was estimated to be 45%, while 50% in rats. In a Ba/F3 JAK2V617F cell–driven mouse model, Oral administration of NVP-BSK805 (150 mg/kg) suppressed STAT5 phosphorylation, splenomegaly, and leukemic cell spreading. In BALB/c mice, NVP-BSK805 suppressedrhEpo-induced STAT5 phosphorylation as well as rhEpo-mediated polycythemia and splenomegaly at doses of 25, 50, and 100 mg/kg orally [1].
References:
[1] Baffert F, Régnier C H, De Pover A, et al. Potent and selective inhibition of polycythemia by the quinoxaline JAK2 inhibitor NVP-BSK805[J]. Molecular cancer therapeutics, 2010, 9(7): 1945-1955.
[2] Bole-Feysot C, Goffin V, Edery M, et al. Prolactin (PRL) and its receptor: actions, signal transduction pathways and phenotypes observed in PRL receptor knockout mice[J]. Endocrine reviews, 1998, 19(3): 225-268.
[3] Rubert J, Qian Z, Andraos R, et al. Bim and Mcl-1 exert key roles in regulating JAK2 V617F cell survival[J]. BMC cancer, 2011, 11(1): 1.