Background
MLN9708, also known as ixazomib, is a second-generation small-molecule proteasome inhibitor. It is a citrate ester that immediately hydrolyzes to its biologically active form MLN2238 upon exposure to aqueous solutions or plasma. MLN9708 was selected from a large pool of boron-containing proteasome inhibitors based on a physicochemical profile that was distinct from bortezomib. MLN9708 has a shorter 20S proteasome dissociation half-life than bortezomib, which is demonstrated to play an important role in its improved tissue distribution.
Reference
Erik Kupperman, Edmund C. Lee, Yueying Cao, Bret Bannerman, Michael Fitzgerald, Allison Berger, Jie Yu, Yu Yang, Paul Hales, Frank Bruzzese, Jane Liu, Jonathan Blank, Khristofer Garcia, Christopher Tsu, Larry Dick, Paul Fleming, Li Yu, Mark Manfredi, Mark Rolfe, and Joe Bolen. Evaluation of the Proteasome Inhibitor MLN9708 in Preclinical Models of Human Cancer. Cancer Res March 1, 2010 70; 1970.
Edmund C. Lee, Michael Fitzgerald, Bret Bannerman, Jill Donelan, Kristen Bano, Jennifer Terkelsen, Daniel P. Bradley, Ozlem Subakan, Matthew D. Silva, Ray Liu, Michael Pickard, Zhi Li, Olga Tayber, Ping Li, Paul Hales, Mary Carsillo, Vishala T. Neppalli, Allison J. Berger, Erik Kupperman, Mark Manfredi, Joseph B. Bolen, Brian Van Ness, Siegfried Janz. Antitumor Activity of the Investigational Proteasome Inhibitor MLN9708 in Mouse Models of B-cell and Plasma Cell Malignancies. Clin Cancer Res December 1, 2011 17; 7313.
Product Citation
Chemical Properties
| | |
| --- | --- |
| Storage | Store at -20°C |
| M.Wt | 517.1 |
| Cas No. | 1201902-80-8 |
| Formula | C20H23BCl2N2O9 |
| Synonyms | MLN-9708, MLN 9708 |
| Solubility | insoluble in H2O; ≥20.85 mg/mL in DMSO; ≥4.56 mg/mL in EtOH with gentle warming and ultrasonic |
| Chemical Name | [(1R)-1-[[2-[(2,5-dichlorobenzoyl)amino]acetyl]amino]-3-methylbutyl]boronic acid |
| SDF | Download SDF |
| Canonical SMILES | B1(OC(=O)CC(O1)(CC(=O)O)C(=O)O)C(CC(C)C)NC(=O)CNC(=O)C2=C(C=CC(=C2)Cl)Cl |
| Shipping Condition | Ship with blue ice, or upon other requests. |
| General tips | For obtaining a higher solubility, please warm the tube at 37°C and shake it in the ultrasonic bath for a while. We do not recommend long-term storage for the solution, please use it up soon. |
Protocol
Cell experiment: [1]

Cell lines

MM.1S (Dexamethasone sensitive) cells

Preparation method

The solubility of this compound in DMSO is >10 mM. General tips for obtaining a higher concentration: Please warm the tube at 37 °C for 10 minutes and/or shake it in the ultrasonic bath for a while.Stock solution can be stored below -20°C for several months.

Reaction Conditions

100 nM, 3 hours for CT-L proteasome inhibition 100 nm, 3 hours for C-L proteasome inhibition 10 μM, 3 hours for T-L proteasome inhibition

Applications

MLN9708 significantly inhibited CT-L proteasome activity with an IC50 at 5 nM. Higher concentrations of MLN9708 showed inhibitory activity against C-L and T-L proteasome activities.

Animal experiment:

Animal models

Female CB17-SCID mice bearing WSU-DLCL2 xenografts

Dosage form

Intravenous injection, 14 mg/kg, twice weekly or subcutaneous injection, 4 mg/kg, once daily

Applications

Both intermittent and continuous MLN2238 dosing regimens showed strong antitumor activity (T/C = 0.44 and 0.29 for 14 mg/kg i.v. and 4 mg/kg s.c., respectively) and generated a greater apoptotic response in tumor tissue asmeasured by levels of cleaved caspase-3.

Other notes

Please test the solubility of all compounds indoor, and the actual solubility may slightly differ with the theoretical value. This is caused by an experimental system error and it is normal.

References:

[1] Chauhan D, Tian Z, Zhou B, et al. In vitro and in vivo selective antitumor activity of a novel orally bioavailable proteasome inhibitor MLN9708 against multiple myeloma cells. Clinical Cancer Research, 2011, 17(16): 5311-5321.

[2] Kupperman E, Lee E C, Cao Y, et al. Evaluation of the proteasome inhibitor MLN9708 in preclinical models of human cancer. Cancer research, 2010, 70(5): 1970-1980.
Quality Control
Quality Control & MSDS
View current batch:
Chemical structure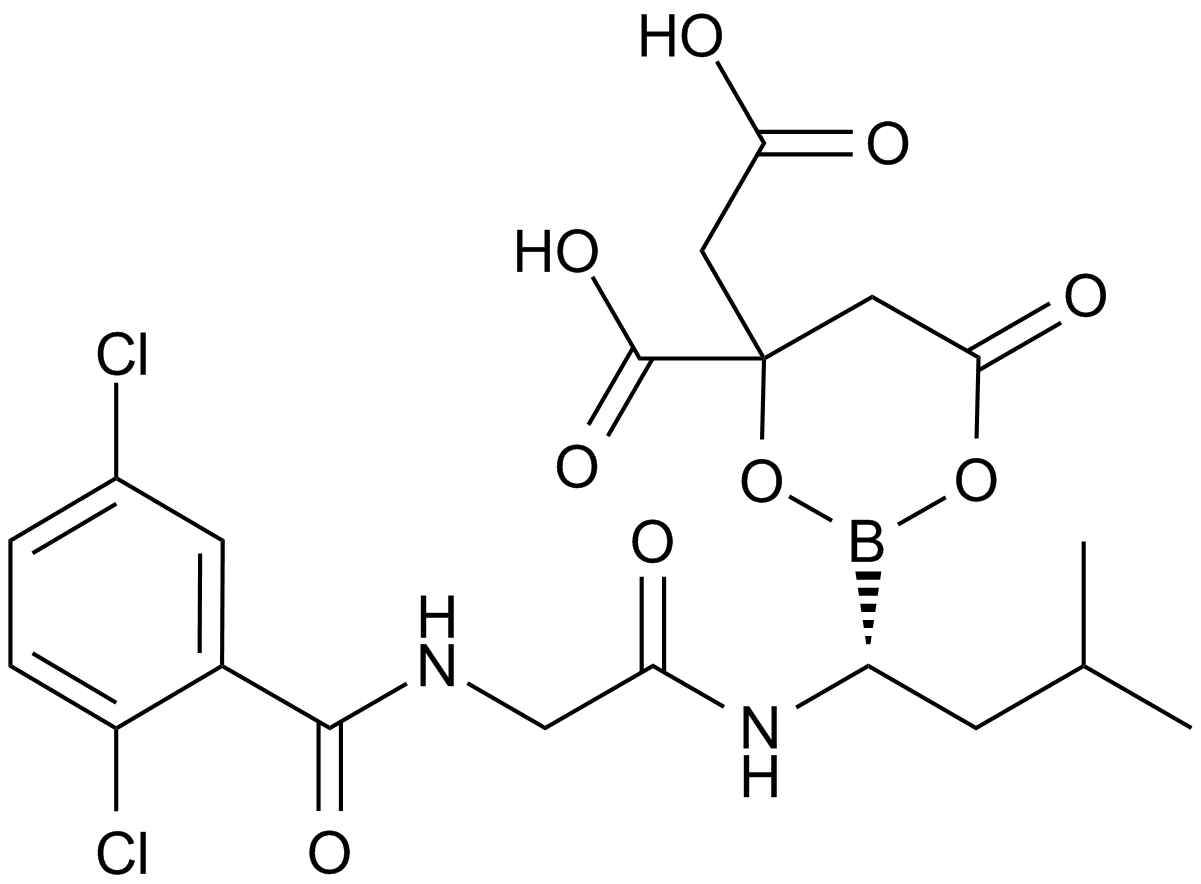 Related Biological Data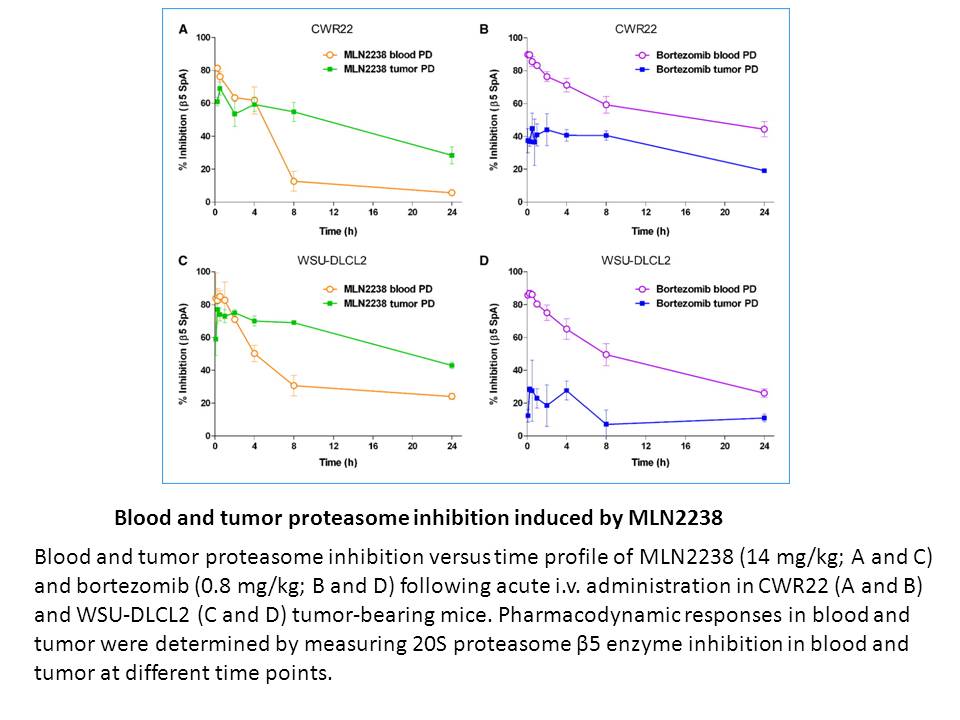 Related Biological Data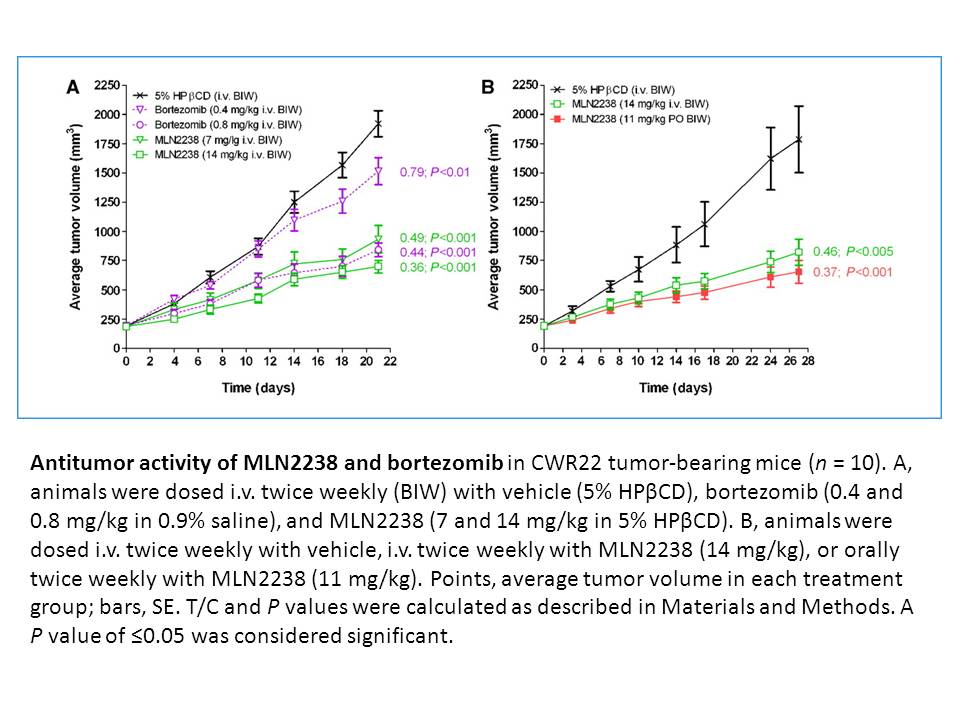 Related Biological Data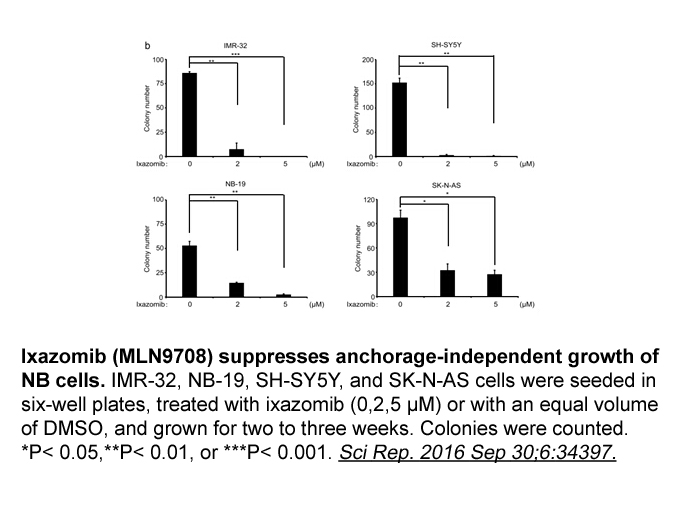 Related Biological Data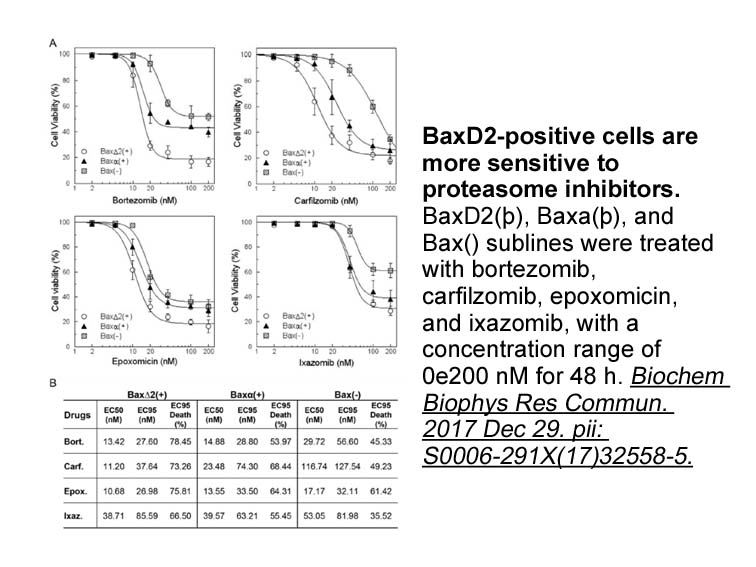 Related Biological Data