Background
MK-1775 is a potent and selective Wee1 inhibitor with an IC50 of 5.2 nM in a cell-free assay. MK-1775 abolishes cyclin-dependent kinase 1 (CDC2) activity by phosphorylation of the Tyr15 residue [1]. Wee1 is a nuclearkinasebelonging to theSer/Thr familyof protein kinases. Wee1 kinase negatively regulates entry into mitosis by catalyzing the inhibitory tyrosine phosphorylation of CDC2/cyclin B kinase. Dysfunction of Wee1 will produce smaller than normal daughter cell [2].
In vitro:MK-1775 dose-dependently inhibited phosphorylation of CDC2 at tyr15 and abrogated the G2DNA damage checkpoint. MK-1775 inhibited Wee1 kinase in an ATP-competitive manner with an IC50 value of 5.2 nmol/L in the in vitro kinase assays. Compared to Wee1, MK-1775 displayed 2- to 3-fold less potency against Yes with the IC50value of 14 nM, 10-fold less potency against seven other kinases with >80% inhibition at 1 μM, and >100-fold selectivity over human Myt 1, another kinase that inhibited cyclin-dependent kinase 1 (CDC2) by phosphorylation at an alternative site (Thr14). By abrogating the DNA damage checkpoint via blockade of Wee1 activity in WiDr cells bearing mutated p53, MK-1775 treatment inhibited the basal phosphorylation of CDC2 at Tyr15 (CDC2Y15) with an EC50 of 49 nM, and dose-dependently suppressed gemcitabine-, carboplatin- or cisplatin-induced phosphorylation of CDC2 and cell cycle arrest, with the EC50 of 82 nM and 81 nM, 180 nM and 163 nM, as well as 159 nM and 160 nM, respectively. In WiDr and H1299 cells, MK-1775 treatment (30-100 nM)showed no significant antiproliferative effects, whereas MK-1775 at 300 nM was sufficient to inhibit Wee1 by >80%, displayed moderate but significant antiproliferative effects by 34.1% in WiDr cells and 28.4% in H1299 cells [1].
References:
[1].  Hirai H, Iwasawa Y, Okada M, et al. Small-molecule inhibition of Wee1 kinase by MK-1775 selectively sensitizes p53-deficient tumor cells to DNA-damaging agents[J]. Molecular cancer therapeutics, 2009, 8(11): 2992-3000.
[2].  McGowan C H, Russell P. Cell cycle regulation of human WEE1[J]. The EMBO journal, 1995, 14(10): 2166.
Product Citation
Chemical Properties
| | |
| --- | --- |
| Physical Appearance | A solid |
| Storage | Store at -20°C |
| M.Wt | 500.6 |
| Cas No. | 955365-80-7 |
| Formula | C27H32N8O2 |
| Synonyms | MK1775,MK 1775 |
| Solubility | ≥25.03 mg/mL in DMSO; insoluble in H2O; insoluble in EtOH |
| Chemical Name | 1-[6-(2-hydroxypropan-2-yl)pyridin-2-yl]-6-[4-(4-methylpiperazin-1-yl)anilino]-2-prop-2-enylpyrazolo[3,4-d]pyrimidin-3-one |
| SDF | Download SDF |
| Canonical SMILES | CC(C)(C1=NC(=CC=C1)N2C3=NC(=NC=C3C(=O)N2CC=C)NC4=CC=C(C=C4)N5CCN(CC5)C)O |
| Shipping Condition | Ship with blue ice, or upon other requests. |
| General tips | For obtaining a higher solubility, please warm the tube at 37°C and shake it in the ultrasonic bath for a while. |
Protocol
Kinase experiment [1]:

In vitro kinase assays

Recombinant human Wee1 was used. Kinase reaction was conducted with 10 μM ATP, 1.0 μCi of [γ-33P]ATP, and 2.5 μg of poly(Lys, Tyr) as a substrate in the presence of increasing concentrations of MK-1775 at 30 °C for 30 mins. Radioactivity incorporated into the substrate was trapped on MultiScreen-PH plates and was counted on a liquid scintillation counter.

Cell experiment [1]:

Cell lines

WiDr and H1299 cells

Preparation method

The solubility of this compound in DMSO is >10 mM. General tips for obtaining a higher concentration: Please warm the tube at 37℃ for 10 minutes and/or shake it in the ultrasonic bath for a while. Stock solution can be stored below -20℃ for several months.

Reaction Conditions

30, 100 or 300 nM; 24 hrs

Applications

The cotreatment with 30 and 100 nM of MK-1775 reduced the IC50 values of Gemcitabine to 21.5 and 7.1 nM, respectively. Similar potentiation of Gemcitabine was also observed in another p53-deficient lung cancer cell line, H1299.

Animal experiment [1]:

Animal models

Nude rats bearing WiDr, HeLa-luc or TOV21G-shp53 tumors

Dosage form

20 or 30 mg/kg; p.o.

Applications

In rats bearing WiDr tumors, MK-1775 treatment alone at 20 mg/kg displayed minimal antitumor effects with T/C of 69% at day 3. In rat bearing HeLa-luc and TOV21G-shp53 tumors, its antitumor efficacy is also moderate.

Other notes

Please test the solubility of all compounds indoor, and the actual solubility may slightly differ with the theoretical value. This is caused by an experimental system error and it is normal.

References:

[1]. Hirai H, Iwasawa Y, Okada M et al. Small-molecule inhibition of Wee1 kinase by MK-1775 selectively sensitizes p53-deficient tumor cells to DNA-damaging agents. Mol Cancer Ther. 2009 Nov;8(11):2992-3000.
Biological Activity
Description
MK-1775 is a potent and selective inhibitor of Wee1 with IC50 of 5.2 nM.
Targets
Wee1
IC50
5.2 nM
Quality Control
Quality Control & MSDS
View current batch:
Chemical structure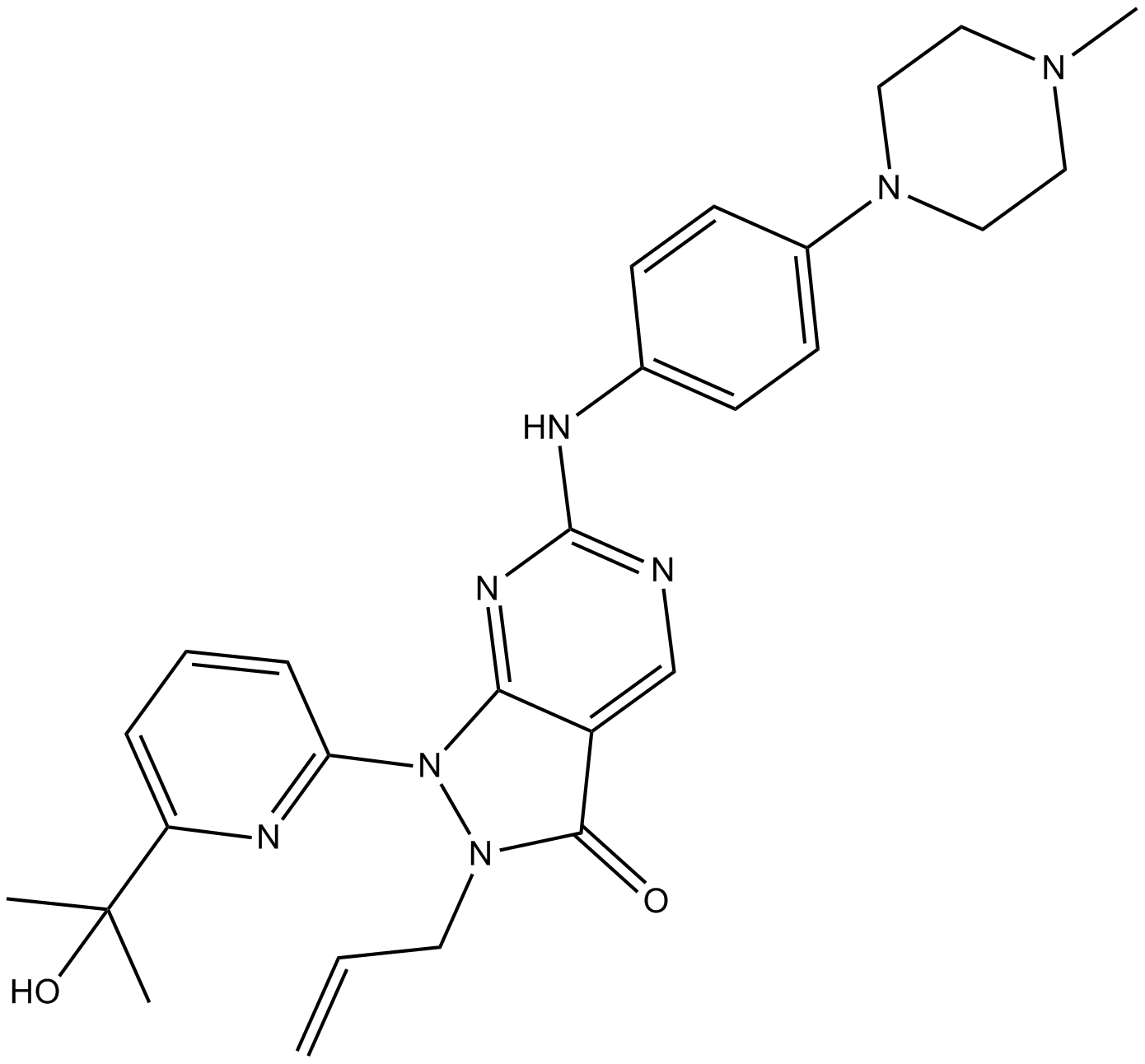 Related Biological Data
Related Biological Data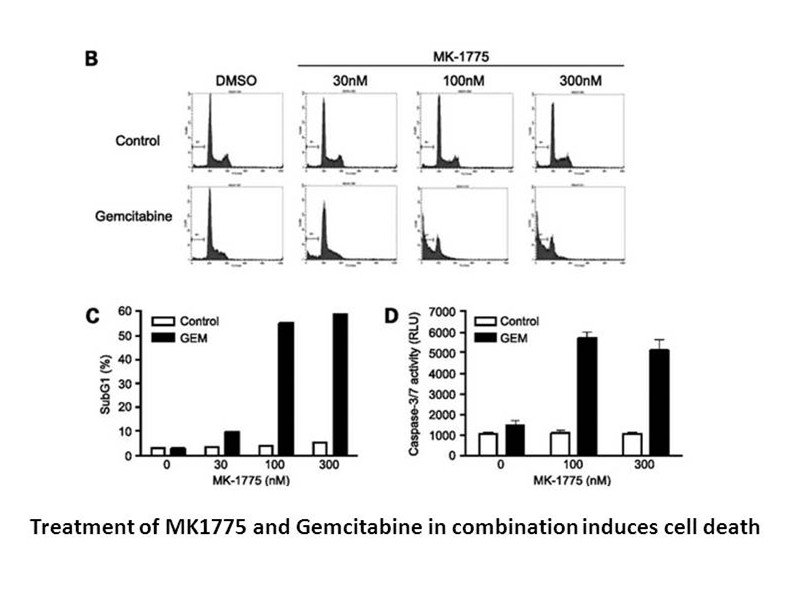 Related Biological Data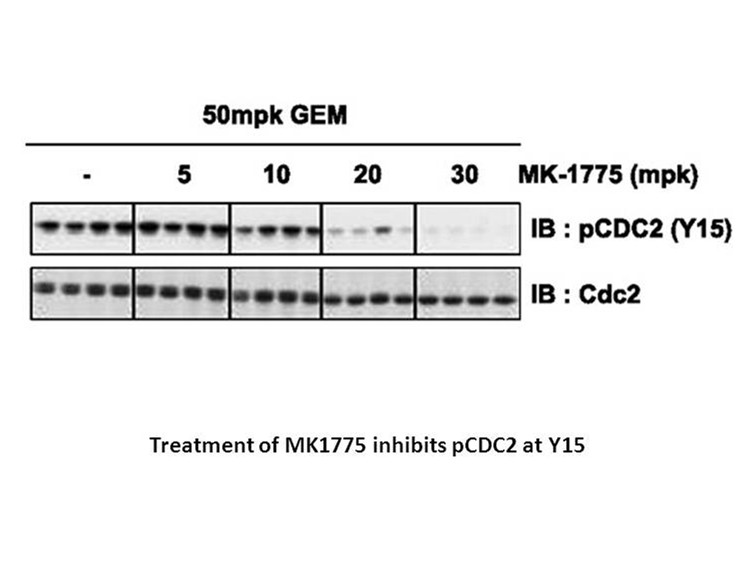 Related Biological Data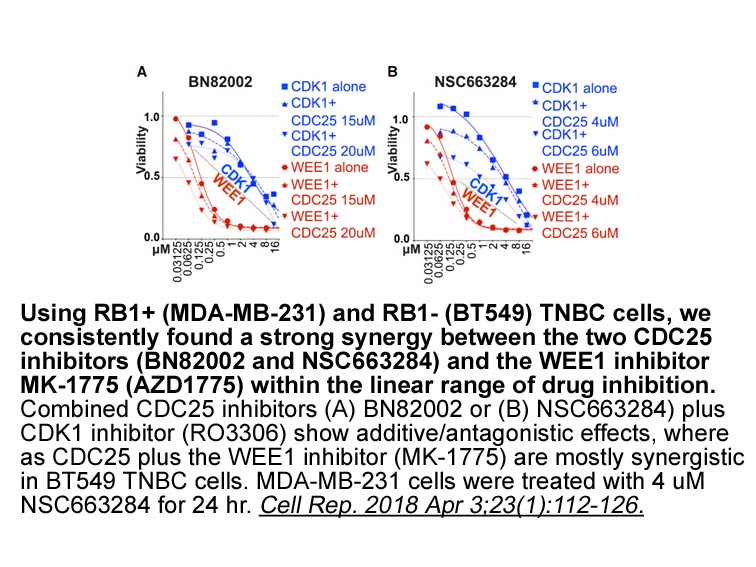 Related Biological Data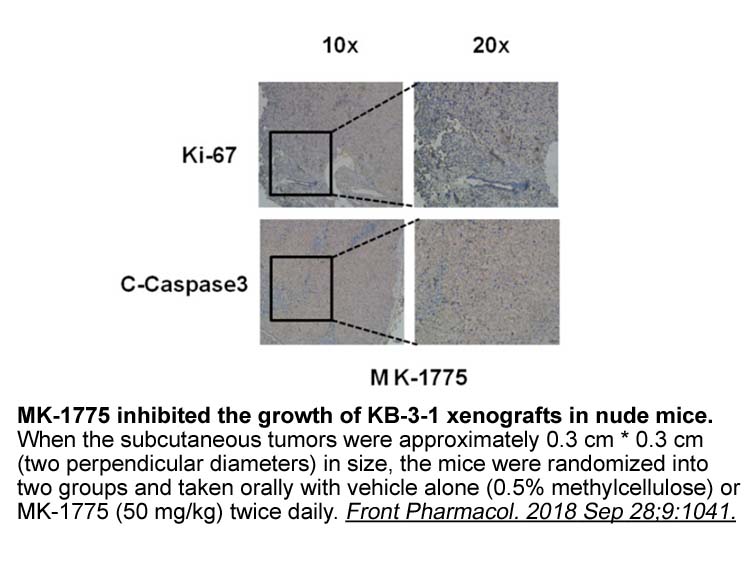 Related Biological Data