MHY1485
mTOR activator, autophage inhibitor
Sample solution is provided at 25 µL, 10mM.
Publications citing ApexBio Products
Related Compound Libraries
Quality Control
Quality Control & MSDS
View current batch:
Chemical structure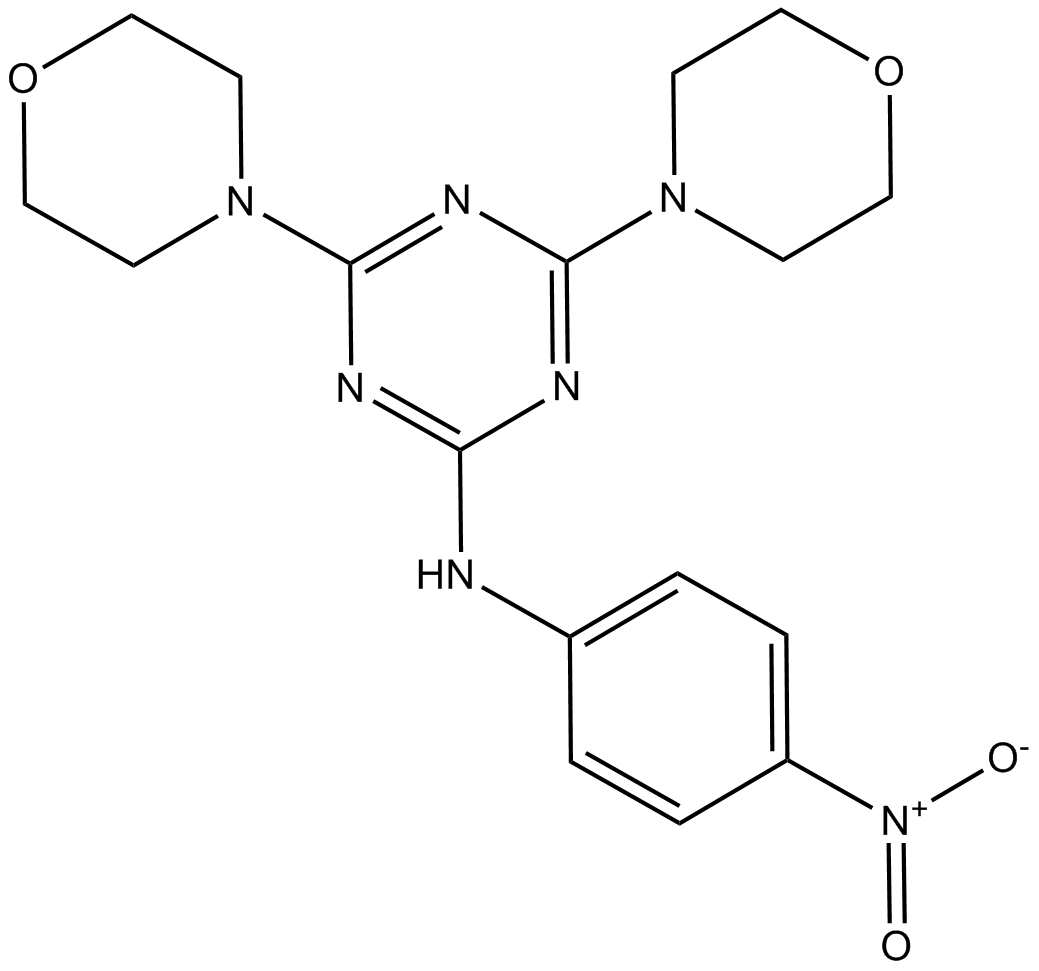 Chemical Properties
Cas No.
326914-06-1
SDF
Download SDF
Chemical Name
4,6-dimorpholino-N-(4-nitrophenyl)-1,3,5-triazin-2-amine
Canonical SMILES
[O-][N+](C1=CC=C(NC2=NC(N3CCOCC3)=NC(N4CCOCC4)=N2)C=C1)=O
Formula
C17H21N7O4
M.Wt

387.39

Solubility
>19.4mg/mL in DMSO
Storage
Store at -20°C
General tips
N/A
Shipping Condition
N/A
Background
MHY1485 is a potent mTOR activator that inhibits autophagy with suppression of fusion between autophagosomes and lysosomes. [1]
mTOR (mechanistic target of rapamycin) is a serine/threonine kinase that regulates cellular metabolism, growth ad survival. It mediates the cellular response to stress, growth factor and hormone etc. Inhibition of mTOR strongly induced autophagy. mTOR signaling also plays a role in the promotion of ovarian follicle development.
In Ac2F rat hepatocytes, MHY1485 treatment suppresses the basal autophagic flux, and it also shows inhibitory effect under cell starvation which is an inducer of autophagy. The effects of MHY1485 dose-and time- dependently cause accumulation of LC3II and enlargement of the autophagosomes. [1]
Ovaries of juvenile mice cultured with MHY1485 for 4 days increases ovarian explant weights and follicle development. 2 days pre-incubation of these ovaries with MHY1485 followed by allo-grafting into kidney capsules of adult ovariectomized hosts for 5 days, shows apparent increases in graft weights and promotion of follicle development. [2]
References:
1, Choi YJ, Park YJ, Park JY et al. Inhibitory effect of mTOR activator MHY1485 on
autophagy: suppression of lysosomal fusion. PLoS One. 2012;7(8):e43418. doi:
10. 1371/journal.pone.0043418. Epub 2012 Aug 22. Erratum in: PLoS One. 2013;8(1).
2, Cheng Y, Kim J, Li XX, Hsueh AJ. Promotion of ovarian follicle growth
following mTOR activation: synergistic effects of AKT stimulators. PLoS One. 2015
Feb 24;10(2):e0117769.