Background
Methyllycaconitine citrate(MLA) is an antagonist of α7-containing neuronal nicotinic acetylcholine receptors (nAChRs; Ki = 1.4 nM)[1,2]. 
MLA inhibits the decreased cell viability induced by Aβ25-35, pretreatment with 5 and 10 µM. Aβ25-35 treatment increases LC3-II levels, which is inhibited by administration of Methyllycaconitine citrate. MLA also inhibits Aβ-induced autophagosome accumulation in SH-SY5Y cells[3]. 
MLA inhibits methamphetamine(METH)-induced climbing behavior by 50%. MLA prevents a decrease in striatal synaptosome dopamine (DA) uptake, MLA significantly attenuates METH-induced neurotoxicity at 72 h post-treatment. MLA fully prevents microglial activation at 24 h post-treatment and tending to confirm its neuroprotective activity[4]. 
References:
[1]. Kalappa B I, Sun F, Johnson S R, et al. A positive allosteric modulator of α7 nAChRs augments neuroprotective effects of endogenous nicotinic agonists in cerebral ischaemia. Brit.J.Pharmacol, 2013, 169(8): 1862-1878.
[2]. Ward J M, Cockcroft V B, Lunt G G, et al. Methyllycaconitine: A selective probe for neuronal α-bungarotoxin binding sites. FEBS Lett, 1990, 270(1-2): 45-48 .
[3]. Zheng X, et al. Methyllycaconitine alleviates amyloid-β peptides-induced cytotoxicity in SH-SY5Y cells. PLoS One, 2014, 9(10): e111536.
[4]. Escubedo E, et al. Methyllycaconitine prevents methamphetamine-induced effects in mouse striatum: involvement of alpha7 nicotinic receptors. J Pharmacol Exp Ther, 2005, 315(2): 658-67.
Product Citation
Chemical Properties
| | |
| --- | --- |
| Physical Appearance | White solid |
| Storage | Desiccate at -20°C |
| M.Wt | 874.93 |
| Cas No. | 112825-05-5 |
| Formula | C37H50N2O10·C6H8O7 |
| Solubility | Soluble in DMSO |
| SDF | Download SDF |
| Shipping Condition | Ship with blue ice, or upon other requests. |
| General tips | For obtaining a higher solubility, please warm the tube at 37°C and shake it in the ultrasonic bath for a while. We do not recommend long-term storage for the solution, please use it up soon. |
Quality Control
Quality Control & MSDS
View current batch:
Chemical structure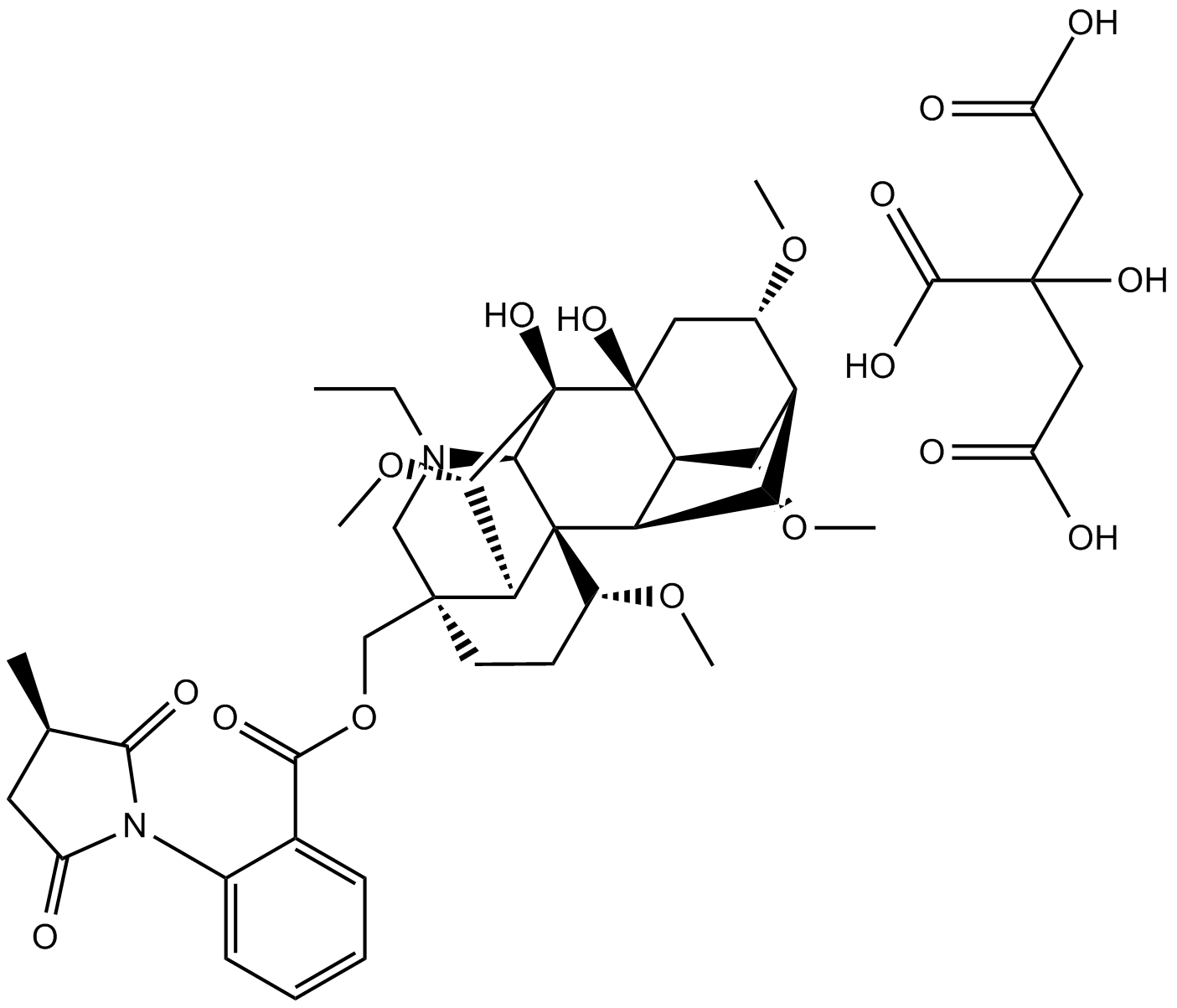 Related Biological Data