Background
KU-55933 is a specific inhibitor of ATM kinase with IC50 value of 13 nM [1].
ATM can stimulate Ser473 phosphorylation of Akt and mediate its full activation in response to insulin. As an ATM inhibitor, KU-55933 significantly inhibited the increase of phospho-Akt at Ser473 in MDA-MB-453 and PC-3 cells treated with insulin and IGF-I following serum starvation. In the MTT assay, KU-55933 treatment suppressed cell proliferation by about 50% at concentration of 10 μM in MDA-MB-453 and PC-3 cells. In a panel of cell lines that have varied Akt activities, KU-55933 treatment caused cell proliferation inhibition correlated with the Akt phosphorylation. KU-55933 was also found to induce G1 cell cycle arrest through down-regulating the cyclin D1 level in MDA-MB-453 and PC-3 cells [2].
References:
[1] Hickson I, Zhao Y, Richardson C J, et al. Identification and characterization of a novel and specific inhibitor of the ataxia-telangiectasia mutated kinase ATM. Cancer research, 2004, 64(24): 9152-9159.
[2] Li Y, Yang D Q. The ATM inhibitor KU-55933 suppresses cell proliferation and induces apoptosis by blocking Akt in cancer cells with overactivated Akt. Molecular cancer therapeutics, 2010, 9(1): 113-125.
Product Citation
Chemical Properties
| | |
| --- | --- |
| Physical Appearance | A solid |
| Storage | Desiccate at -20°C |
| M.Wt | 395.49 |
| Cas No. | 587871-26-9 |
| Formula | C21H17NO3S2 |
| Solubility | ≥41.67 mg/mL in DMSO with gentle warming; insoluble in H2O; insoluble in EtOH |
| Chemical Name | 2-morpholin-4-yl-6-thianthren-1-ylpyran-4-one |
| SDF | Download SDF |
| Canonical SMILES | C1COCCN1C2=CC(=O)C=C(O2)C3=C4C(=CC=C3)SC5=CC=CC=C5S4 |
| Shipping Condition | Ship with blue ice, or upon other requests. |
| General tips | For obtaining a higher solubility, please warm the tube at 37°C and shake it in the ultrasonic bath for a while. We do not recommend long-term storage for the solution, please use it up soon. |
Protocol
Cell experiment: [1]

Cell lines

MCF-7 cells

Preparation method

The solubility of this compound in DMSO is >10 mM. General tips for obtaining a higher concentration: Please warm the tube at 37 °C for 10 minutes and/or shake it in the ultrasonic bath for a while.Stock solution can be stored below -20°C for several months.

Reaction Conditions

10 μM, 72 hours

Applications

The effect of KU-55933 on viable cell number was measured by counting cells able to exclude Trypan blue. Cell number was significantly reduced by KU-55933. Lactate production was significantly increased in cells treated with KU-55933. Glucose consumption was increased with exposure to KU-55933 treated cells. KU-55933 also decreased ATP levels in MCF-7 cells.

Other notes

Please test the solubility of all compounds indoor, and the actual solubility may slightly differ with the theoretical value. This is caused by an experimental system error and it is normal.

References:

[1] Zakikhani M, Bazile M, Hashemi S, et al. Alterations in cellular energy metabolism associated with the antiproliferative effects of the ATM inhibitor KU-55933 and with metformin. PloS one, 2012, 7(11): e49513.
Biological Activity
Description
KU-55933 (ATM Kinase Inhibitor) is a potent and specific inhibitor of ATM with IC50/Ki of 12.9 nM/2.2 nM, and is highly selective for ATM as compared to DNA-PK, PI3K/PI4K, ATR and mTOR.
Targets
ATM
ATM
IC50
13 nM
2.2 nM (Ki)
Quality Control
Quality Control & MSDS
View current batch:
Chemical structure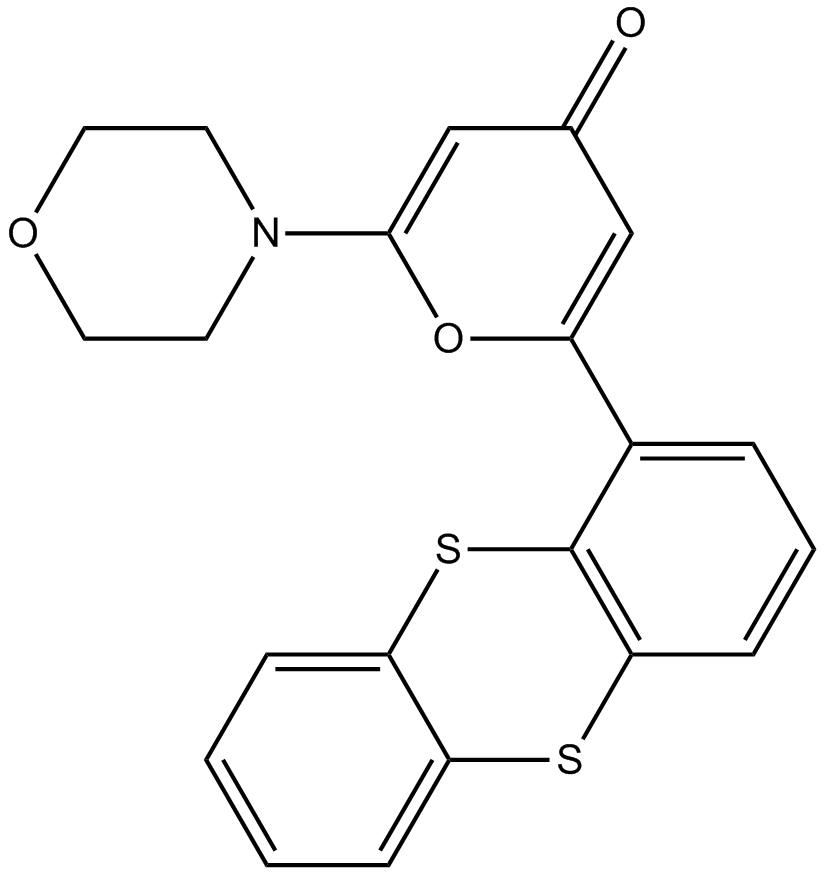 Related Biological Data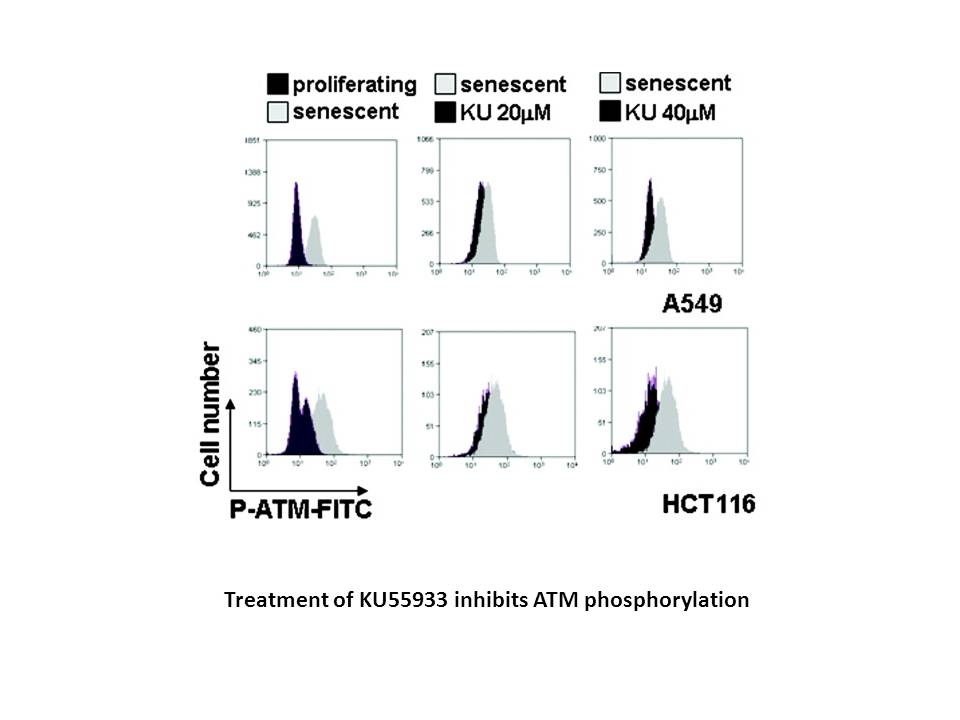 Related Biological Data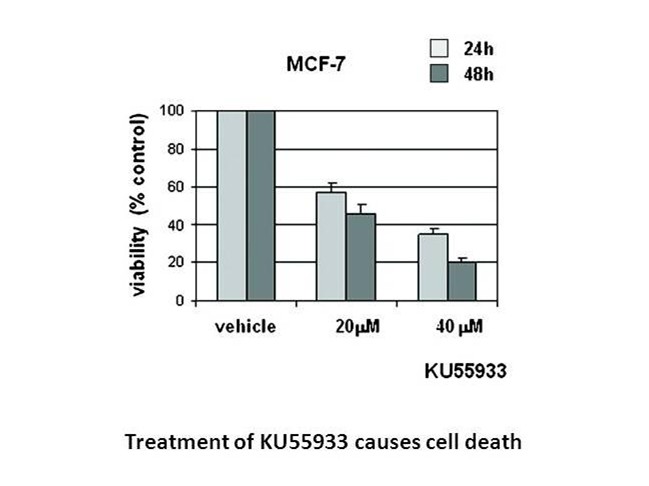 Related Biological Data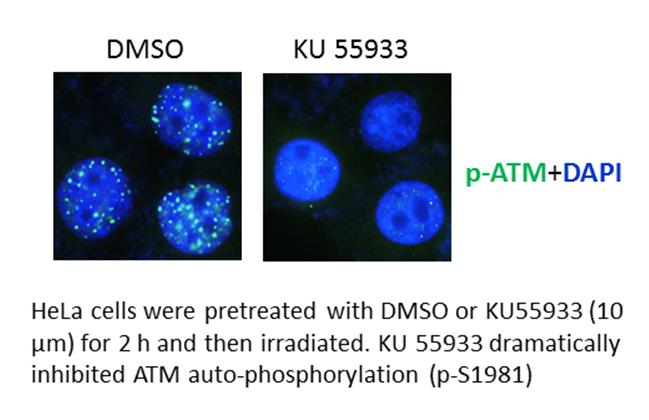 Related Biological Data