Background
(-)-JQ1 is the stereoisomer of JQ1, a cell-permeable small-molecule inhibitor of BET bromodomain that competitively binds to acetyl-lysine recognition motifs. JQ1 is a novel thieno-triazolo-1,4-diazepine with an appended and bulky t-butyl ester functional group at C6 position in its chemical structure, which allows for additional pendant group diversity and mitigates binding to the central benzodiazepine receptor. JQ1 competitively binds to the bromodomain displacing the BRD4 fusion oncoprotein from chromatin, which induces squamous differentiation and specific anti-proliferative effect in BRD4-dependent cell lines and patient-derived xenograft models. However, study results have shown that (-)-JQ1 fails to significantly interact with any bromodomain tested and exhibits inhibition against BRD4(1) with 50% inhibition concentration IC50 value of 10,000 nM.
Reference
Filippakopoulos P, Qi J, Picaud S, Shen Y, Smith WB, Fedorov O, Morse EM, Keates T, Hickman TT, Felletar I, Philpott M, Munro S, McKeown MR, Wang Y, Christie AL, West N, Cameron MJ, Schwartz B, Heightman TD, La Thangue N, French CA, Wiest O, Kung AL, Knapp S, Bradner JE. Selective inhibition of BET bromodomains. Nature. 2010 Dec 23;468(7327):1067-73. doi: 10.1038/nature09504. Epub 2010 Sep 24.
Product Citation
Chemical Properties
| | |
| --- | --- |
| Physical Appearance | A solid |
| Storage | Store at -20°C |
| M.Wt | 456.99 |
| Cas No. | 1268524-71-5 |
| Formula | C23H25ClN4O2S |
| Synonyms | (-)-JQ1 |
| Solubility | ≥22.8mg/mL in DMSO, ≥46.9 mg/mL in EtOH with ultrasonic, <2.19 mg/mL in H2O |
| Chemical Name | (R)-tert-butyl 2-(4-(4-chlorophenyl)-2,3,9-trimethyl-6H-thieno[3,2-f][1,2,4]triazolo[4,3-a][1,4]diazepin-6-yl)acetate |
| SDF | Download SDF |
| Canonical SMILES | CC1=C(C)SC2=C1C(C3=CC=C(Cl)C=C3)=N[[email protected]](CC(OC(C)(C)C)=O)C4=NN=C(C)N24 |
| Shipping Condition | Evaluation sample solution : ship with blue ice.All other available size: ship with RT , or blue ice upon request |
| General tips | For obtaining a higher solubility , please warm the tube at 37 ℃ and shake it in the ultrasonic bath for a while.Stock solution can be stored below -20℃ for several months. |
Protocol
Cell experiment: [1]

Cell lines

BRD4-dependent NMC cells

Preparation method

The solubility of this compound in DMSO is >10 mM. General tips for obtaining a higher concentration: Please warm the tube at 37 °C for 10 minutes and/or shake it in the ultrasonic bath for a while.Stock solution can be stored below -20°C for several months.

Reaction Conditions

250 nM, 72 hours for proliferation inhibition 250 nM, 48 hours for cell-cycle arrest induction

Applications

In BRD4-dependent NMC cells, differentiation is expectedly accompanied by growth arrest, as demonstrated by reduced Ki67 staining, sustained inhibition of proliferation and G1 cell-cycle arrest. The quantitative RT–PCR for RAD21 and RAN was performed. (-)-JQ1 enantiomer was an inactive control of (+)-JQ1. (+)-JQ1 potently decreased expression of both BRD4 target genes, whereas (-)-JQ1 had no effect.

Animal experiment: [1]

Animal models

Female NCr nude mice bearing NMC 797 xenografts

Dosage form

Intraperitoneal injection, 50 mg/kg, daily

Applications

After 4 days of therapy, mice were evaluated by FDG-PET imaging. A marked reduction in FDG uptake was observed with JQ1 ((+)/-) treatment, whereas vehicle-treated mice demonstrated progressive disease. Tumour-volume measurements confirmed a reduction in tumour growth with JQ1 treatment. JQ1 was well tolerated at this dose and schedule without overt signs oftoxicity or weight loss.

Other notes

Please test the solubility of all compounds indoor, and the actual solubility may slightly differ with the theoretical value. This is caused by an experimental system error and it is normal.

References:

[1] Filippakopoulos P, Qi J, Picaud S, et al. Selective inhibition of BET bromodomains. Nature, 2010, 468(7327): 1067-1073.
Biological Activity
Description
(-)-JQ-1,  the stereoisomer (+)-JQ1,  showed no significant interaction with any bromodomain.
Targets
BET bromodomain
IC50
~ 50 and 90 nM
Quality Control
Quality Control & MSDS
View current batch:
Chemical structure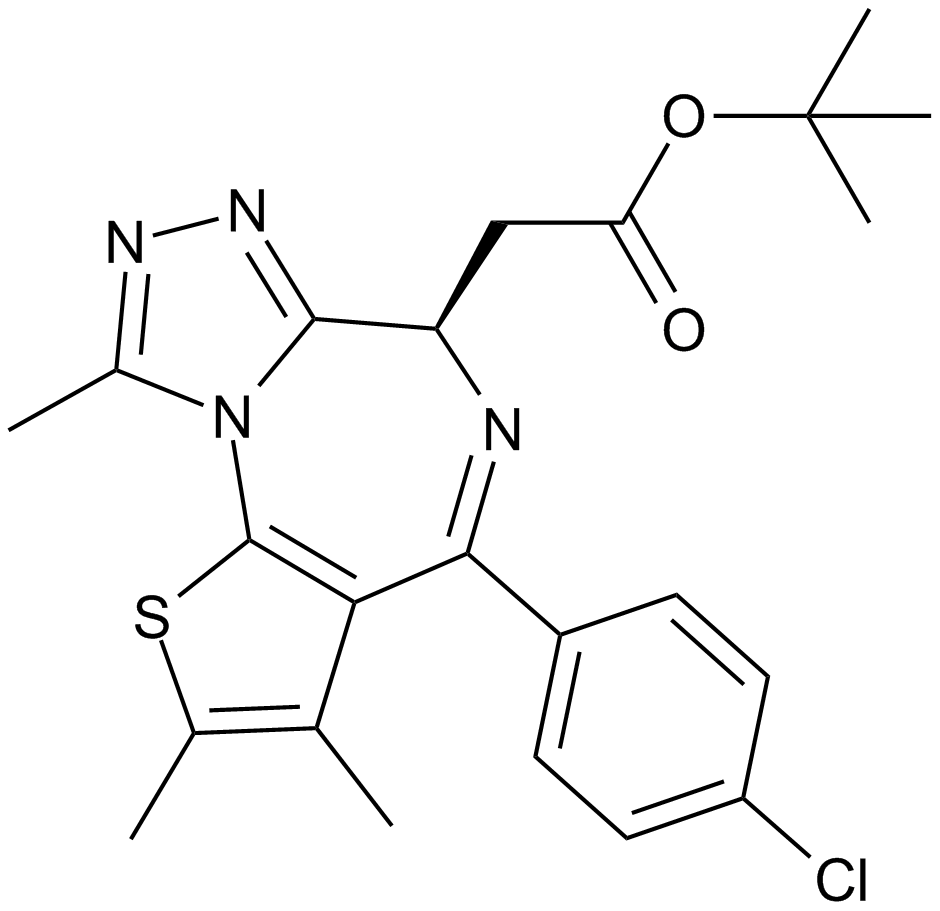 Related Biological Data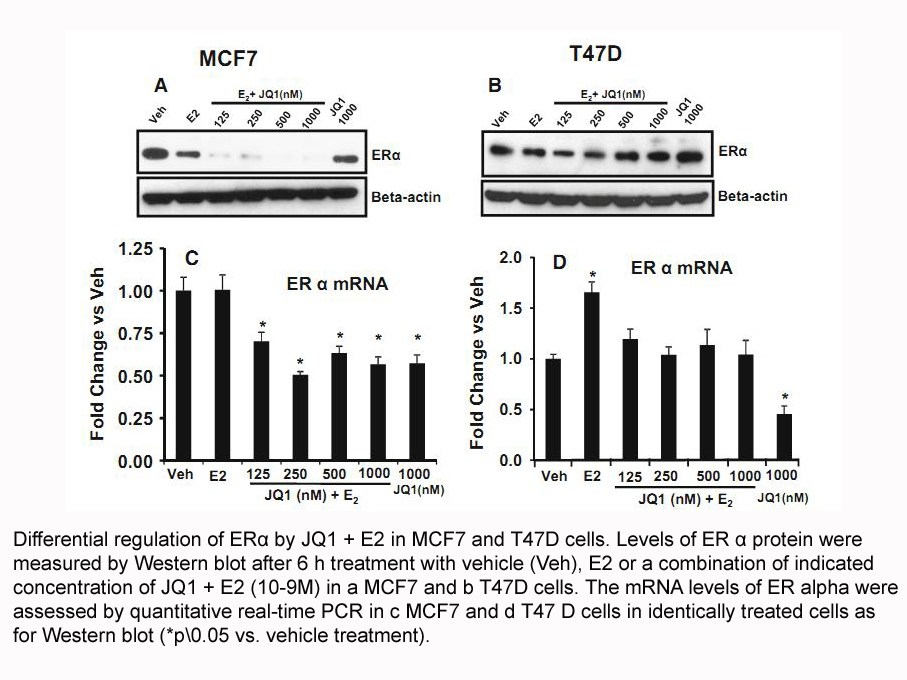 Related Biological Data
Related Biological Data
Related Biological Data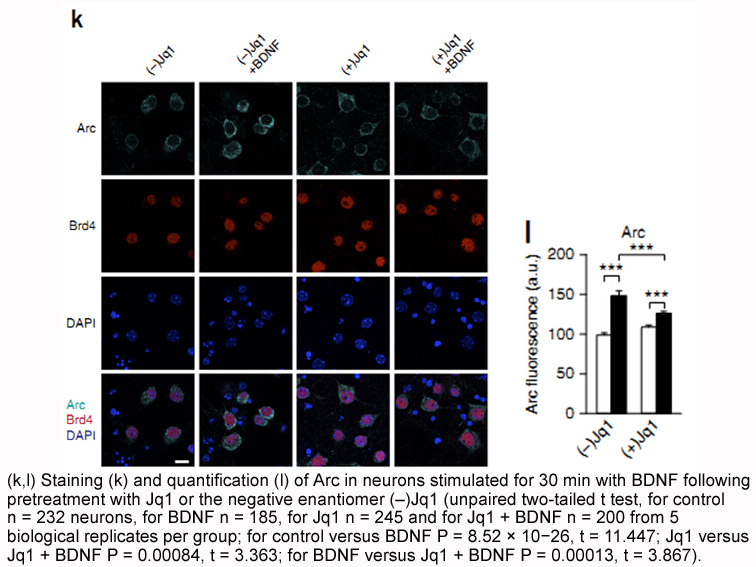 Related Biological Data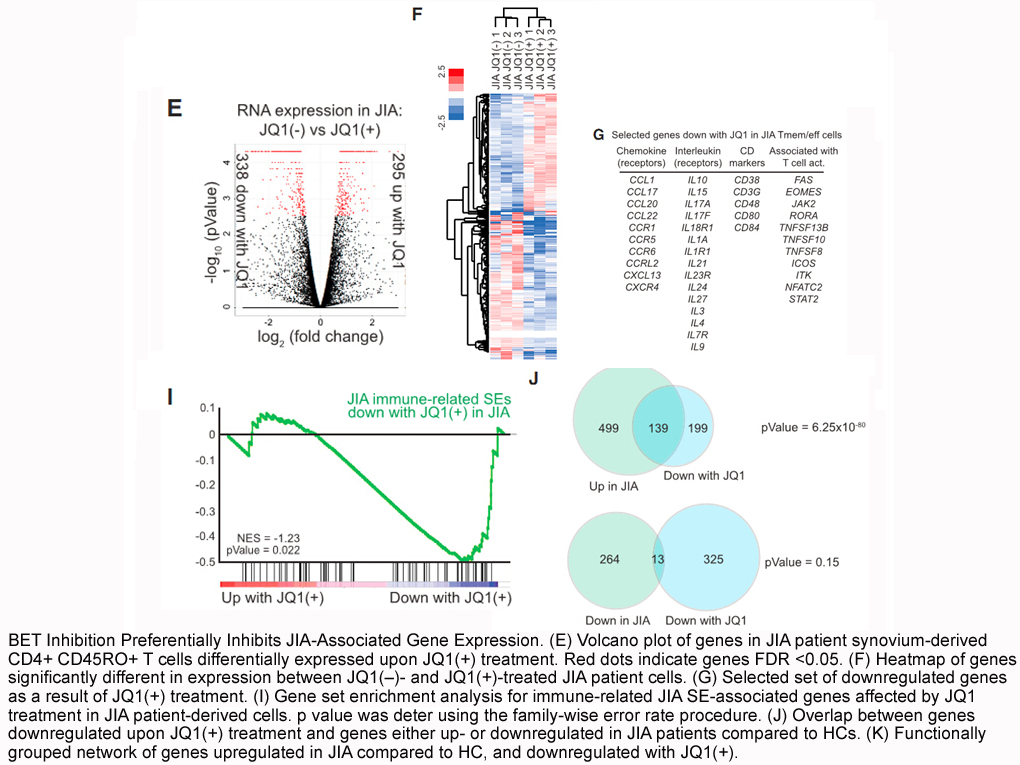 Related Biological Data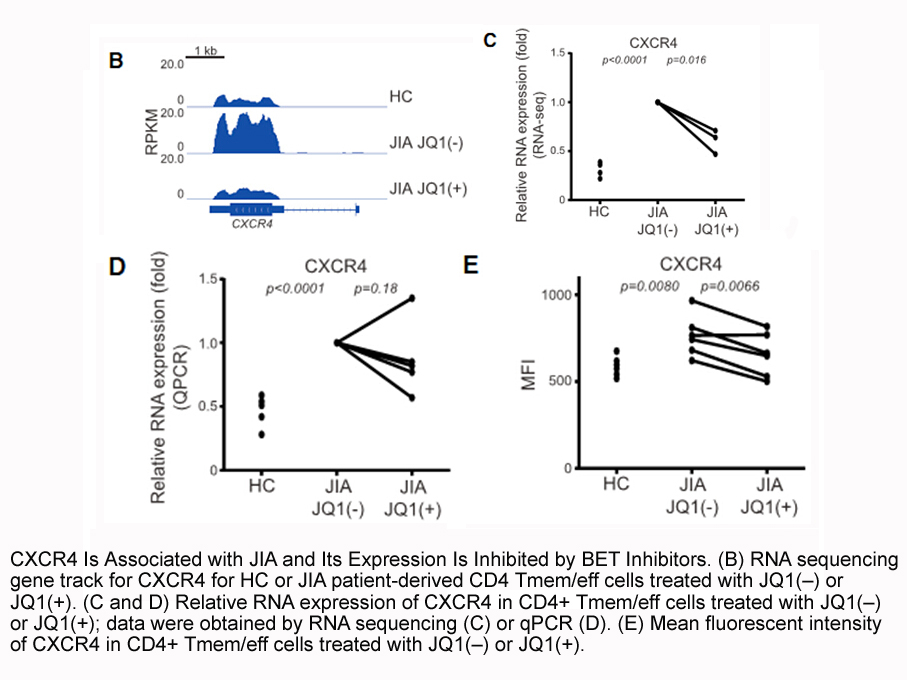 Related Biological Data