Related Biochemicals
Related Antibodies
| | |
| --- | --- |
| Bromodomain Inhibitor, (+)-JQ1 | BET bromodomain inhibitor |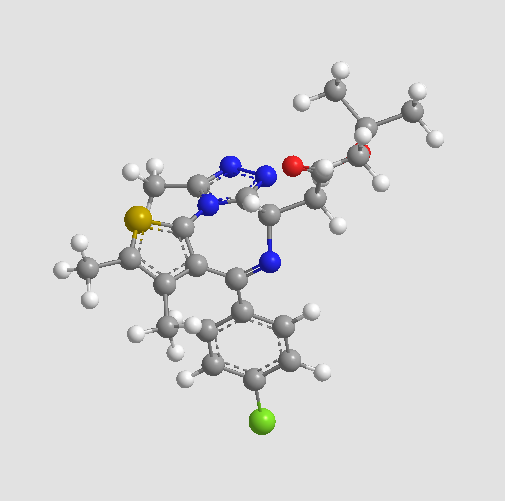 we offer trial solution enough for 3-5 experiments.
Quality Control
Quality Control & MSDS
View current batch:
Experimental Data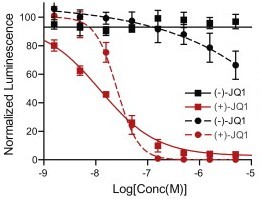 (+)-JQ1 shows potent inhibition of H4Kac4 binding. The IC50 value of 10nM for murine BRDT(1) and 11 nM for human BRDT(1). On the other hand, the (-)-JQ1 enantiomer was inactive for either ortholog
Chemical structure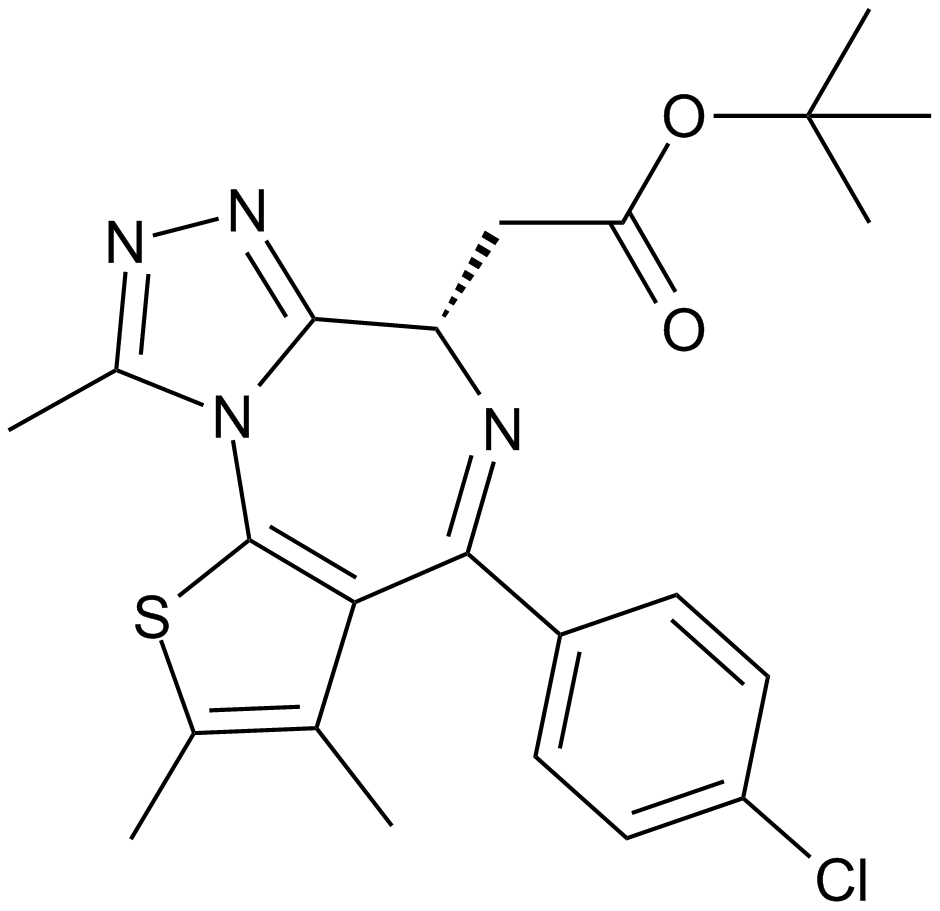 Biological Activity
| | | | | | | |
| --- | --- | --- | --- | --- | --- | --- |
| Targets | BRD4(1/2) | | | | | |
| IC50 | 77 nM/33 nM | | | | | |
Chemical Properties
Cas No.
1268524-70-4
SDF
Download SDF
Chemical Name
Bromodomain Inhibitor, (+)-JQ1
Formula
C23H25ClN4O2S
M.Wt

456.99

Solubility
Soluble in DMSO
Storage
Store at -20°C
View Related Products By Research Topics
Background
Bromodomain Inhibitor, (+)-JQ1 is a potent and highly specific inhibitor for the BET (bromodomain and extra-terminal) family of bromodomains. (+)-JQ1 binds to BRD4 bromodomains 1 and 2 with Kd values of ~ 50 and 90 nM, respectively. The binding is competitive with acetyl lysine. (+)-JQ1 can be a useful chemical probe to investigate the role of BET bromodomains in the transcriptional regulation of oncogenesis.
JQ1 exhibited strong dose-and time- dependent inhibition of BRDT and could significantly diminish the activity of a close structural relative of BRDT. A close look at JQ1 bound BRDT confirmed that the acetyl-lysine recognition site of BRDT was blocked. [1]
JQ1 does not produce sedative or anxiolytic effects and is instead a potent and selective inhibitor of the bromodomain testis-specific protein BRDT [2], which is essential for chromatin remodeling during spermatogenesis. By blocking BRDT, JQ1 effectively blocks the production of sperm in the testes and consequently produces effective contraception, without the negative side effects associated with previously researched hormonal contraceptives for men.
References:
1. Matzuk, Martin M., et al. "Small-molecule inhibition of BRDT for male contraception." Cell 150.4 (2012): 673-684. 2. Filippakopoulos, P.; Qi, J.; Picaud, S.; Shen, Y.; Smith, W. B.; Fedorov, O.; Morse, E. M.; Keates, T. et al. (2010). "Selective inhibition of BET bromodomains". Nature 468 (7327): 1067–1073.
Keywords
JQ1 manufacturer, JQ1 nmr, JQ1 molecular weight, JQ1 chemical structure, JQ1 research buy, JQ1 solubility dmso