Background
Interleukin-18 (IL-18) is a proinflammatory cytokine produced by monocyte/macrophages, osteoblasts and keratinocytes, as a proprotein which is proteolytically processed to its active form by caspase-1. Human IL-18 can enhance NK cell activity in PBMC cultures. Also, human IL-18 induces the production of IFN-γ and GM-CSF but inhibits the production of IL-10 by PBMC. IL-18 plays an important role in cell-mediated immune responses.
 The human IL-18 cDNA encodes a 193 aa protein with a 36 aa propeptide. Recombinant human IL-18 is an 18 kDa single, non-glycosylated polypeptide chain containing 157 amino acids.
Biological Activity
Determined by dose-dependent stimulation of the IFN-γ by human PBMC co-stimulated with rh-IL-12.
ED50
5 ng/ml.
Quality Control
Quality Control & DataSheet
View current batch:
Purity: ≥98%, by SDS-PAGE and HPLC.
Endotoxin Level:<0.1 ng/μg
Related Biological Data
Related Biological Data
Related Biological Data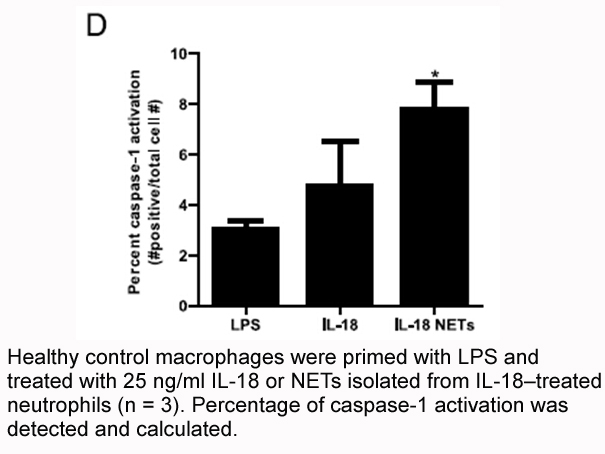 Description
Gene ID:
3606
Accession #:
Q14116
Alternate Names:
Human IL-18, IL-18, IL18, IL 18, h-IL-18, rh-IL-18, recombinant human IL-18, recombinant IL-18, IL, interluekin.
Source:
Escherichia Coli.
M.Wt:
18.3 kDa
Appearance:
Lyophilized protein
Storage:
Store at -20°C
Formulation:
Sterile filtered and lyophilized from PBS.
Solubility:
Reconstitute in ice-cold water to a concentration of 0.5-1 µg/µl.
Shipping Condition:
Blue ice.
Handling:
Centrifuge the vial prior to opening.
Usage:
For Research Use Only! Not to be used in humans.