HO-3867
STAT3 inhibitor, selective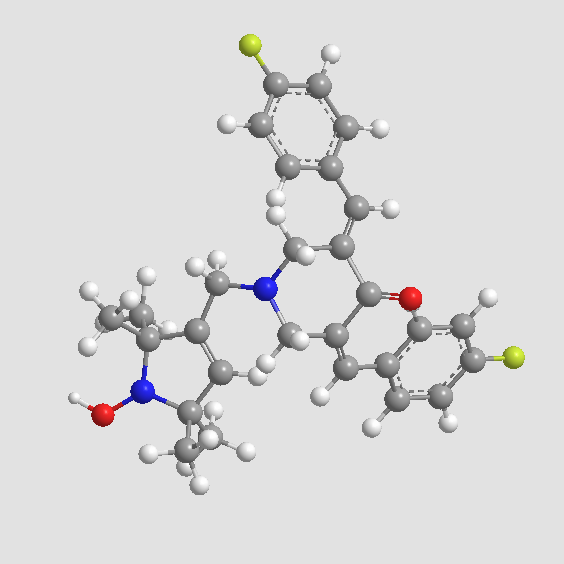 Sample solution is provided at 25 µL, 10mM.
Publications citing ApexBio Products
Quality Control
Quality Control & MSDS
View current batch:
Chemical structure
Chemical Properties
Cas No.
1172133-28-6
SDF
Download SDF
Chemical Name
(3E,5E)-3,5-bis(4-fluorobenzylidene)-1-((1-hydroxy-2,2,5,5-tetramethyl-2,5-dihydro-1H-pyrrol-3-yl)methyl)piperidin-4-one
Canonical SMILES
O=C(/C(CN(CC1=CC(C)(C)N(O[H])C1(C)C)C/2)=C/C3=CC=C(F)C=C3)C2=C\C4=CC=C(F)C=C4
Formula
C28H30F2N2O2
M.Wt

464.55

Solubility
Soluble in DMSO
Storage
Store at -20°C
General tips
N/A
Shipping Condition
N/A
Background
HO-3867 is a novel curcumin analog and a selective inhibitor of STAT3. [1]
STAT3 (signal transducer and activator of transcription 3) belongs to the STAT protein family. It mediates various gene expressions for numerous cellular functions, including cell growth, division and apoptosis.
HO-3867 selectively blocked STAT3 phosphorylation, transcription, and DNA binding without inhibiting other STATs proteins. It activated apoptosis in ovarian cancer cells and showed minimal toxicity to healthy cells. [2] HO-3867 also significantly inhibited the proliferation of serum-stimulated SMCs and elevated the phosphorylated and total levels of PTENs in SMCs. [3] By inducing cell cycle arrest and apoptosis, HO-3867 reduced the high levels of pSTAT3 Ser727 in endometrial cancer cells. [4]
In mice tumor xenograft, HO-3867 inhibited the tumor growth without toxic side effects, it also blocked PSTAT3/JAK1 and increased apoptotic marker cleaved Caspase 3/PARP. [2] [5] After rat carotid artery injury, HO-3867 inhibited neointima formation and upregulated PTEN expression. [3]
References:
[1] Tierney BJ, McCann GA, Cohn DE, Eisenhauer E, Sudhakar M, Kuppusamy P, Hideg K, Selvendiran K. HO-3867, a STAT3 inhibitor induces apoptosis by inactivation of STAT3 activity in BRCA1-mutated ovarian cancer cells. Cancer Biol Ther. 2012 Jul;13(9):766-75.
[2] Rath KS, Naidu SK, Lata P, Bid HK, Rivera BK, McCann GA, Tierney BJ, Elnaggar AC, Bravo V, Leone G, Houghton P, Hideg K, Kuppusamy P, Cohn DE, Selvendiran K.
HO-3867, a safe STAT3 inhibitor, is selectively cytotoxic to ovarian cancer. Cancer Res. 2014 Apr 15;74(8):2316-27.
[3] Selvendiran K, Kuppusamy ML, Bratasz A, Tong L, Rivera BK, Rink C, Sen CK, Kálai T, Hideg K, Kuppusamy P. Inhibition of vascular smooth-muscle cell proliferation and arterial restenosis by HO-3867, a novel synthetic curcuminoid, through up-regulation of PTEN expression. J Pharmacol Exp Ther. 2009 Jun;329(3):959-66.
[4] Tierney BJ, McCann GA, Naidu S, Rath KS, Saini U, Wanner R, Kuppusamy P,Suarez A, Goodfellow PJ, Cohn DE, Selvendiran K. Aberrantly activated pSTAT3-Ser727 in human endometrial cancer is suppressed by HO-3867, a novel STAT3 inhibitor. Gynecol Oncol. 2014 Oct;135(1):133-41.
[5] Selvendiran K, Tong L, Bratasz A, Kuppusamy ML, Ahmed S, Ravi Y, Trigg NJ, Rivera BK, Kálai T, Hideg K, Kuppusamy P. Anticancer efficacy of a difluorodiarylidenyl piperidone (HO-3867) in human ovarian cancer cells and tumor xenografts. Mol Cancer Ther. 2010 May;9(5):1169-79.