Glucose Colorimetric/Fluorometric Assay Kit
Detects glucose, sensitive, high throughput screening (HTS).
Sample solution is provided at 25 µL, 10mM.
Publications citing ApexBio Products
Quality Control
Quality Control & DataSheet
View current batch:
Related Biological Data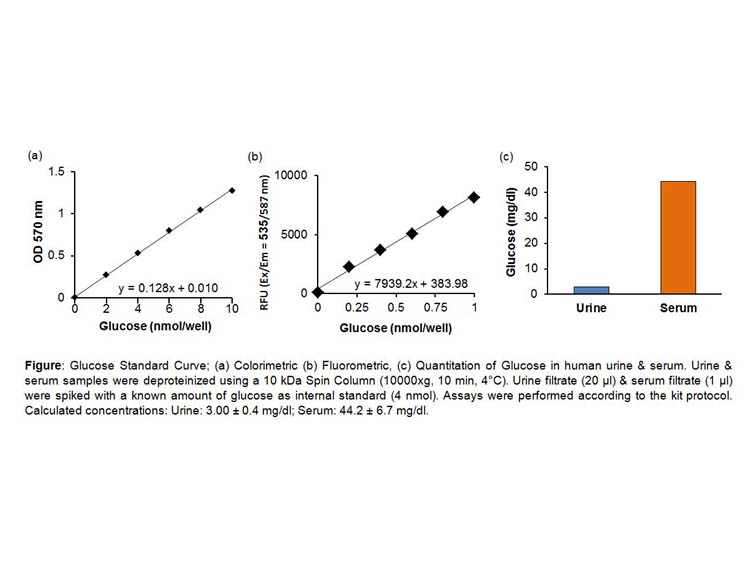 Related Biological Data
Related Biological Data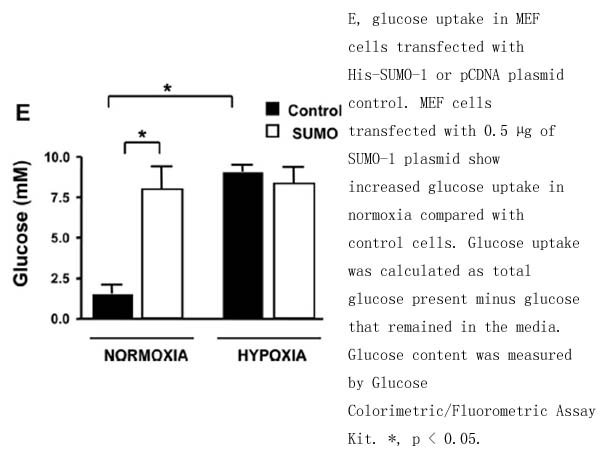 Overview
Kit Components
Catalog No
K2091
Glucose Assay Buffer
Glucose Probe (in DMSO)
Glucose Enzyme Mix (lyophilized)
Glucose Standard (100 nmol/ml)
Product name
Glucose Colorimetric/Fluorometric Assay Kit
Detection method
Absorbance (570 nm) or Fluorescence (Ex/Em 535/587 nm).
Sample type
Cell and tissue culture supernatants, urine, plasma and serum, as well as many other biological fluids and growth medium.
Species reactivity
Mammalian
Applications: The kit detects 1-10000 µM glucose samples.
Features & Properties
Features
Fast and convenient.
Simple procedure; takes ~40 minutes.
The kit provides all necessary buffers and reagents for an accurate assay of glucose in various mammalian samples.
Shipping
Gel pack
Storage Conditions
Store at -20℃.
Usage
For Research Use Only! Not For Use in Humans.
Description
Glucose (C6H12O6) is an important fuel source to produce energy molecule ATP. Glucose level is a key diagnostic parameter for many metabolic disorders. Measurement of glucose is very important in both drug discovery and research processes.
The Glucose Colorimetric/Fluorometric Assay Kit provides a sensitive, simple and convenient way for detection of glucose in various biological samples (serum, plasma, body fluid, growth medium, food, etc.) based on colorimetric and fluorometric method. In the assay, Glucose Enzyme Mix specifically oxidizes glucose to yield a product which reacts with a dye to produce fluorescence (Ex/Em = 535/587 nm) and color (λ = 570 nm). The color and fluorescence generated is proportionally to the amount of glucose. The assay is suited for high throughput screening and is also suited for monitoring glucose feeding in protein expression processes and glucose level during fermentation. The kit can detect 1-10000 µM glucose samples.