Background
The EGFR is a Mr 170,000 transmembrane glycoprotein with an external binding domain and an intracellular tyrosine kinase domain. Gefitinib (ZD-1839, Iressa) is an Epidermal Growth Factor Receptor-selective Tyrosine Kinase Inhibitor.
In vitro: Gefitinib inhibited colony formation in soft agar in a dose dependent manner in all cancer cell lines. However, treatment with higher doses resulted in a 2–4-fold increases in apoptosis. Dose-dependent supra-additive increase in growth inhibition was observed when cancer cells were treated with totoxic drugs and Gefitinib. The combined treatment markedly enhanced apoptotic cell death induced by single agent treatment [1].
In vivo: Gefitinib treatment of nude mice bearing established human GEO colon cancer xenografts revealed a reversible dose-dependent inhibition of tumor growth because GEO tumors resumed the growth rate of controls at the end of the treatment [1].
Clinical trial: Administration of a 250-mg dose of gefitinib as a dispersion preparation by drink or nasogastric tube achieved a systemic exposure to gefitinib that was consistent with that achieved when gefitinib was administered as a whole tablet. No evidence of tolerability problems associated with the routes of administration studied was observed in these healthy volunteers [2].
References:
[1] Ciardiello F, Caputo R, Bianco R, Damiano V, Pomatico G, De Placido S, Bianco AR, Tortora G.  Antitumor effect and potentiation of cytotoxic drugs activity in human cancer cells by ZD-1839 (Iressa), an epidermal growth factor receptor-selective tyrosine kinase inhibitor. Clin Cancer Res. 2000;6(5):2053-63.
[2] Cantarini MV, McFarquhar T, Smith RP, Bailey C, Marshall AL.  Relative bioavailability and safety profile of gefitinib administered as a tablet or as a dispersion preparation via drink or nasogastric tube: results of a randomized, open-label, three-period crossover study in healthy volunteers. Clin Ther. 2004;26(10):1630-6.
Chemical Properties
| | |
| --- | --- |
| Storage | Store at -20°C |
| M.Wt | 483.36 |
| Cas No. | 184475-55-6 |
| Formula | C22H25Cl2FN4O3 |
| Synonyms | Iressa hydrochloride;ZD 1839 hydrochloride;ZD-1839 hydrochloride;ZD1839 hydrochloride |
| Solubility | insoluble in EtOH; ≥4.28 mg/mL in H2O with gentle warming and ultrasonic; ≥6.9 mg/mL in DMSO with gentle warming |
| Chemical Name | N-(3-chloro-4-fluorophenyl)-7-methoxy-6-(3-morpholin-4-ylpropoxy)quinazolin-4-amine;hydrochloride |
| SDF | Download SDF |
| Canonical SMILES | COC1=C(C=C2C(=C1)N=CN=C2NC3=CC(=C(C=C3)F)Cl)OCCCN4CCOCC4.Cl |
| Shipping Condition | Evaluation sample solution: ship with blue ice. All other available sizes: ship with RT, or blue ice upon request. |
| General tips | For obtaining a higher solubility, please warm the tube at 37°C and shake it in the ultrasonic bath for a while. Stock solution can be stored below -20°C for several months. |
Quality Control
Quality Control & MSDS
View current batch:
Chemical structure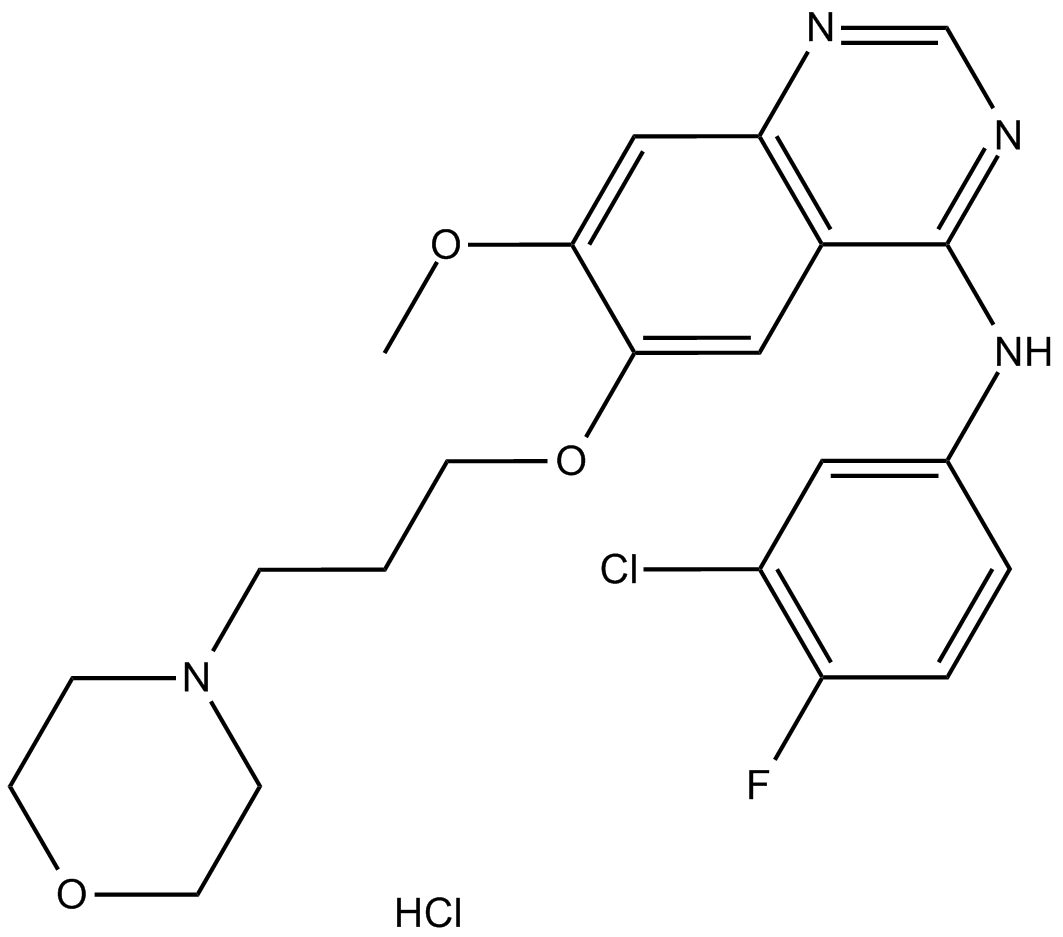 Related Biological Data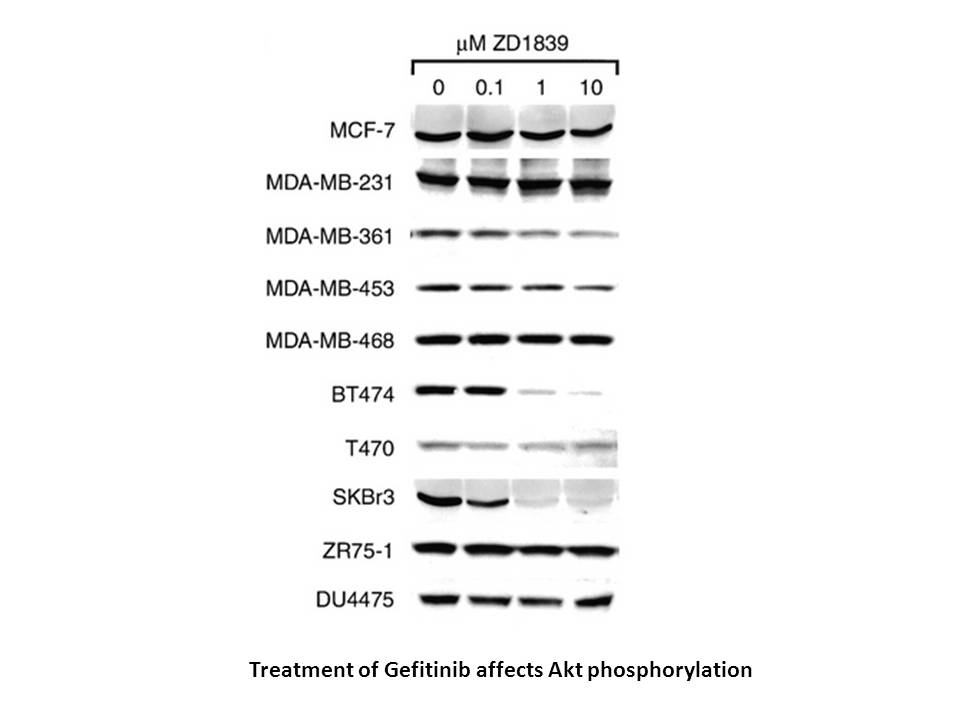 Related Biological Data