Background
Foretinib (GSK1363089) is a novel, potent, small-molecule inhibitor of member of the vascular endothelial growth factor (VEGF)and hepatocyte growth factor (HGF) receptor tyrosine kinase families [1].
Foretinib inhibits Met, Ron, KDR, Flt-1, Flt-4, KIT, Flt-3, Platelet-derived growth factor receptor α, Platelet-derived growth factor receptor β and Tie-2 with IC50 values of 0.4, 3, 0.86, 6.8, 2.8, 6.7, 3.6, 3.6, 9.6 and 1.1 nmol/L, respectively. Foretinib has shown to inhibit cellular MET in murine B16F10 melanoma cells and PC-3 prostate cells with IC50 values of 21 and 23 nmol/L [1].
Foretinib revealed to inhibit the migration and invasion induced by HGF in murine B16F10 melanoma cells. Additionally, Foretinib suppressed the B16F10, A549 and HT29 tumor cells growth with IC50 values of 40, 29 and 165 nmol/L [1].
Reference:
[1] Qian F1, Engst S, Yamaguchi K, Yu P, Won KA, Mock L, Lou T, Tan J, Li C, Tam D, Lougheed J, Yakes FM, Bentzien F, Xu W, Zaks T, Wooster R,Greshock J, Joly AH.  Inhibition of tumor cell growth, invasion, and metastasis by EXEL-2880 (XL880, GSK1363089), a novel inhibitor of HGF and VEGF receptor tyrosine kinases. Cancer Res. 2009 Oct 15;69(20):8009-16. doi: 10.1158/0008-5472.CAN-08-4889.
Product Citation
Chemical Properties
| | |
| --- | --- |
| Physical Appearance | A solid |
| Storage | Store at -20°C |
| M.Wt | 632.65 |
| Cas No. | 849217-64-7 |
| Formula | C34H34F2N4O6 |
| Solubility | ≥31.65 mg/mL in DMSO; insoluble in H2O; insoluble in EtOH |
| Chemical Name | 1-N'-[3-fluoro-4-[6-methoxy-7-(3-morpholin-4-ylpropoxy)quinolin-4-yl]oxyphenyl]-1-N-(4-fluorophenyl)cyclopropane-1,1-dicarboxamide |
| SDF | Download SDF |
| Canonical SMILES | COC1=CC2=C(C=CN=C2C=C1OCCCN3CCOCC3)OC4=C(C=C(C=C4)NC(=O)C5(CC5)C(=O)NC6=CC=C(C=C6)F)F |
| Shipping Condition | Evaluation sample solution: ship with blue ice. All other available sizes: ship with RT, or blue ice upon request. |
| General tips | For obtaining a higher solubility, please warm the tube at 37°C and shake it in the ultrasonic bath for a while. Stock solution can be stored below -20°C for several months. |
Protocol
Cell experiment: [1]

Cell lines

SK-HEP1 cells

Preparation method

The solubility of this compound in DMSO is >10 mM. General tips for obtaining a higher concentration: Please warm the tube at 37 °C for 10 minutes and/or shake it in the ultrasonic bath for a while.Stock solution can be stored below -20°C for several months.

Reaction Conditions

1 μM, 48 hours for cell number inhibition 1 μM, 24 hours for cell motility inhibition and cell cycle arrest

Applications

Treatment of SK-HEP1 cells with 0.25, 05, 1 and 1.5 μM foretinib resulted in 30, 60, 68 and 70% reduction in cell number, respectively when analyzed on day 2. Maximal inhibition was observed at approximately 1 μM. Foretinib also blocked HGF-induced cell motility and caused G2/M phase arrest with reduction in the G0/G1 and S phases.

Animal experiment : [2]

Animal models

Female athymic nude mice injected with SKOV3ip1 or HeyA8 cells

Dosage form

Oral administration, 30 mg/kg, 6 days/week for 21 days (SKOV3ip1) Oral administration, 30 mg/kg, 6 days/week for 16 days (HeyA8)

Applications

In the SKOV3ip1 xenograft model, Foretinib reduced the number of metastatic tumor nodules (30 mg/kg: 67% inhibition) and tumor weight (30 mg/kg: 86% inhibition) in a dose-dependent fashion. Similar effects were also seen in a second xenograft model by HeyA8 cells in reduction of tumor weight (30 mg/kg: 71% inhibition).

Other notes

Please test the solubility of all compounds indoor, and the actual solubility may slightly differ with the theoretical value. This is caused by an experimental system error and it is normal.

References:

[1] Huynh H, Ong R, Soo K C. Foretinib demonstrates anti-tumor activity and improves overall survival in preclinical models of hepatocellular carcinoma. Angiogenesis, 2012, 15(1): 59-70.

[2] Zillhardt M, Park S M, Romero I L, et al. Foretinib (GSK1363089), an orally available multikinase inhibitor of c-Met and VEGFR-2, blocks proliferation, induces anoikis, and impairs ovarian cancer metastasis. Clinical Cancer Research, 2011, 17(12): 4042-4051.
Biological Activity
Description
Foretinib is an ATP-competitive inhibitor of HGFR and VEGFR with IC50 values of 0.4 nM, 0.9 nM, 1.1 nM, 2.8 nM and 3 nM for Met, KDR, Tie-2, VEGFR3/FLT4 and RON , respectively.
Targets
Met
KDR
Tie-2
VEGFR3/FLT4
RON
IC50
0.4 nM
0.9 nM
1.1 nM
2.8 nM
3 nM
Quality Control
Quality Control & MSDS
View current batch:
Chemical structure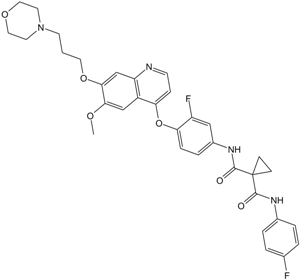 Related Biological Data