Background
Fibroblast growth factor 21 (FGF-21) is a member of the FGF family that contains more than 20 small (~17–26 kDa) secreted peptides. FGF-21 is mainly secreted by the liver and can travel through the circulatory system and function as an endocrine hormone. FGFs modulate cellular activity via 5 distinct subfamilies of high-affinity FGF receptors (FGFRs): FGFR-1, -2, -3, -4 and -5. FGFRs play an important role in the regulation of glucose and lipid homeostasis. FGF-21 is a potent activator of glucose uptake on adipocytes, protects animals from diet-induced obesity, and lowers blood glucose and triglyceride levels in diabetic rodents.
 Mouse FGF-21 is a 210 amino acid (aa) polypeptide that contains a 120 aa core FGF domain and a hydrophobic N-terminus signal sequence that is cleaved to release the soluble 180 aa mature FGF-21 protein. Recombinant mouse FGF-21 produced in E.Coli is a single, non-glycosylated, polypeptide chain containing 183 amino acids including N-terminal Methionine. The amino acid sequence of the recombinant mouse FGF-21 is 100% homologous to the amino acid sequence of the mouse FGF-21 without signal sequence. The FGF-21 is purified by proprietary chromatographic techniques.
Quality Control
Quality Control & DataSheet
View current batch:
Purity: ≥95%, by SDS-PAGE and HPLC.
Endotoxin Level:N/A
Related Biological Data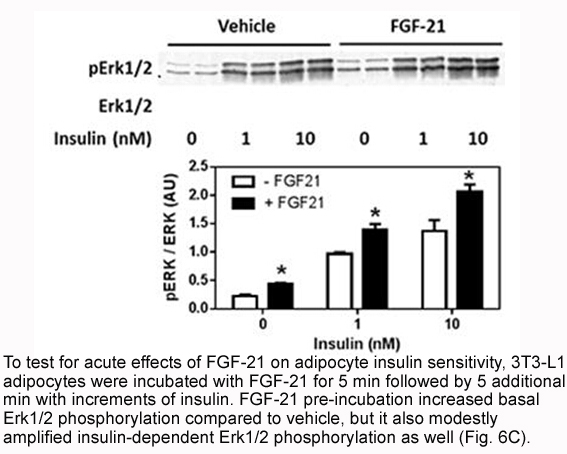 Related Biological Data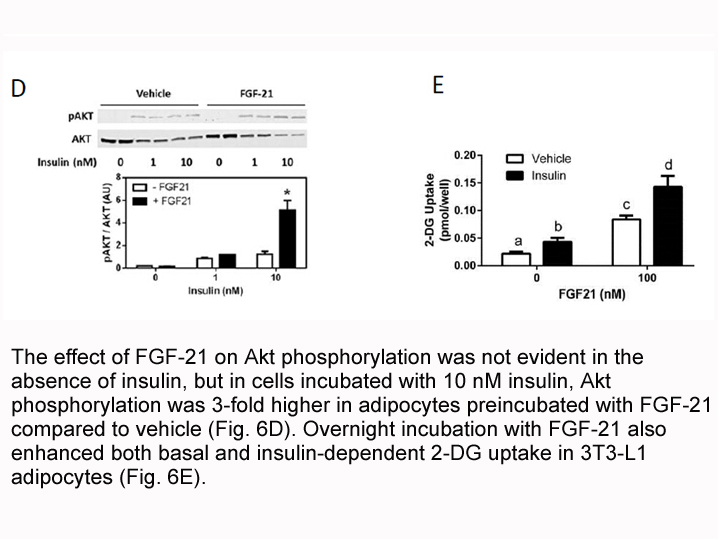 Description
Gene ID:
56636
Accession #:
Q9JJN1
Alternate Names:
mouse FGF-21, FGF-21, FGF21, FGF 21, m-FGF-21, rm-FGF-21, recombinant mouse FGF-21, recombinant FGF-21, FGF.
Source:
Escherichia Coli.
M.Wt:
20.1 kDa
Appearance:
Lyophilized protein
Storage:
Store at -20°C
Formulation:
Lyophilized from filtered (0.4 mm) solution containing 20 mM Tris, pH 7.4 and 20 mM NaCl.
Solubility:
Reconstitute in sterile H2O to a concentration ≥ 100 µg/ml. This solution can then be diluted into other aqueous buffers and stored at 4℃ for 1 week or -20℃ for future use.
Shipping Condition:
gel pack.
Handling:
Centrifuge the vial prior to opening.
Usage:
For Research Use Only! Not to be used in humans.