Background
DCPIB is a volume-regulated anion channel (VRAC) blocker (IC50 = 2 μM in rat pancreatic β-cells)[1], which is also a blocker of swelling-induced chloride current (ICl, swell) in various cardiovascular tissues (IC50 = 4.1 μM in CPAE cells)[2]. 
In intact β-cells, DCPIB inhibits glucose-stimulated insulin secretion through VSAC inhibition and indirect KATP channel activation. DCPIB reverses the shortened duration of action potential induced by cell swelling in atrial myocytes and inhibits astrocyte swelling in vitro. DCPIB (10 μM) also activates TREK1 and TRAAK K+ channels and inhibits TRESK, TASK1 and TASK3 K+ channels in vitro[3]. 
References:
[1]. Best L, Yates A P, Decher N, et al. Inhibition of glucose-induced electrical activity in rat pancreatic β-cells by DCPIB, a selective inhibitor of volume-sensitive anion currents. european journal of pharmacology, 2004, 489(1-2): 13-19.
[2].Decher N, et al. DCPIB is a novel selective blocker of I(Cl,swell) and prevents swelling-induced shortening of guinea-pig atrial action potential duration. Br J Pharmacol, 2001, 134(7): 1467-79.
[3]. Lv J, et al. DCPIB, an Inhibitor of Volume-Regulated Anion Channels, Distinctly Modulates K2P Channels. ACS Chem Neurosci, 2019.
Product Citation
Chemical Properties
| | |
| --- | --- |
| Physical Appearance | White solid |
| Storage | Store at -20°C |
| M.Wt | 427.37 |
| Cas No. | 82749-70-0 |
| Formula | C22H28Cl2O4 |
| Solubility | insoluble in H2O; ≥49.8 mg/mL in EtOH; ≥50.8 mg/mL in DMSO |
| Chemical Name | (R)-4-((2-butyl-6,7-dichloro-2-cyclopentyl-1-oxo-2,3-dihydro-1H-inden-5-yl)oxy)butanoic acid |
| SDF | Download SDF |
| Canonical SMILES | ClC1=C2C([[email protected]@](CC2=CC(OCCCC(O)=O)=C1Cl)(CCCC)C3CCCC3)=O |
| Shipping Condition | Ship with blue ice, or upon other requests. |
| General tips | For obtaining a higher solubility, please warm the tube at 37°C and shake it in the ultrasonic bath for a while. We do not recommend long-term storage for the solution, please use it up soon. |
Quality Control
Quality Control & MSDS
View current batch:
Chemical structure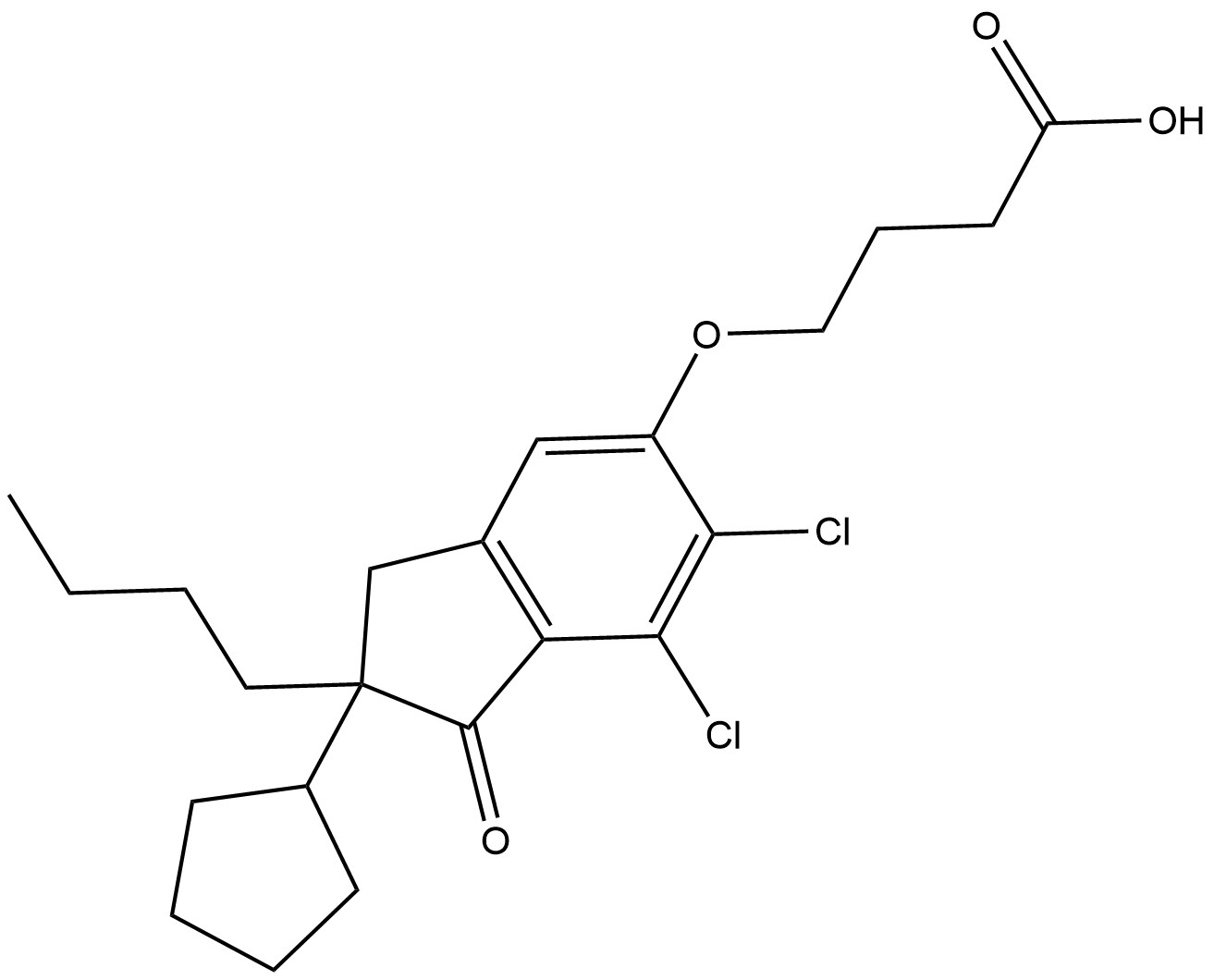 Related Biological Data