DCC-2036 (Rebastinib)
Bcr-Abl inhibitor
Sample solution is provided at 25 µL, 10mM.
Publications citing ApexBio Products
Related Compound Libraries
Quality Control
Quality Control & MSDS
View current batch:
Chemical structure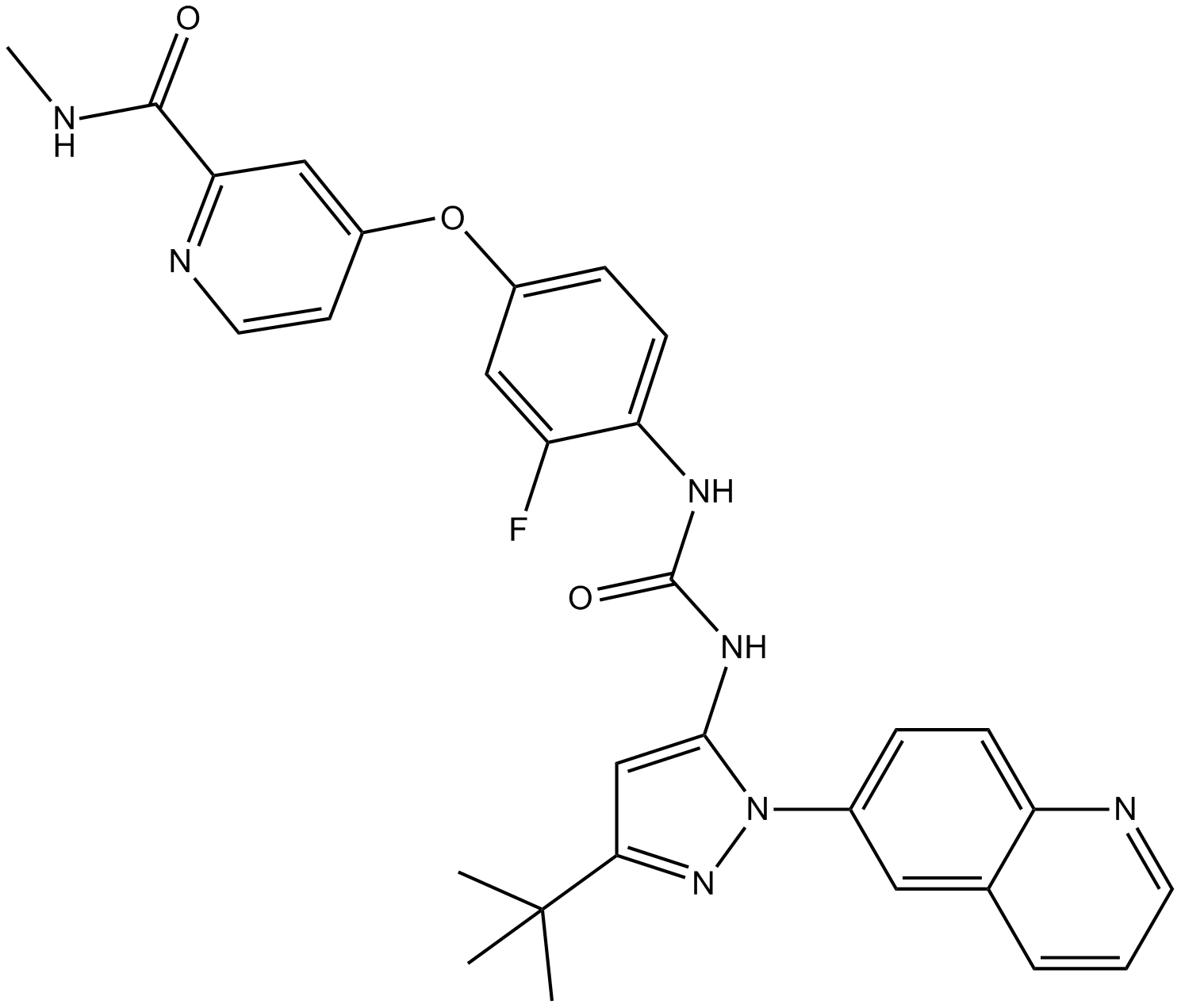 Biological Activity
Description
DCC-2036 (Rebastinib) is an inhibitor of Bcr-Abl with IC50 of 0.8 nM and 4 nM for Abl1(WT) and Abl1(T315I), respectively.
Targets
u-Abl1 (native)
Abl1 (H396P)
p-Abl1 (native)
FLT3
p-Abl1 (T315I)
IC50
0.75 nM
1.4 nM
2 nM
2 nM
4 nM
Chemical Properties
Cas No.
1020172-07-9
SDF
Download SDF
Chemical Name
4-[4-[(5-tert-butyl-2-quinolin-6-ylpyrazol-3-yl)carbamoylamino]-3-fluorophenoxy]-N-methylpyridine-2-carboxamide
Canonical SMILES
CC(C)(C)C1=NN(C(=C1)NC(=O)NC2=C(C=C(C=C2)OC3=CC(=NC=C3)C(=O)NC)F)C4=CC5=C(C=C4)N=CC=C5
Formula

C30H28FN7O3

M.Wt

553.59

Solubility
>27.7mg/mL in DMSO
Storage
Store at -20°C
General tips
N/A
Shipping Condition
N/A
Background
DCC-2036 is a conformational control inhibitor of ABL1 with IC50 value of 0.8nM [1].
DCC-2036 is synthesized as a dual-anchoring inhibitor that binds both the switch control pocket E282/R386 pair and the Met318 ATP hinge. It shows a IC50 value of 0.8nM. DCC-2036 also exerts potent inhibition of the gatekeeper mutant ABL1T315I with IC50 value of 4nM. DCC-2036 inhibits ABL1 through forcing the kinase domains into inhibitor-bound, inactive Type II conformations. For the purified ABL1, DCC-2036 strongly inhibits unphosphorylated native ABL1, phosphorylated native ABL1, ABL1H396P, unphosphorylated ABL1T315I and phosphorylated ABL1T315I with IC50 values of 0.82nM, 2nM, 1.4nM, 5nM and 4nM, respectively. It is found that DCC-2036 inhibits ABL1 in a non-ATP-competitive manner. In cellular assay, DCC-2036 inhibits the proliferation of Ba/F3 and K562 cells with IC50 values of 5.4nM and 5.5nM, respectively. Moreover, treatment of DCC-2036 can effectively prolong survival in mice bearing Ba/F3-BCR-ABL1T315I leukemia cells. DCC-2036 is also capable to inhibit BCR-ABL1 in primary leukemic cells from patients with Ph+ leukemia [1].
References:
[1] Chan W W, Wise S C, Kaufman M D, et al. Conformational control inhibition of the BCR-ABL1 tyrosine kinase, including the gatekeeper T315I mutant, by the switch-control inhibitor DCC-2036. Cancer cell, 2011, 19(4): 556-568.