Background
GSK2118436 is a selective BRAF V600E inhibitor. BRAF encodes a proto-oncogene B-Raf also known as serine/threonine protein kinase B-Raf. It is critical in regulating the MAPK/ERK signaling pathway. BRAF mutations frequently occur in many human cancers. [1, 2] BRAF V600E mutant is constitutively active, allowing MAPK/ERK activation independent of upstream cues. [3]
GSK2118436 binds to Raf family kinases and inhibits their activity. It is highly selective against B-Raf V600E with IC50 of 0.8 nM, compared to wild type B-Raf and c-Raf with IC50s of 3.2 nM and 5.0 nM, respectively. [4]
GSK2118436 treatment shows selective inhibition of MAPK/ERK activation, proliferation, transformation and tumorigenicity. FDA approved GSK2118436 as a single agent treatment for advanced melanoma with BRAF V600E mutation on May 30, 2013.
GSK2118436 can be taken orally.
References:
[1]Namba H, Nakashima M, Hayashi T, Hayashida N, Maeda S, Rogounovitch TI, Ohtsuru A, Saenko VA, Kanematsu T, Yamashita S. Clinical implication of hot spot BRAF mutation, V599E, in papillary thyroid cancers. J. Clin. Endocrinol. Metab. 2003; 88 (9): 4393–7.
[2]Tan YH, Liu Y, Eu KW, Ang PW, Li WQ, Salto-Tellez M, Iacopetta B, Soong R. Detection of BRAF V600E mutation by pyrosequencing. Pathology 2008; 40 (3): 295–8.
[3]Davies H, Bignell GR, Cox C, et al. Mutations of the BRAF gene in human cancer. Nature. 2002; 417: 949-954.
[4]Ma XH, Piao SF, Dey S, McAfee Q, Karakousis G, Villanueva J, Hart LS, Levi S, Hu J, Zhang G, Lazova R, Klump V, Pawelek JM, Xu X, Xu W, Schuchter LM, Davies MA, Herlyn M, Winkler J, Koumenis C, Amaravadi RK. Targeting ER stress-induced autophagy overcomes BRAF inhibitor resistance in melanoma. J Clin Invest. 2014; 124(3): 1406-17.

Chemical Properties
| | |
| --- | --- |
| Physical Appearance | A solid |
| Storage | Store at -20°C |
| M.Wt | 615.67 |
| Cas No. | 1195768-06-9 |
| Formula | C24H24F3N5O5S3 |
| Synonyms | GSK-2118436 Mesylate;GSK2118436 Mesylate;GSK 2118436 Mesylate;GSK 2118436B,Tafinlar, |
| Solubility | ≥30.75 mg/mL in DMSO; insoluble in H2O; ≥2.74 mg/mL in EtOH with gentle warming and ultrasonic |
| Chemical Name | N-[3-[5-(2-aminopyrimidin-4-yl)-2-tert-butyl-1,3-thiazol-4-yl]-2-fluorophenyl]-2,6-difluorobenzenesulfonamide;methanesulfonic acid |
| SDF | Download SDF |
| Canonical SMILES | CC(C)(C)C1=NC(=C(S1)C2=NC(=NC=C2)N)C3=C(C(=CC=C3)NS(=O)(=O)C4=C(C=CC=C4F)F)F.CS(=O)(=O)O |
| Shipping Condition | Ship with blue ice, or upon other requests. |
| General tips | For obtaining a higher solubility, please warm the tube at 37°C and shake it in the ultrasonic bath for a while. We do not recommend long-term storage for the solution, please use it up soon. |
Protocol
Cell experiment [1]:

Cell lines

M257 wild-type BRAF, LCP BRAFV600R and WM266 BRAFV600D melanoma cell lines.

Preparation method

Soluble in DMSO. General tips for obtaining a higher concentration: Please warm the tube at 37℃ for 10 minutes and/or shake it in the ultrasonic bath for a while. Stock solution can be stored below -20℃ for several months.

Reaction Conditions

3-100 nM; 72 h

Applications

Dabrafenib remarkably inhibits cell proliferation and phosphorylated ERK in both melanoma cell lines carrying a mutated BRAF.

Animal experiment [2]:

Animal models

Female CD1 nu/nu mice xenografted BRAFV600E (A375P) human tumor.

Dosage form

30 mg/kg; 14 days; dosed orally once daily.

Preparation method

0.5% hydroxypropylmethylcellulose, 0.2% Tween 80 in pH 8.0 distilled water; 0.2 mL per 20 g of bodyweight.

Applications

Dabrafenib is orally bioavailable, reduces pERK and inhibits tumor growth. Dabrafenib reduces pERK and Ki67 by 89% and 28% respectively and increases p27 by 54%.

Other notes

Please test the solubility of all compounds indoor, and the actual solubility may slightly differ with the theoretical value. This is caused by an experimental system error and it is normal.

References:

[1]. Gentilcore G, Madonna G, Mozzillo N, et al. Effect of dabrafenib on melanoma cell lines harbouring the BRAF(V600D/R) mutations. BMC Cancer, 2013, 13: 17.

[2]. King AJ, Arnone MR, Bleam MR, et al. Dabrafenib; preclinical characterization, increased efficacy when combined with trametinib, while BRAF/MEK tool combination reduced skin lesions. PLoS One, 2013, 8(7): e67583.
Biological Activity
| | | | | | | |
| --- | --- | --- | --- | --- | --- | --- |
| Targets | Raf | | | | | |
| IC50 | 3.2/0.8/5.0 nM (B-Raf/B-RafV600E/ c-Raf) | | | | | |
Quality Control
Quality Control & MSDS
View current batch:
Chemical structure
Related Biological Data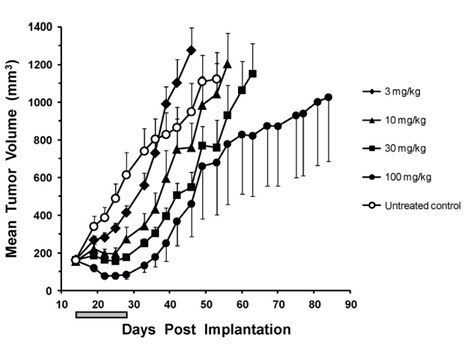 Growth of Colo 205 tumor xenografts was measured in mice during and for a period following oral q.d. x 14 treatment with 0, 3, 10, 30, and 100 mg/kg dabrafenib. Mean tumor volumes are plotted with their standard error mean and 4 partial regressions out of 8 mice were observed at the 100 mg/kg dose after the 14-day treatment period. The 14-day period of dosing is indicated by the shaded gray bar.