Background
CCT245737 is the first orally active inhibitor of checkpoint kinase 1 (CHK1), with IC50 value of 1.4 nM [1]. 
CHK1 is a serine/threonine kinase, involved in the G1 and G2 checkpoints through altering cell division cycle 25A (CDC25A) stability and CDC25C localization, respectively. Moreover, CHK1 also maintains replication fork stability, and has been implicated in facilitating homologous recombination repair [1]. 
CCT245737 showed > 1000-fold selectivity for CHK1 versus the functionally important kinases cyclin-dependent kinases 1 (CDK1) and CHK2 (IC50 = 1.26 ~ 2.44 and 9.03 μM, respectively). In multiple human tumor cell lines and human tumor xenograft models, CCT245737 potently inhibited cellular CHK1 activity (IC50 = 30 ~ 220 nM), and enhanced gemcitabine and SN38 cytotoxicity. In addition, CCT245737 abrogated an etoposide-induced G2/M arrest in HT29, SW620, MiaPaCa-2, Calu6 cell lines [1]. 
In an Eµ-Myc mouse model of human B-cell lymphocytic leukemia, CCT245737 (150 mg/kg, p.o., q.d., for 9 days) significantly reduced the weight of the inguinal, brachial/axillary and mesenteric lymph nodes, with minimal effects on normal tissues such as lungs, bone marrow, or kidneys. CCT245737 treatment was well-tolerated as evidenced by stable body weights and negligible effects on other parameters such as water consumption and body temperature [1]. 
Reference:
[1]. Walton M I, Eve P D, Hayes A, et al. The clinical development candidate CCT245737 is an orally active CHK1 inhibitor with preclinical activity in RAS mutant NSCLC and Eµ-MYC driven B-cell lymphoma. Oncotarget, 2016, 7(3): 2329-2342.
Product Citation
Chemical Properties
| | |
| --- | --- |
| Physical Appearance | A solid |
| Storage | Store at -20°C |
| M.Wt | 379.34 |
| Cas No. | 1489389-18-5 |
| Formula | C16H16F3N7O |
| Solubility | ≥37.9mg/mL in DMSO |
| Chemical Name | (R)-5-((4-((morpholin-2-ylmethyl)amino)-5-(trifluoromethyl)pyridin-2-yl)amino)pyrazine-2-carbonitrile |
| SDF | Download SDF |
| Canonical SMILES | FC(F)(F)C1=C(NC[[email protected]@H]2OCCNC2)C=C(NC3=CN=C(C#N)C=N3)N=C1 |
| Shipping Condition | Evaluation sample solution: ship with blue ice. All other available sizes: ship with RT, or blue ice upon request. |
| General tips | For obtaining a higher solubility, please warm the tube at 37°C and shake it in the ultrasonic bath for a while. Stock solution can be stored below -20°C for several months. |
Quality Control
Quality Control & MSDS
View current batch:
Chemical structure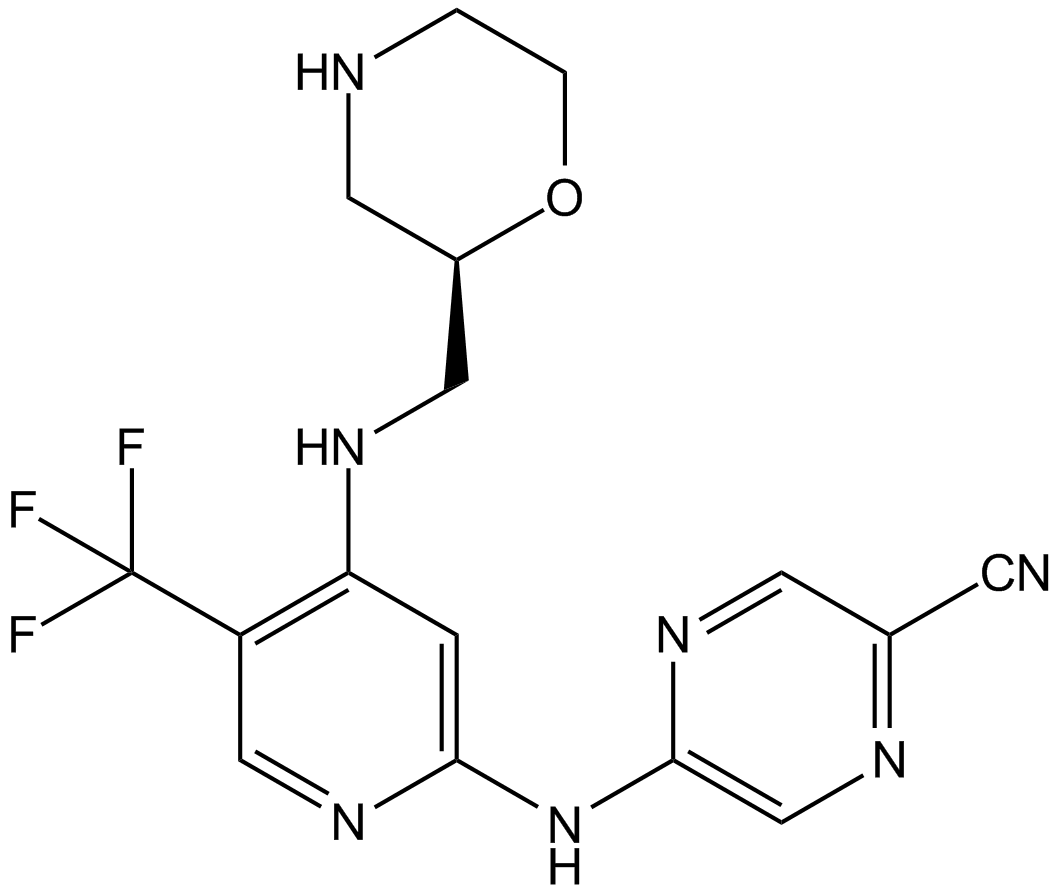 Related Biological Data