Background
BMS 777607 is a novel, selective and orally available ATP-competitive MET kinase inhibitor that primarily targets several MET family members, including RON, MET, Tyro-3 and AxI, with half maximal inhibitory concentration IC50 of 1.8 nmol/L, 3.9 nmol/L, 4.3 nmol/L and 1.1 nmol/L respectively. Moreover, at higher concentrations, BMS 777607 has been found to inhibit other protein tyrosine kinases, including Mer, Flt-3, Aurora B, Lck and VEGFR2 with IC50 of 14 nmol/L, 16 nmol/L, 78 nmol/L, 120 nmol/L and 180 nmol/L respectively. In previous studies, BMS 777607 potently inhibited the auto-phosphorylation of c-MET (IC50: 20 nmol/L) leading to impaired xenograft growth.
References:
[1]Dai Y, Siemann DW. BMS-777607, a small-molecule met kinase inhibitor, suppresses hepatocyte growth factor-stimulated prostate cancer metastatic phenotype in vitro. Mol Cancer Ther. 2010 Jun;9(6):1554-61. doi: 10.1158/1535-7163.MCT-10-0359. Epub 2010 Jun 1.
[2]Sharma S, Zeng JY, Zhuang CM, Zhou YQ, Yao HP, Hu X, Zhang R, Wang MH.

Small-molecule inhibitor BMS-777607 induces breast cancer cell polyploidy with increased resistance to cytotoxic chemotherapy agents. Mol Cancer Ther. 2013 May;12(5):725-36. doi: 10.1158/1535-7163.MCT-12-1079. Epub 2013 Mar 6.
Product Citation
Chemical Properties
| | |
| --- | --- |
| Physical Appearance | A solid |
| Storage | Store at -20°C |
| M.Wt | 512.89 |
| Cas No. | 1025720-94-8 |
| Formula | C25H19ClF2N4O4 |
| Solubility | ≥25.65mg/mL in DMSO,insoluble in EtOH,insoluble in H2O |
| Chemical Name | N-[4-(2-amino-3-chloropyridin-4-yl)oxy-3-fluorophenyl]-4-ethoxy-1-(4-fluorophenyl)-2-oxopyridine-3-carboxamide |
| SDF | Download SDF |
| Canonical SMILES | CCOC1=C(C(=O)N(C=C1)C2=CC=C(C=C2)F)C(=O)NC3=CC(=C(C=C3)OC4=C(C(=NC=C4)N)Cl)F |
| Shipping Condition | Evaluation sample solution: ship with blue ice. All other available sizes: ship with RT, or blue ice upon request. |
| General tips | For obtaining a higher solubility, please warm the tube at 37°C and shake it in the ultrasonic bath for a while. Stock solution can be stored below -20°C for several months. |
Protocol
Cell experiment [1]:

Cell lines

KHT cells

Preparation method

The solubility of this compound in DMSO is > 10 mM. General tips for obtaining a higher concentration: Please warm the tube at 37 °C for 10 minutes and/or shake it in the ultrasonic bath for a while. Stock solution can be stored below -20 °C for several months.

Reaction Conditions

10 μM; 2, 24 and 96 hrs

Applications

In the highly metastatic murine KHT cells, treatment of BMS-777607 (~ 10 μM) for 2 hrs potently eliminated basal levels of autophosphorylated c-Met.

Animal experiment [1]:

Animal models

Mice bearing KHT xenografts

Dosage form

10 ~ 25 mg/kg; p.o.; q.d.

Applications

In mice bearing KHT xenografts, BMS-777607 (25 mg/kg/day) decreased the number of KHT lung tumor nodules (28.3%), improved the morphological hemorrhage, and significantly impaired the metastatic phenotype, without apparent systemic toxicity.

Other notes

Please test the solubility of all compounds indoor, and the actual solubility may slightly differ with the theoretical value. This is caused by an experimental system error and it is normal.

References:

[1]. Dai Y, Bae K, Pampo C, Siemann DW. Impact of the small molecule Met inhibitor BMS-777607 on the metastatic process in a rodent tumor model with constitutive c-Met activation. Clin Exp Metastasis. 2012 Mar;29(3):253-61.
Biological Activity
Description
BMS-777607 is an inhibitor of Met-related for c-Met, Axl, Ron and Tyro3 with IC50 of 3.9 nM, 1.1 nM, 1.8 nM and 4.3 nM, 40-fold more selective for Met-related targets versus Lck, VEGFR-2, and TrkA/B, and more than 500-fold greater selectivity versus all other receptor and non receptor kinases.
Targets
c-Met
Axl
Ron
Tyro3
IC50
3.9 nM
1.1 nM
1.8 nM
4.3 nM
Quality Control
Quality Control & MSDS
View current batch:
Chemical structure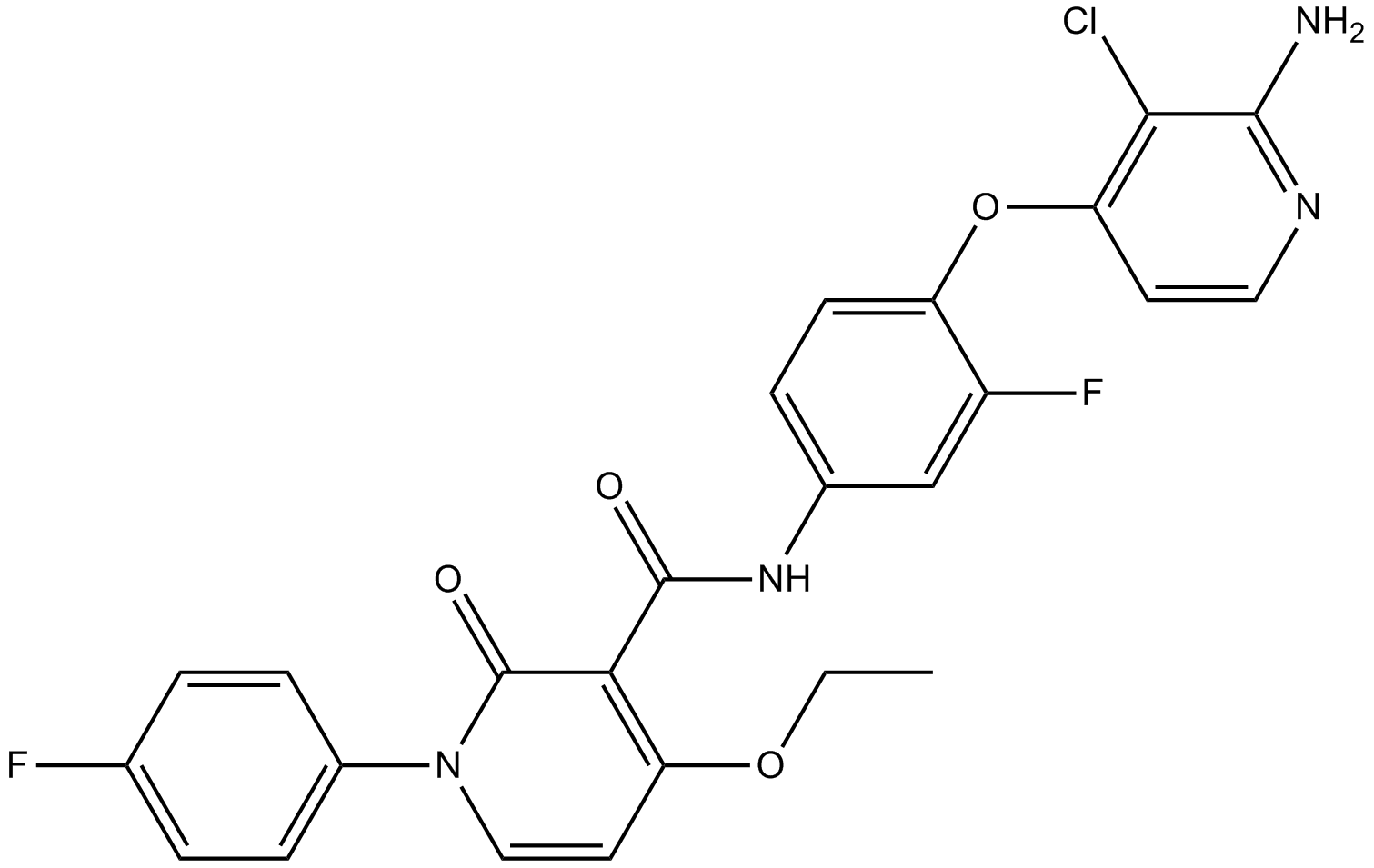 Related Biological Data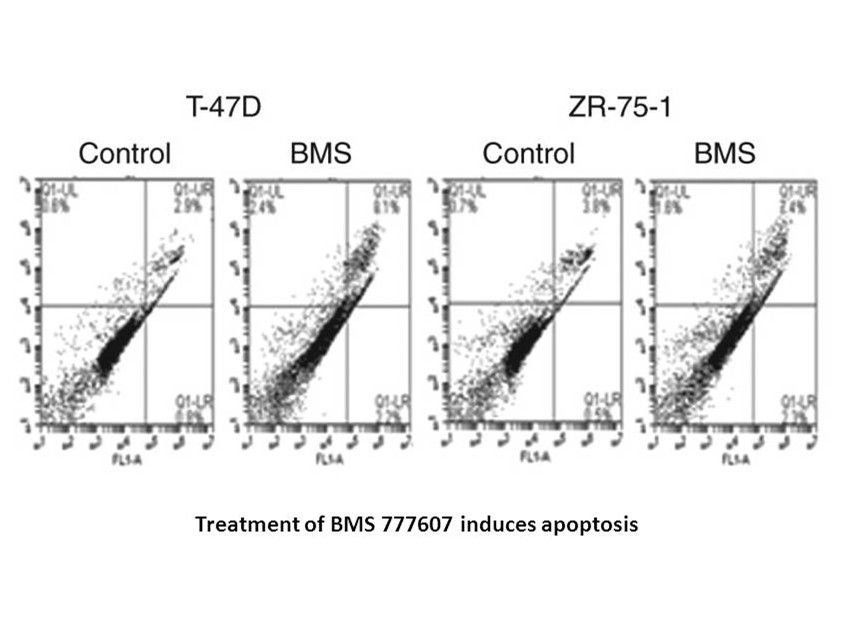 Related Biological Data