Background
IC50: from 0.10 to 0.55 μM
Bisindolylmaleimide IV is a protein kinase C (PKC) inhibitor.
The enzyme family protein kinase C2 (PKC) occupies a central role in the transduction of signals from a variety of mediators across the cell membrane.3 Receptor occupation by a number of hormones, cytokines, neurotransmitters, and growth factors results in activation of PKC via activation of phospholipase C through either a G protein mechanism or a tyrosine kinase mechanism. PKC then propagates the signal by phosphorylation of proteins on serine or threonine, with ATP as cosubstrate, resulting in modification of the properties of these proteins. Thus PKC appears to regulate mechanisms of cell proliferation, secretion, and gene expression.
In vitro: Bisindolylmaleimide IV was identified as a cell permeable inhibitor of protein kinase C (PKC) with IC50 values from 0.10 to 0.55 μM. Bisindolylmaleimide IV was designed to be more discriminative than its parent compound staurosporine, the non-selective PKC inhibitor. In addition, Bisindolylmaleimide IV also found to be able to inhibit protein kinase A with IC50 values ranging from 2 to 11.8 μM [1, 2].
In vivo: Animal study found that, in neonatal rats, high glucose levels could induce the hypertrophy of cardiomyocytes. Ro-31-8220, a analog of bisindolylmaleimide VIII, was able to reverse the effect of high glucose on the cardiac myocytes, which might be through PKC/NF-κB/c-Fos pathway [3].
Clinical trial: So far, no clinical study has been conducted.
References:
[1] Davis, P. D.,Hill, C.H.,Lawton, G., et al. Inhibitors of protein kinase C. 1.1 2,3-bisarylmaleimides. Journal of Medicinal Chemistry 35, 177-184 (1992).
[2] Toullec, D. ,Pianetti, P.,Coste, H., et al. The bisindolylmaleimide GF 109203X is a potent and selective inhibitor of protein kinase C. The Journal of Biological Chemisty 266(24), 15771-15781 (1991).
[3] Zhang, W. B. et al. Reverse effect of protein kinase C inhibitor Ro-31-8220 on the hypertrophy of cardiomyocytes of neonatal rats induced by high glucose levels. Chinese Journal of Pathophysiology. 2009-08.
Product Citation
Chemical Properties
| | |
| --- | --- |
| Physical Appearance | A crystalline solid |
| Storage | Store at -20°C |
| M.Wt | 327.3 |
| Cas No. | 119139-23-0 |
| Formula | C20H13N3O2 |
| Synonyms | Arcyriarubin A,BIM IV |
| Solubility | ≤20mg/ml in ethanol;20mg/ml in DMSO;20mg/ml in dimethyl formamide |
| Chemical Name | 3,4-di-1H-indol-3-yl-1H-pyrrole-2,5-dione |
| SDF | Download SDF |
| Canonical SMILES | O=C1NC(=O)C(=C1c1c[nH]c2ccccc12)c1c[nH]c2ccccc12 |
| Shipping Condition | Ship with blue ice, or upon other requests. |
| General tips | For obtaining a higher solubility, please warm the tube at 37°C and shake it in the ultrasonic bath for a while. We do not recommend long-term storage for the solution, please use it up soon. |
Quality Control
Quality Control & MSDS
View current batch:
Chemical structure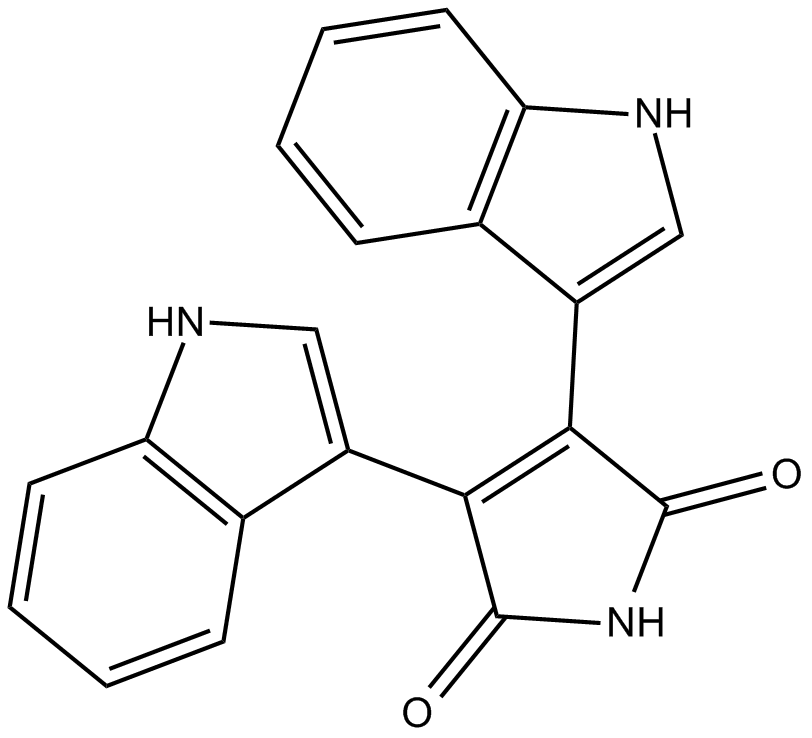 Related Biological Data