Bicalutamide
Androgen receptor antagonist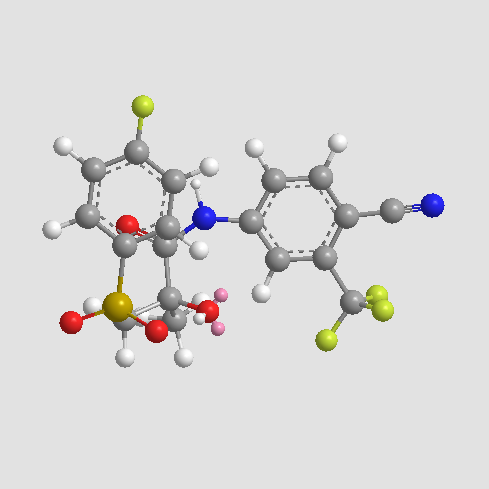 Sample solution is provided at 25 µL, 10mM.
Related Compound Libraries
Quality Control
Quality Control & MSDS
View current batch:
Chemical structure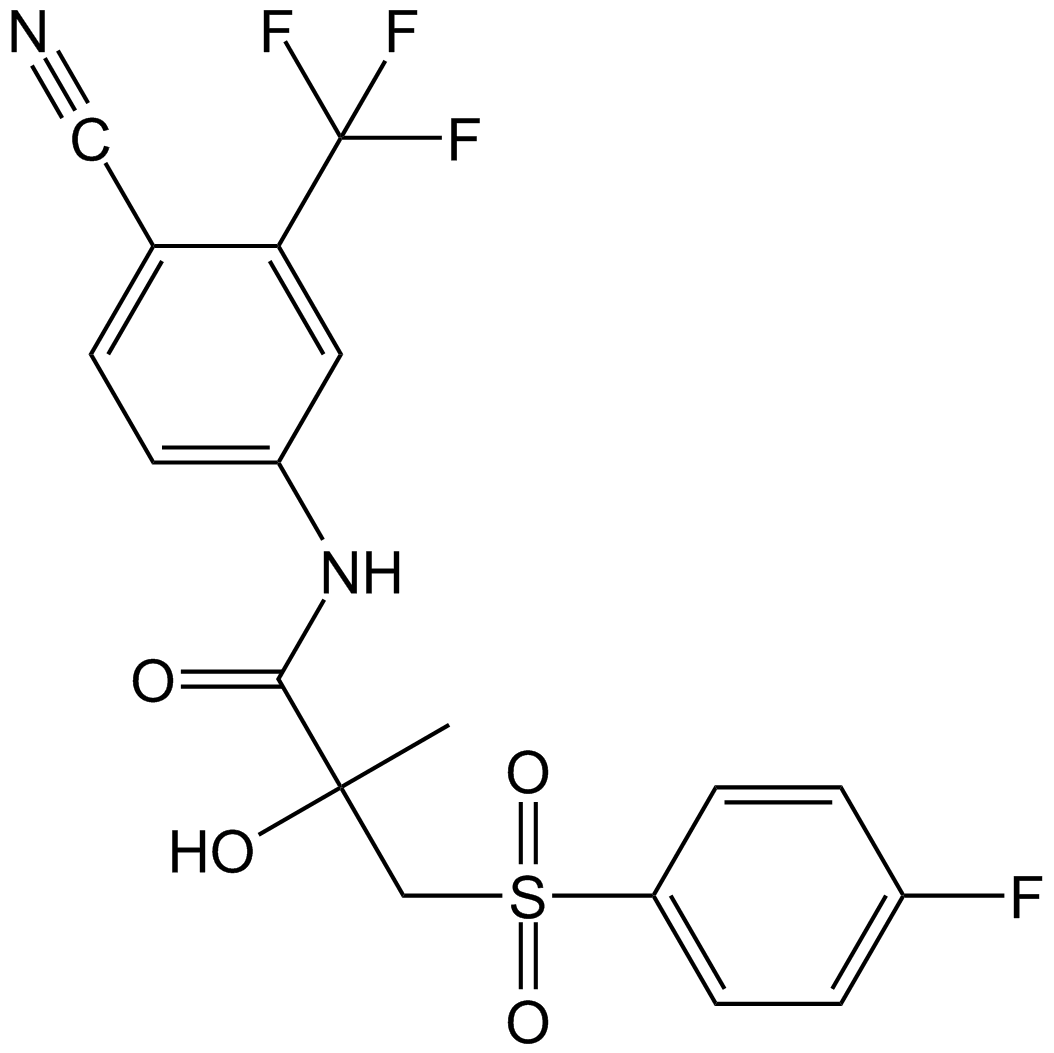 Related Biological Data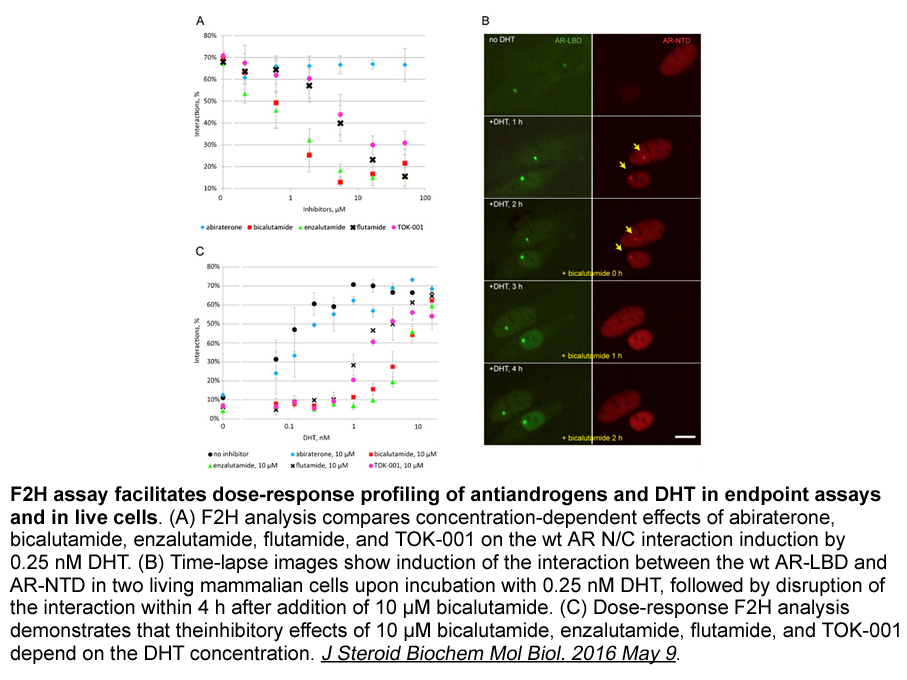 Related Biological Data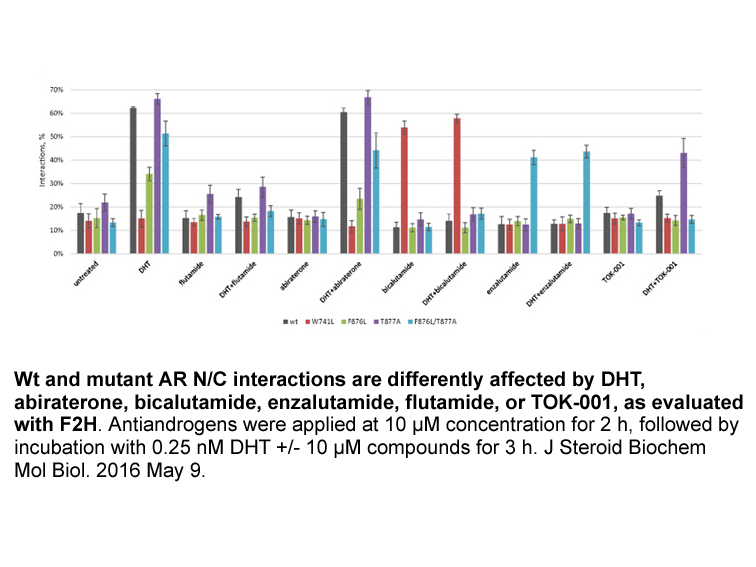 Chemical Properties
Cas No.
90357-06-5
SDF
Download SDF
Chemical Name
N-[4-cyano-3-(trifluoromethyl)phenyl]-3-(4-fluorophenyl)sulfonyl-2-hydroxy-2-methylpropanamide
Canonical SMILES
CC(CS(=O)(=O)C1=CC=C(C=C1)F)(C(=O)NC2=CC(=C(C=C2)C#N)C(F)(F)F)O
Formula
C18H14F4N2O4S
M.Wt

430.37

Solubility
>21.5mg/mL in DMSO
Storage
Store at -20°C
General tips
N/A
Shipping Condition
N/A
Background
Bicalutamide is an active non-steroidal androgen receptor antagonist with IC50 value of 160 nM.[1]
The androgen receptor (AR) is a type of nuclear receptor. It is activated by binding of either of dihydrotestosterone or the androgenic hormones testosterone. Then, it will translocate into the nucleus as DNA-binding transcription factor which regulates gene expression. Androgen is critical for the maintenance and development of the male sexual phenotype through related gene. The androgen receptor (AR) is also related to the core mechanism of castration-resistant prostate cancer.[1]
Bicalutamide inhibits growth in prostate cancer cells (VCaP cells) which overexpress androgen receptor by directly binding to AR then mediates androgen-mediated gene transcription with IC50 value of 160 nM. Bicalutamide directly binds to androgen receptor with Ki value of 12.5μM. In prostate cancer cells, bicalutamide impairs DNA binding and nuclear localization. Bicalutamide and MDV3100 significantly inhibited R1881-induced VP16-AR–mediated transcription in HepG2 cells with an IC50 value of 0.2 μM.[1] Bicalutamide has been an molecular template for designing selective androgen receptor antagonist used to the treatment of prostate cancer cells.[2] Bicalutamide also induces cell death by a different pathway which is independent of mitochondrial membrane potential changes and Bcl-2 action.[1]
Bicalutamide significantly inhibited AR then decrease the tumor growth in murine xenograft models, male immunodeficient mice which harbors LNCaP/AR-luc xenograft tumors.[1]
References:
[1]. Clegg NJ, Wongvipat J, Joseph JD, Tran C, Ouk S, Dilhas A, Chen Y, Grillot K, Bischoff ED, Cai L et al: ARN-509: a novel antiandrogen for prostate cancer treatment. Cancer Res 2012, 72(6):1494-1503.
[2]. Yin D, He Y, Perera MA, Hong SS, Marhefka C, Stourman N, Kirkovsky L, Miller DD, Dalton JT: Key structural features of nonsteroidal ligands for binding and activation of the androgen receptor. Mol Pharmacol 2003, 63(1):211-223.