AZD1152
Aurora B kinase inhibitor,highly potent and selective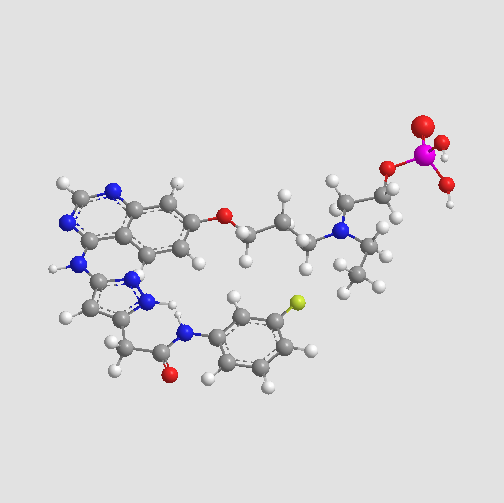 Sample solution is provided at 25 µL, 10mM.
Publications citing ApexBio Products
Related Compound Libraries
Quality Control
Quality Control & MSDS
View current batch:
Chemical structure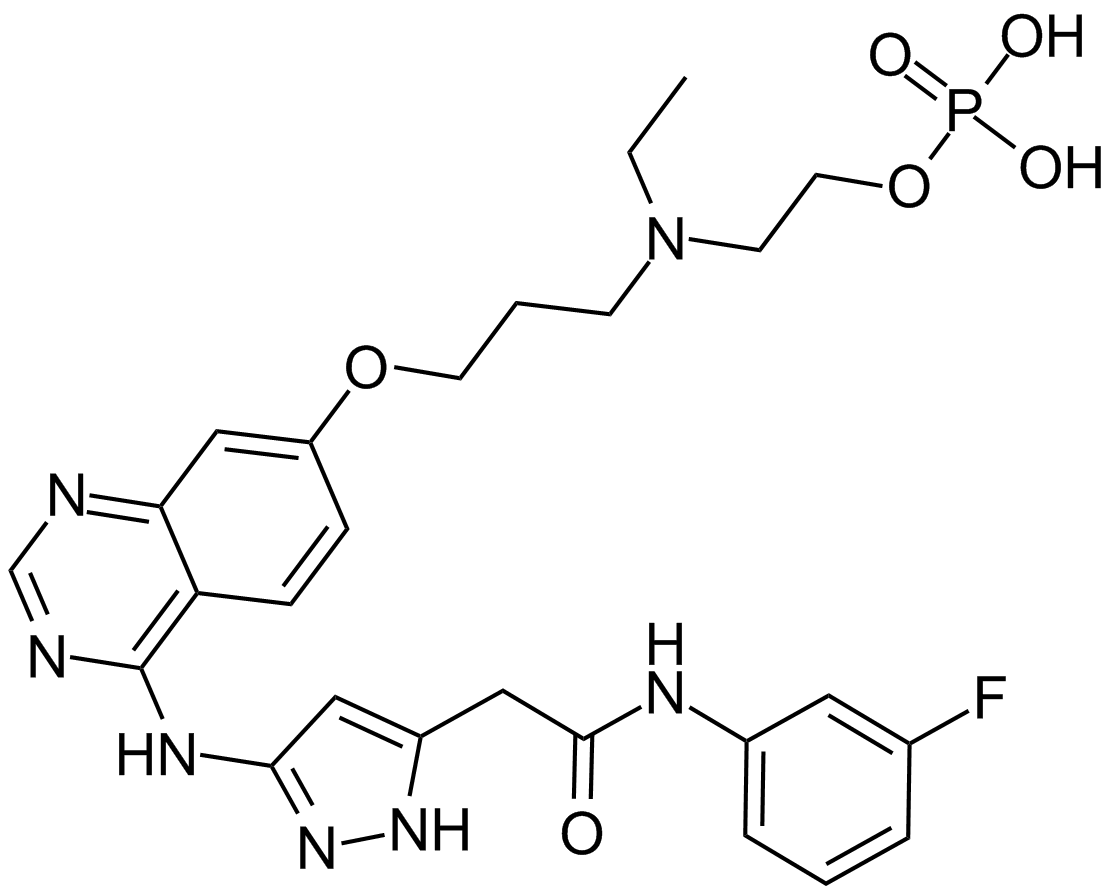 Chemical Properties
Cas No.
722543-31-9
SDF
Download SDF
Synonyms
AZD-1152;AZD 1152
Chemical Name
2-[ethyl-[3-[4-[[5-[2-(3-fluoroanilino)-2-oxoethyl]-1H-pyrazol-3-yl]amino]quinazolin-7-yl]oxypropyl]amino]ethyl dihydrogen phosphate
Canonical SMILES
CCN(CCCOC1=CC2=C(C=C1)C(=NC=N2)NC3=NNC(=C3)CC(=O)NC4=CC(=CC=C4)F)CCOP(=O)(O)O
Formula
C26H31FN7O6P
M.Wt

587.54

Solubility
>5.9mg/mL in DMSO
Storage
Store at -20°C
General tips
For obtaining a higher solubility , please warm the tube at 37 ℃ and shake it in the ultrasonic bath for a while.Stock solution can be stored below -20℃ for several months.
Shipping Condition
Evaluation sample solution : ship with blue ice
All other available size: ship with RT , or blue ice upon request
Background
AZD1152 is a highly selective inhibitor of Aurora kinases with IC50 values of 1.37 μM and 0.37 nM for Aurora A and Aurora B, respectively [1].
AZD1152 is a dihydrogen phosphate pro-drug of HQPA which is a highly potent and specific inhibitor of the serine/threonine kinase Aurora kinases. The expression of Aurora kinase A and B are found to be related with the development of various cancers such as ovarian, pancreatic, breast and colon. Since that, the Aurora family is regarded as attractive target for anticancer treatment. As a selective Aurora kinase inhibitor, AZD1152 showed no significant effect on other kinases including JAK2, FLT3 and Abl. Besides that, AZD1152 exerted potent antitumor activities through inhibiting tumor cell proliferation and inducing apoptosis [1].
AZD1152 treatment potently inhibited cell growth in various leukemic cells including ALL PALL-2, MV4-11 and MOLM13 with IC50 values of 5, 1and 2.8 nM, respectively. AZD1152 also inhibited clone formation of freshly isolated leukemia cells with IC50 values of less than 3 nM. For the colon cancer HCT-116 cells, incubation of AZD1152 at dose of 30 nM for one day resulted in 80% cell number reduction after 4 days drug wash out. In prostate cancer DU145 and PC3 cells, AZD1152 caused decrease of G0/G1-phase cells and induced G2/M cell cycle arrest. Moreover, AZD1152 treatment enhanced the radio sensitivity of prostate cancer cells which were androgen-insensitive [1, 2 and 3].
In mice model with human MOLM13 cell xenografts, administration of AZD1152 at dose of 25 mg/kg significantly inhibited tumor growth. The combination treatment of AZD1152 at dose of 5 mg/kg and vincristine at dose of 0.2 mg/kg resulted in almost 100% inhibition of tumor growth of MOLM13 xenografts. In mice injected with MiaPaCa-2cells, the combination of AZD1152 and gemcitabine showed more than double effective than the single treatment [1 and 2].
References:
[1] Yang J, Ikezoe T, Nishioka C, Tasaka T, Taniguchi A, Kuwayama Y, Komatsu N, Bandobashi K, Togitani K, Koeffler HP, Taguchi H, Yokoyama A. AZD1152, a novel and selective aurora B kinase inhibitor, induces growth arrest, apoptosis, and sensitization for tubulin depolymerizing agent or topoisomerase II inhibitor in human acute leukemia cells in vitro and in vivo. Blood. 2007 Sep 15;110(6):2034-40.
[2] Azzariti A, Bocci G, Porcelli L, Fioravanti A, Sini P, Simone GM, Quatrale AE, Chiarappa P, Mangia A, Sebastian S, Del Bufalo D, Del Tacca M, Paradiso A. Aurora B kinase inhibitor AZD1152: determinants of action and ability to enhance chemotherapeutics effectiveness in pancreatic and colon cancer. Br J Cancer. 2011 Mar 1;104(5):769-80.
[3] Niermann KJ, Moretti L, Giacalone NJ, Sun Y, Schleicher SM, Kopsombut P, Mitchell LR, Kim KW, Lu B. Enhanced radiosensitivity of androgen-resistant prostate cancer: AZD1152-mediated Aurora kinase B inhibition. Radiat Res. 2011 Apr;175(4):444-51.