Asunaprevir (BMS-650032)
NS3 protease inhibitor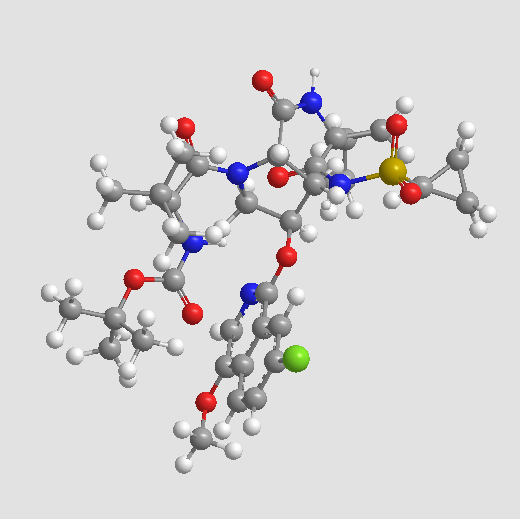 Sample solution is provided at 25 µL, 10mM.
Publications citing ApexBio Products
Quality Control
Quality Control & MSDS
View current batch:
Chemical structure
Chemical Properties
Cas No.
630420-16-5
SDF
Download SDF
Synonyms
BMS-650032;BMS 650032;BMS650032,Asunaprevir
Chemical Name
tert-butyl N-[(2S)-1-[(2S,4R)-4-(7-chloro-4-methoxyisoquinolin-1-yl)oxy-2-[[(1R,2S)-1-(cyclopropylsulfonylcarbamoyl)-2-ethenylcyclopropyl]carbamoyl]pyrrolidin-1-yl]-3,3-dimethyl-1-oxobutan-2-yl]carbamate
Canonical SMILES
CC(C)(C)C(C(=O)N1CC(CC1C(=O)NC2(CC2C=C)C(=O)NS(=O)(=O)C3CC3)OC4=NC=C(C5=C4C=C(C=C5)Cl)OC)NC(=O)OC(C)(C)C
Formula
C35H46ClN5O9S
M.Wt

748.29

Solubility
Soluble in DMSO
Storage
Store at -20°C
General tips
For obtaining a higher solubility , please warm the tube at 37 ℃ and shake it in the ultrasonic bath for a while.Stock solution can be stored below -20℃ for several months.
Shipping Condition
Evaluation sample solution : ship with blue ice
All other available size: ship with RT , or blue ice upon request
Background
Asunaprevir is an orally efficacious inhibitor of NS3 protease with IC50 value of 1nM [1].
Asunaprevir is an inhibitor of hepatitis C virus (HCV) NS3 protease. It can inhibit 6 major genotypes of HCV NS3/4A protease with IC50 values of 0.7nM, 0.3nM, 15nM, 78nM, 320nM, 1.6nM, 1.7nM and 0.9nM, respectively for genotype 1a, 1b, 2a, 2b, 3a, 4a, 5a and 6a, respectively. When using the purified recombinant full-length HCV NS3/4A protease complexes, asunaprevir shows the Ki values of 0.4nM and 0.2nM, respectively for genotype 1a and genotype 1b. The mechanism of the inhibition is that the acylsulfonamide of asunaprevir interacts with the catalytic site of NS3 protease in a noncovalent manner. Asunaprevir inhibits HCV RNA replication in different cell lines, including liver, T lymphocytes, lung, cervix, and embryonic kidney. It shows no obvious activity against other RNA viruses. The permeability of asunaprevir is similar to the compound with good absorption in humans. The tests of metabolism rate show that asunaprevir exhibits low to intermediate metabolic clearance. Plasma and tissue exposures in vivo indicate that asunaprevir displays a hepatotropic disposition [2].
References:
[1] Scola PM, Sun LQ, Wang AX, Chen J, Sin N, Venables BL, Sit SY, Chen Y, Cocuzza A, Bilder DM, D'Andrea SV, Zheng B, Hewawasam P, Tu Y, Friborg J, Falk P, Hernandez D, Levine S, Chen C, Yu F, Sheaffer AK, Zhai G, Barry D, Knipe JO, Han YH, Schartman R, Donoso M, Mosure K, Sinz MW, Zvyaga T, Good AC, Rajamani R, Kish K, Tredup J, Klei HE, Gao Q, Mueller L, Colonno RJ, Grasela DM, Adams SP, Loy J, Levesque PC, Sun H, Shi H, Sun L, Warner W, Li D, Zhu J, Meanwell NA, McPhee F. The discovery of asunaprevir (BMS-650032), an orally efficacious NS3 protease inhibitor for the treatment of hepatitis C virus infection. J Med Chem. 2014 Mar 13;57(5):1730-52.
[2] McPhee F, Sheaffer AK, Friborg J, Hernandez D, Falk P, Zhai G, Levine S, Chaniewski S, Yu F, Barry D, Chen C, Lee MS, Mosure K, Sun LQ, Sinz M, Meanwell NA, Colonno RJ, Knipe J, Scola P. Preclinical Profile and Characterization of the Hepatitis C Virus NS3 Protease Inhibitor Asunaprevir (BMS-650032). Antimicrob Agents Chemother. 2012 Oct;56(10):5387-96.